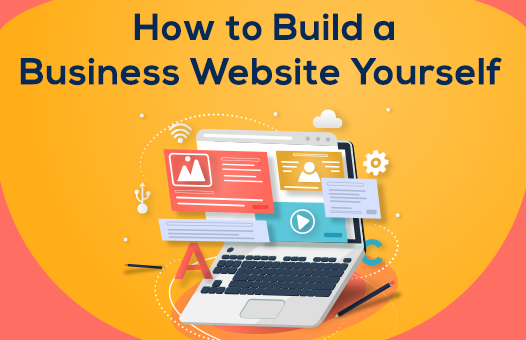 A website is a basic requirement for any business in today's Digital World. Would it not be great if you on your own can create a basic website for your business, something that can meet the marketing requirements? The need is to know how to build a business website from scratch (DIY) and is one of the most required skills for a start-up or a small business.
Here are some of the advantages of acquiring this skill:
A lot of money can be saved if you know how to build the business website on your own; else you could end up spending on website developers and designers.
You would obviously research a lot and are sure to understand the market trends and thus are likely to develop the website with conviction.
Enables you to be ahead of your competition as you save on consultation time with your developers and designers.
Enables regular changes and upgrades to the website with quick turnaround time.
Decide a name and find a domain for your website
Fortunately, these are not two separate steps; we all would love to decide the brand name for our products/services and the domain name for the website.
But since the internet is a couple of decades old, you would most likely realize that once you freeze the brand name, finding the relevant domain names is difficult as most are already existing or reserved.
This is how shortlisting a domain name is likely to work out.
We shortlist, seek opinions and then zero down upon an attractive
We then go into hibernation till such time we actually decide to start our business.
Just before the commencement of business, we decide to purchase the domain name.
When we try to book the domain name shortlisted earlier, the same is unavailable.
Hence, we introduce a lot of changes to our original thought on the domain name.
Then we eventually create another awesome name as per the availability.
So, we end up paying attention to names that we aren't comfortable with the belief that something is better than nothing.
We try to fit in such a domain name which is available, and we can survive with.
Finally, we go for the domain name as per the availability but not exactly the thought process.
The process of shortlisting the name for the business and purchasing the relevant domain name are the same sides of the coin. Hence it is a better idea to decide upon a certain business name if the domain name for the same is available.
There is enough guidance available online that you can refer to for completing the purchase of your domain.
The remaining process for the creation of a website is well defined and more predictable. With the domain name finalised and purchased, the most difficult and crucial part is over.
Domain name Registration
Let's quickly understand and differentiate between the web host and registration of your domain.
The company which specializes in purchasing (registering) of domains for your business is called a domain registrar.
The companies engaged in the service of providing server space to store our website data are called web hosts.
Most of the web host companies also provide your registration of domain as an additional feature with a bundled offer. Our suggestion is that we should buy all these critical things for our business from companies that have the expertise and are reliable.
Godaddy.com is one of the best for registering domains.
Website hosting
Let's consider that you have decided to build a business website with WordPress. WordPress is a content management system (CMS) that helps us with our efforts to design and construct a website. However, we also require a host that would store our website for visitors. Based on our experience, Netilly recommends GoDaddy or  Bluehost.
For more on the top hosting service providers, you could refer to the blog published earlier by us on the subject.
Finalise the type of website to be created and the right platform
To be able to design and build your website, you don't need to acquire programming skills! Yes, you heard it right. Today we have platforms that enable us to design and construct websites fast using plug and play tools.
Some popular tools used widely are WordPress, Joomla, Drupal, Squarespace, and Wix.
Most of the online blogs and influencers would recommend you to adopt WordPress to build a business website. WordPress is easy to use, and the most popular Content Management System (CMS).
However, the options differ as per the requirement of your website.
Lots of businesses opt for a website with few variables and data points if you have a business independent of your website. If you just want to be present digitally in case someone is searching for your business online. Consider, if you want to build a business website with minimum content and limited data. Some important information that your website should provide includes
Who is your customer?
Activity and USP of your business for customers
Slides/pictures that demonstrate the work
About us/ Contact us
If basic information is what you need for your website, then we would recommend you to opt for Squarespace. It is a professional site which provides ease of use and comes with an affordable price tag. It's a perfect match for small businesses.
Squarespace would want you to believe that it can manage everything. But that's a myth. However, it is fun to use, as they have made it reasonably simple and effortless to use. But they fail to provide advanced features required by your website/business. Also, they have a very limited approach towards e-commerce websites. As a result, Squarespace is not the option for businesses wanting to transact for their business online.
When you need to provide less information on a website but prefer a professional look, then Squarespace is perfect for your business, e.g. small businesses like printing press, freelancers and artists.
For all other types of businesses that you can foresee apart from the options above, using WordPress would be a good option. With WordPress, the possibilities are endless, including e-commerce, marketing sites and sites with a lot of content.
The need for customization may be a little higher in WordPress, but it can provide you with a lot of flexibility. Also, the easily available pool of talent and ecosystem around WordPress can be utilized.
With WordPress, you could either build a business website yourself or get it done by an online marketing agency. WordPress provides lots of flexibility in terms of altering the design or content on your own without having to edit any code.
Creation of Website with SquareSpace
The first step is you need to create an account. Login to your account.
In SquareSpace page is the only type of content you can create. The template is the most important selection for your website. As it decides the layout, look, and feel of your website. Following are the options available to design your pages.
Edit Pages
To add, edit and remove text or image and to customize a page. Using edit, you can customize every section of your page.
Create Pages
Add and remove pages' panel. When you are done, organise them as per your navigation menu requirement that can help your user.
Style Pages
Use a design panel to define look and feel of your website. You can customize your site by picking a design, fonts, and color themes
Create an account on Squarespace
Login to SquareSpace. It will ask you to select a template to create your website. You can view the demo website made with this selected template. After selecting this template, you can click on the button START WITH THIS DESIGN. After the selection of design, the creation of your website starts. It offers the following two options to select from
Option 1: Start with Logos, Fonts, and colors
Option 2: Explore on your own
You need to select one of the above options. The suggested option is to start with Logos, Fonts, and Colors
You can complete these options and later to create a page you need to select the pages option from the left sidebar. It would provide with lots of page layouts to select from. It provides you with lots of designs to be added to your page. Create all the pages as per your requirement. Now you can design your website's navigation menu to make your website user friendly.
This is how you have designed your first website in Squarespace.
Installation of WordPress
For Godaddy
Log in to your GoDaddy account. Select launch element under Hosting option on your hosting package.
Then select Application WordPress and select Install Now.
List the name of your domain and click on the Next option.
Type in all the fields such as username, password and others.
Click finish for installation of WordPress on GoDaddy after filling in all the details.
For Bluehost
This is the hosting space where you are not required to download WordPress. Once you are signed up with Bluehost, for no cost, your WordPress is installed. Think of it this way, Bluehost takes care of your sites and site names. WordPress is readily available for you to build a business website. If you want to use any other CMS, you need to download that particular CMS.
Redirection of the domain to host
Let's review. After purchase, you need to click on the blue create account button
You have bought your domain name.
Fixed a hosting plan.
Installed WordPress.
Now you will interconnect all these activities by directing the domain to the host. So, if someone accesses your domain, they would reach your website.
Some technical settings are required to be applied. The host will provide the configuration for nameserver settings for your domain.
If you are blocked, the host can provide you with all the facts and settings you need.
WordPress theme selection and installation
Consider WordPress as the heart of your website, which keeps it going.
The looks of the website are determined by the theme. The looks of the website can be changed without having to rebuild your site from scratch by just changing a theme. All you need to do is replace your old theme with a new one. Your design will look completely different.
Themes are a basic part of your website in WordPress. It enables you to change its looks and feel by using the theme option instead of building it from scratch. To just change the look, you are done with a single task of changing your website's theme.
There are lot many free themes available on WordPress if you don't like either of those you can always go ahead and use a paid one. Quite a few options are available for paid options  Envato and Studiopress are two of those.
After finalizing on the theme, if it is paid one you need to upload it in WordPress. Go to Appearance section on left panel select theme options and select add new option and upload your theme.
Go ahead and upload the .zip file you received when you purchased your theme. To make it live, you need to activate it by clicking on the activate option.
Add content to your website
The actual part of website creation starts here. Let's say you are supposed to create pages for the website. In WordPress, you can create two types of content: posts and pages.
The permanent kind of information is created or locked in the form of pages, like contact information or information regarding the company.
The post type of content is posted under a "blog" section on the site. If you are not bothered to have a blog section on website, you can skip the post part completely
Must pages for all the websites:
Homepage – Theme normally takes care of this page.
Contact Page – A new page must be created for customers to reach us. Install a Plugin to create a form for the website.
About page – attract customers with the story of your business.
Product or services pages – Core things that you are providing like products or services your business is known for.
Blog – If you are a blogger. Assure that all the posts get listed here.
To start with, it is sufficient. Always you can add up all your ideas later.
Keep enhancing the website
Now you have a completely functional website.
Further, you can keep adding extra elements to make your website grow in terms of visitors, customers, etc. For that, you need to keep adding new plugins that upgrade the website, add a mailing list, make your visitors and customers grow.
This is all optional, and it depends on your expectation from the website.
You don't have to do any of this extra stuff — it's all optional. It depends on your priorities and goals.
A website is not constant stuff. It keeps evolving. It's not necessary that it would look the same as before a year. If you want your website to mature, consider the following activities.
Conclusion
Now you have just learned how to build a business website using WordPress and Squarespace. The most important part is you can design it on your own with a low budget and a friendly platform.
Once you have your website ready then you can start adding more content in form of blogs and can further look to monetize your content.