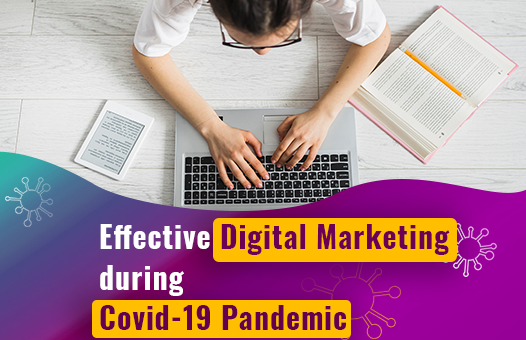 Effective Digital Marketing during Covid-19 Pandemic
Coronavirus pandemic has changed the way businesses are going to run in the future. With everything coming to a standstill, Covid-19 has made the most horrific impact on the markets across industries bringing the world on the verge of economic meltdown.
The Eurozone economy contracted by 3.8% in the first quarter of 2020 and more than 30 million Americans filed unemployment, indicating economic disruption led by the pandemic lockdown across geographies. The estimated loss for the restaurant industry alone is around $225 Billion, followed by hotel industry, among the most impacted businesses, that is not even expected to see the dawn of normalcy anytime soon.
While everything is almost shut and on pause mode, thanks to technology and digital media, enterprises are still functional. As the crisis escalated, completely paralyzing physical business spaces, digital marketing and e-commerce platforms are still thriving; however, the impact cannot be denied.
Times are challenging for every enterprise and business, irrespective of the domain and scope. 
Changed Businesses Ecosystem                         
Events cancelled, malls and outlets closed, fitness centres shut down, and small businesses running out of funds. These have been some of the trending topics on every social media platform for the past couple of months.
Supply chains of various manufacturing sector units have entirely been blocked due to dependence on Asia, Europe and other areas. As businesses may take longer to re-establish, these industries are going to have a tough time.
Entertainment and sports industry is amongst the worst hit due to cancellation of events and inability to release movies. The industry is now relying largely on Over-The-Top media (OTT) and Social Media Live Events to gain momentum and distribute content.
The economic depression can haunt companies for longer. However, rethinking, realigning, and finding the best possible online solutions is the way businesses can revive.
Businesses would look to leverage the recent shift in consumer behavior, and companies like Amazon, Doordash, Uber are likely to see a surge in demand. The reason is simple, their ability to deliver at consumer's doorstep.
If we take an example of food chains, it will take a substantial amount of time before people feel comfortable enough to go out for a meal even after lockdown restrictions are lifted. Thus, brands are relying heavily on their effective digital marketing efforts to create a strong relationship with their existing and new customers through one on one personalized campaigns. Now, the new business models require brands to drive their customers to online orders and pickups.
As the impact of COVID-19 pandemic continues to unfold, businesses and marketers need to keep a close eye on the shift in consumer behaviors and its impact on industries to ensure that they are prepared for any outcomes and find new opportunities.
Effective Digital Marketing Strategies Covid-19 Pandemic to Bounce Back
Brands need to rethink their digital marketing strategies and quickly evolve to change trends to fit in the consequential dynamics. Let's take a look at some of the most sought after digital marketing approaches in the covid-19 crisis.
Smart Bidding on Google Ads
Google Ads are a primitive source of attracting new customers as they search for products and services online. With the changing dynamics post-pandemic outbreak, Google Ads can catalyze acceleration of business growth on online platforms.
With smart bidding on Google Ads, machine learning is used to optimize ad bids for maximum profit conversions. Google introduced some fantastic improvements to its Smart Bidding mechanism in its #GoogleMarketingLive 2019 event, which is a turning point for digital marketing space.
Your Pay-Per-Click (PPC) experience can be more exciting with the altering algorithms that can select the conversion actions at the campaign level and tailor the activities for the needed time. Enhanced Artificial Intelligence (AI) and Machine Learning (ML) capabilities enable digital marketers to tailor their Google Ad bids more prudently and improve the overall experience.
The Coronavirus pandemic has made it imperative for digital marketers to adapt quickly to the changing ecosystem. Google Ads smart bidding is undoubtedly one of the most strategic marketing trends to vouch for.
 Highly Creative and Engaging Videos
Video consumption has been high in the times of Covid-19, as people have had more time in hand to watch content on various platforms. As per a survey by Global Web Index, more than 80% of consumers in the U.S. and UK say they are using video content more than usual in times of pandemic. As people restrict themselves from moving out, there are enough chances that the viewership of video content is going to increase multifold.
Brands can leverage the immense capability of video streaming platforms and high engagement on social media apps to create low budget yet highly profitable video campaigns that deliver the right message to potential buyers.
Video marketing is an essential aspect of digital promotion and can foster the message to the audience with much more prominence than the textual content.
YouTube viewership is massive, and while other OTT platforms are gaining popularity, the free content available on YouTube is the first preference of users across the globe.
Creating engaging content that is projected and advertised right on the streaming platforms can help brands create a significant impact without incurring an exorbitant cost. It is the easiest and potentially the most lucrative platform to promote your brands through creative and engaging content.
In the uncertain times amid the covid-19 crisis, video content can bring audiences right to your website. The catch is that the competition is fierce in the area as everyone is creating content online. The critical differentiator in such a scenario is quality, originality, and interest factor in the videos made.
Digital marketing is evolving at a fast pace, and with videos tapping the nerve of the audience, the right strategy can help create the impact brands always look for.
The Next Generation SEO
SEO is the foundation stone of a practical and effective digital marketing approach, and if your digital marketing efforts are not focusing on high-quality SEO, the plans are likely to fail.
SEO is no longer restricted to keywords and backlinks; it has come a long way with dynamic algorithms and checks for premium quality content.
During the current pandemic, tech giants like Facebook, Google, and Microsoft are working hard to fight misinformation and fake news. Thus the search engine algorithms have become smarter and sharper. 
As per HubSpot, statistics reveal that local SEO saw 900%+ growth in mobile searches for "near me + open + now". SEO can help clients' clock higher rates of conversion than other marketing techniques. 
SEO tools such as Semrush, Mangools, Serpstat, etc. can be leveraged to optimize you website and content.
Within the transformed ecosystem post-Covid-19 outbreak, outbound forms of marketing like calling, advertisements appear costlier and less feasible. With correct SEO techniques and the proper use of the latest tools and technologies, enterprises and businesses can maximize their profits.
Smart Social Media Commerce
Social media channels are the hub of users from various age groups and segments of society. There is high interaction, and the maximum time is spent on these platforms by people.
Social media has become the most resourceful, engaging, and fruitful medium of communication and reaching out to potential customers. With everyone spending a considerable amount of their time on social media platforms, these times present a significant opportunity for brands to increase customer engagement and achieve success with less investment.
With an effective digital marketing company that specializes in strategic planning and handling social media accounts of brands, clients can see a mammoth increase in their brand recognition. Relevant social media engagement can bring spectacular results. Proper use of technology and accurate placement of ads on social networks like Instagram, YouTube, and Facebook can get traffic, which is relevant.
LinkedIn has also proved to be an enormous source of engagement for brands in the professional arena.
If the business has the insight to tap the spirit of the moment and design creative and need-based ad campaigns on social media; they can create long-lasting relationships with customers.
 Creativity Matters
With so much content on various digital platforms, effective digital marketing agencies need to ensure that they offer premium-quality range. The websites, social media pages, Instagram posts, and messenger ads; everything needs to be highly engaging and unique. Brands need to offer ideas that resonate with the thoughts of readers and information that is reliable. Content should be exclusive and must not be a rip off information from various sources. 
Let us understand this from a user's perspective that has so many options at hand. Why would they spend time reading a blog post which is bland and not informative? Why would they want to watch a video which is not entertaining and fun? Thus, the formula for successful content marketing is to find ways to design engaging marketing campaigns and serve readers with quality content. 
Moreover, effective digital marketing rides on waves of audience interaction, using the latest and most fun tools like polls, quizzes, contests, and brands that can leverage the power of viral content. Interactive content is catchy, interesting, and shareable and highly boosts brand awareness. 
Virtual Reality/ Augmented Reality Ready
Virtual Reality and Augmented Reality will be significant in the coming years. Gadgets like PlayStation VR, Google Cardboard, Oculus, etc. are attracting new-age customers who want to enjoy content in the virtual space.
Interacting in real-time and highly engaging content that is ready to be played on the AR/VR devices can completely enthrall the customers.
In the coming years, marketers should focus their efforts on developing video and playable content, which is AR ready. It will boost their engagement and add a new dimension to their customer experience.  With physical sporting events and auditoriums closed down, AR, VR, and online streaming is the next big thing for popular events.
Forbes reported that companies are now looking to stream their events in VR and on platforms like Facebook Live, among others.
The effective digital marketing agencies can create novel avenues for businesses to rapidly tread towards success using the latest technologies and tapping into the changed consumer behavior.
To Summarize
Covid-19 has posed a major economic threat and created an environment of insecurity and restlessness, where people are not readily prepared to buy services.
Further, consumer behavior and buying patterns will change enormously. After the Covid-19 crisis as it has altered human lifestyles a lot. The largest of organizations would not be able to survive in the market without digital presence as the fate of the brick-and-mortar marketplace is doomed for long.
Loss of jobs and lack of funds will impact the customer buying behavior. As people would be shelling out money only for essential things they need.
Digital marketers would certainly need to make a paradigm shift in their strategies and techniques with the changed circumstances and adverse economic conditions.
To stay apprised about recent business trends, their impact on marketing, and the way forward do follow our blog page and social media handles.
Don't hesitate to contact us if you are looking to adopt the latest and effective digital marketing strategies in these challenging times to get your business back on track.