Optimizing your online presence in the crowded web space is becoming crucial. Search Engine Optimisation (SEO) is the practice of optimizing your website to rank higher in the Search Engine Results Page (SERP). SEO activities fall under two categories – On-Page SEO and Off-Page SEO. One usually tends to begins with the On-Page SEO efforts as one has better control over the content quality and technical optimization of the website.
What is On-Page SEO?
On-Page SEO refers to the changes that you make on your website to increase your SEO score. It takes into account all the elements that are visible on our website, including URLs, image tags, HTML codes etc.
Good On-Page SEO translates into more traffic and reach from users. A website with high SEO score is easily crawled by the search engines and helps them to understand the content of the web page better.
Let us look into some key factors which contribute to On-page SEO
1.Keyword Density

Keyword density refers to the number of times a primary keyword is repeated on your web page.
For e.g., – If you are a mental health help website, and you want people to reach you when they type mental health, then mental health is your primary keyword.
While Google does not specify any recommended threshold or rules for the right percentage of keyword density, the general guideline is not to stuff them just for the sake of it because search engines can penalize you for it.
Keyword Density is an important on-page SEO factor, and each of the web pages should have appropriate keyword density all over the page.
2.Responsive Design
Do you know
" WARC, a marketing research firm, estimates that around 2 billion people currently access the internet via only their smartphone, which equates to 51 per cent of the global base of 3.9 mobile users "
Responsive websites show the same result irrespective of what device is being used. That means irrespective of whether you open the website on your phone, desktop or tablet, your website content will appear the same on all the platforms.
You can check whether your website is responsive or not through various online tools. While making a website, make sure that your website has responsive design as more and more people have started to use mobile phones to search the web. If the website is not responsive, then it can act as a negative factor for your on-page SEO as people would skip opening your website due to lack of responsive design.
3.Title Tag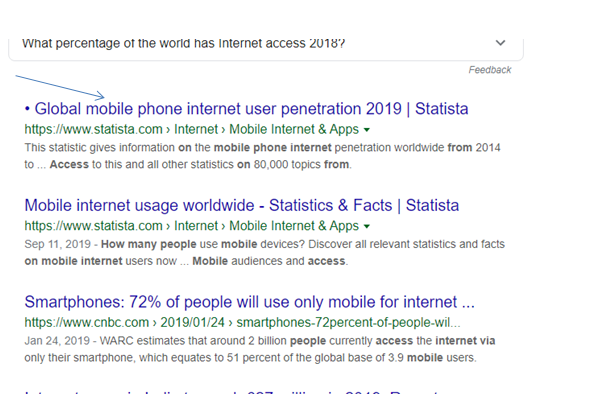 Title tags are crucial in terms of on-page SEO. They are the headings that appear on the search engine results page. The recommended length of the title tag is 50-60 characters; therefore, it should be thought through seriously before being articulated.
It is beneficial to put your keywords in the title tag for SEO but doesn't just limit to that. People click on any link due to its title. A title should be relevant and attractive to urge the user to click on it. Nowadays, people don't just click on the link that appears on the top, and they scroll to find the most relevant by seeing the title.
Add your keywords and relevant information in your title. You can also put location for local business. The title describes the page to the users and they are likely to decide to click or not based on the title.
4.Headings

We all are aware of what are headings, and while publishing content, we can encapsulate content within headings. You can put headings from h1, h2, h3, h4, h5, h6.
Putting headings in your content helps to increase you on-page SEO score as headings help the search engine to crawl your page better and tell it what the page is all about.
People also like to read content that is well organized with headings as it makes reading easier and also describes what the paragraph is all about.
But it is vital to use headings the right way.
Your web page should always have an H1 heading, and you can put 2-3 h2 and h3 heading for the subheading. You should always put the title as an h1 tag.
The H1 tag should always indicate the overall description of the blog.
Here is an example of how to use headings
H1: Sports shoes for running
 H2: Good sports shoes
 H3: Benefits of good sports shoes
5.Optimize Images
You must be wondering how can we optimize an image from an SEO perspective. Well, Image Optimization plays a significant role in On-page SEO.
Everything that is a part of your web page is crawled by search engines and considered for SEO, including images too. You should always put optimized images in your content if you want a good SEO score. Images are optimized using alt tags and scaling them to a small size to load them faster.
Alt tags describe the picture and also appear when the image fails to load.
Here is how you should put alt tags:
an alt tag- pink wallpaper
When writing alt tags, write a relevant short description of the image and try to put keyword also but insert keyword only if it makes sense to read. Putting alt text for an image tells the search engine what the picture means and makes crawling easy.
Images are also optimized by reducing size. Very large images take more time to load thus affecting the overall site speed, which is a big no-no for SEO.
A website that loads slowly is not liked by people or by search engines. Therefore, you should always optimize images before uploading them to your website or web pages.
6.Create Engaging Content
Content is any information that you share with the users in the form of blogs, videos, images etc.
A good website should always have engaging, original and quality content. If you don't have good content, then even if people come to your website, they will leave fast which is not a good indication to the search engine about your website, and you may rank low because of this.
While creating content, always keep in mind the below factors:
Your content should answer the questions of your audience.
Every content piece should provide something of value to the audience.
Your content should be easy to read, and your audience should be wanting more of it.
Always have a call to action at the end.
Don't stuff too much technical jargon and try to write from the audience's perspective.
Content is an essential aspect of any website and can make or break your SEO score. Invest time in writing unique and engaging content that will allow the user to learn something new and something important.
Writing content with real facts and information increases trust among the audience, and they might come back to your website in the future to get more help which is a good indication for search engines and would help to increase the SEO score.
7.Increase Site Speed
We live in a fast-paced world where people are always in a hurry, and this also applies to the way we should approach web search.
Site speed is another critical aspect of SEO as people are not likely to stay on a website, which loads slowly and takes time to display content.
There are various tools you can use to check your site speed and multiple factors which affect the site speed.
By fixing those factors, you can increase site speed and eventually increase your SEO Score.
8.Use Short URLs
You must be wondering how URLs play an essential role in SEO.
Everything that appears on your website is accountable for SEO, which holds for URLs also.
You must try to shorten your URLs but at the same time keeping them relevant. URLs also help search engines understand the description of the web page along with their meta titles.
Use – (hyphen) to separate words in a URL rather than an underscore(_).
The more easily readable your URL is, the more it ranks for SEO.
Since a URL is crawled by search engines to know what the page is about, you can also put keywords in URLs but only where they seem to be relevant. A URL must be easy to read and must be short and not very long.
Let's say there is a web page for a blog post; So a good URL would be
https:// domain name/blog/blog name
for e.g., – http://netilly.com/top-10-hacks-to-increase-followers-and-engagement-on-instagram/
9.Meta Description
 Meta Description refers to the text that appears just below the title on the search engine results page.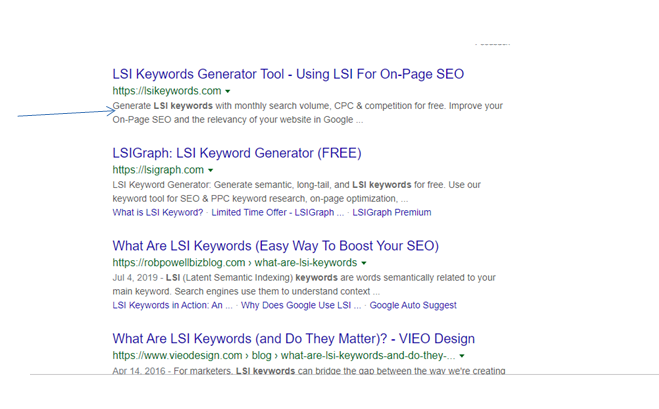 Meta Description is as important as meta title. Meta Description tells the user and the search engine – what the web page is about. The recommended length of the Meta Description is 50 – 160 characters.
A meta description should describe the web page in the best possible way so that it attracts people to click on it. It is the second thing that people read after reading the title tag and many people decide after reading the meta description.
That means just landing on the first page of search engine results will not guarantee clicks. You also need to optimize your meta title and meta description to increase your chances of getting clicked.
A proper meta description is relevant to the landing page and contains a primary keyword. It should always have a call to action which directs the user what step to take next.
10.External and Internal Links
Links are a significant part of good SEO. Acquiring links from other websites to your websites is called having backlinks. The more backlinks you have to your site, the higher you can score in rankings. Building links is not an easy task but can be achieved through continuous efforts.
External links are when another website links to your website and internal links are when you link to another page within your website. There are many ways by which you can build links, but the more links you have from legitimate sources, the better it is. Legitimate sources refer to websites that have high domain authority and page authority. You can check these scores using various online tools.
You can invite some of the high domain websites to write about your brand, products, services or refer to your blog posts. However, marketers started exploiting the process of backlinking using unethical practices ( also referred to as Black hat SEO). Eventually, Google started to penalize domains that use unfair means ( like buying backlinks) to get backlinks to their website. This can lead to counterproductive results like lower rankings.
Building good links helps in enhancing the brand value of a business and also in generating trust among people. Websites that have more links directed to them are more likely to get traffic and a good reputation.
Internal Links helps the search engines to crawl your site better and rank better. It also keeps the user engaged on your website as they move from one page to another for more information.
Try to include as many relevant internal links in a piece of content but don't try to stuff them in every line and on irrelevant words.
For e.g., – If you are writing on SEO and you have the word Domain Authority in it. You can link to the blog written on Domain Authority previously on your website.
This does not let the user leave your site soon and indicates trust and authority to search engines.
 Conclusion
SEO is a dynamic topic, and the updates in search engine algorithms make it ever-evolving. These are some of the techniques which can be done On-page, but with the change in the algorithms, the practices will keep evolving.
If you are keen to get your website optimised for SEO, feel free to drop us a message on our contact page.