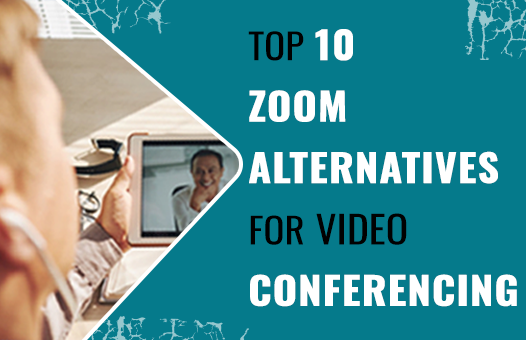 In recent times of coronavirus pandemic, there is a massive shift towards working remotely. Professionals have been highly relying on video conferencing tools to manage their daily work or project related meetings. Also, the students are taking their classes online via these tools.
Zoom happened to be one of such tools that got the most traction during Covid-19. According to some recent app stats, Zoom connections got increased by nearly 225% in March 2020, along with around 300 million daily meeting participants.
However, in light of recent security and privacy concerns about using the Zoom app, people are open to trying other available alternatives.
We are listing down few such platforms for you. If you haven't reached out to any of them yet and are planning to use for your enterprise, you would not regret choosing one.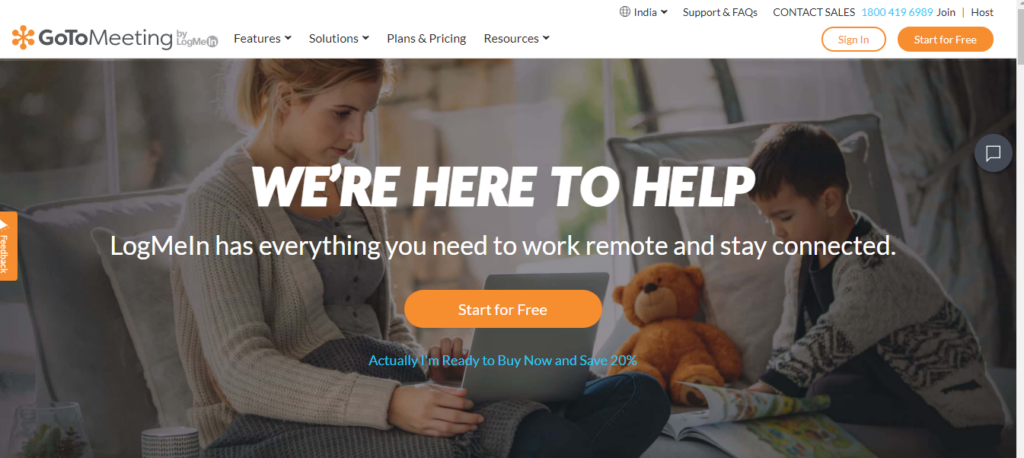 With essential features like video conferencing tools, this platform has a lot to provide to organizations for smooth conduction of their meetings and work processes. It supports HD video, multiple videos feed at a time, and is feasible with gallery view, webcams, full screen, etc.
Key Features:
Video conferencing

Screen sharing and recording

Web Audio, calling options

Group chat rooms

Whiteboarding

Annotations can be done within the presentation on the screen.

Host and admin controls via meeting lock feature to control the entrance of participants

Display up to 25 webcams

Allow the user to set up a video meeting and add it to google calendar or other booking apps

Allow unlimited cloud recording and storage in the pro plan.

Compatible with Macbook, Android, Windows, iOS
Limitations

:
Technical glitches are a big-time issue that GoToMeeting's users have faced.

Cross-talks make it difficult for others to hear the necessary information. Hence, the feature to mute all the participants must be provided to the host.
Pricing:
GoToMeeting doesn't have a free plan; however, it provides a free trial.

The cost for upto 150 participants is $12 per month in the professional plan, while its business plan costs $16 per month.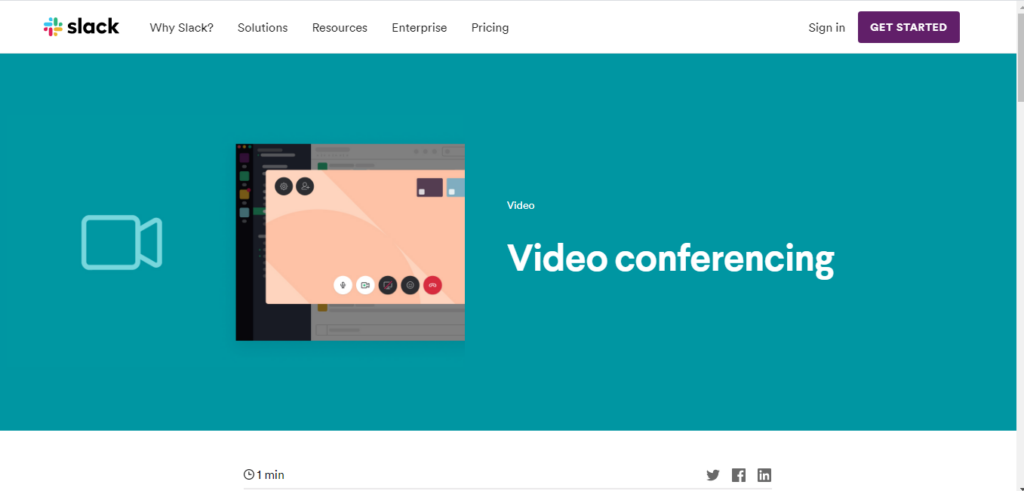 It has been observed that it provides the features benefitting the organization class or big enterprises.
Key Features:
Video conferencing

Stores the database of employees and gives access

Integrates with tools like Google calendar, Zapier Salesforces, etc

One on one calling available

Group calls up to 15 people at once

Provides Do not Disturb feature and message threads as well.

People can see each other's comments even after not being present during the calls.

Compatible with Windows and macOS

Slack users can make Skype calls and create polls from directly inside the app.
Limitations:
If you are a beginner and have a smaller enterprise, the platform would be expensive for your pockets.

It doesn't have the feature of screen sharing and is only available in desktops. However, mobile versions are soon to be launched.
Pricing:
For smaller teams, slack comes free.

The standard plan charges USD 6.67 per month for medium-sized businesses.

For administrational needs and larger businesses, it charges the plus plan for USD 12.50.

For more features and group size, the negotiations are to be made under enterprise plans with their sales department.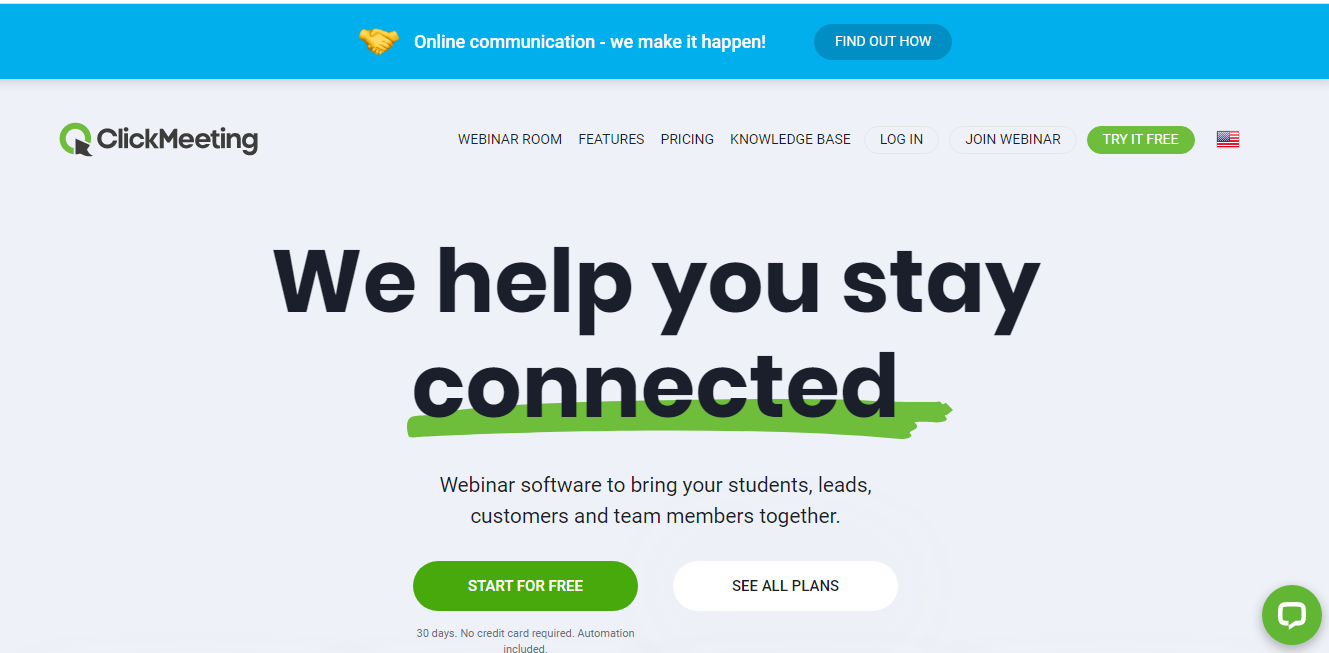 It is one of the top picks among video-conferencing tools. The software is easy to use and provides versatile features to its users.
Key Features:
Quality video conferencing

Focuses majorly on webinars

Give hosts access to mute- unmute all the participants and the access to allow the entry as well

It Provides an eye-catching interface

Enable file sharing from PCs and dropbox

Enable polls creation within the app

Chat option is available in 11 languages while the translation feature extends to 52 languages

Compatible with PCs and MAt Cs

Compatible with browsers like chrome, internet explorer, Mozilla Firefox 3, Apple Safari 4

Plugins with Google calendar and Microsoft programs available

Enable screen-sharing and recording events

Enable YouTube integration as well
Limitations:
It does not support the phone version

The conference lines are not toll-free
Pricing:
After a free trial of 30 days, the user can opt for the plan according to their needs. It charges
$25 per month for two presenters and 25 attendees

$165 per month for 4 presenters and 5000 attendees

However, on an annual payment of plans, a discount of 20% is granted to the purchaser.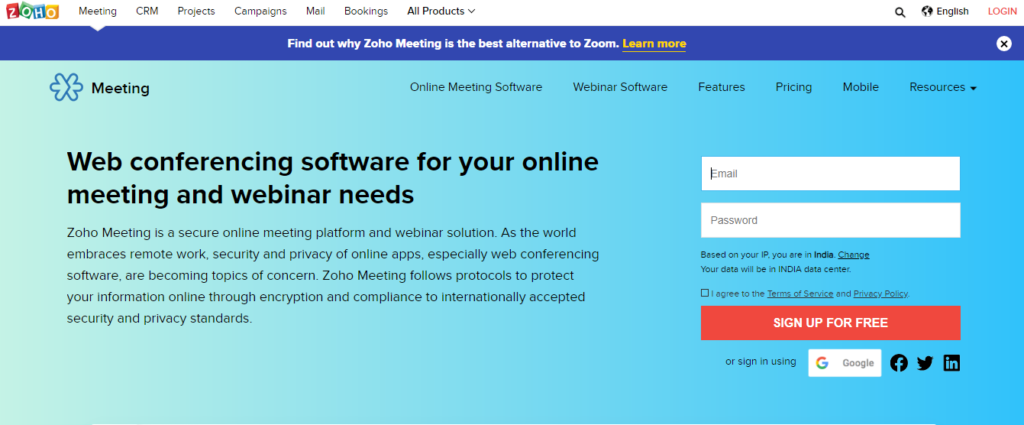 If you are looking for a decent presentation tool, Zoho is the one.
Key Features:
Compatible with WebRTC technology, hence browser friendly.

Group Chatbox available

User friendly and easy to locate environment.

Let the user share monitor or monitors

Give access to the reports determining the usage of the software

Enables host for the audio-video recording

Embeds a meeting via inline frame onto a webpage

Webinar customizations are also available.

Accommodates up to 250 participants in a webinar and 100 meeting attendees, respectively, in the paid version.
Limitations:
It doesn't offer social media integration and third party recording options.

It doesn't provide the whiteboard tools, private chat, and hand-raising feature.

It is only a desktop-based platform.
Pricing:
It costs $10 per month for a meeting with 100 attendees.

For a webinar, the price chart is as follows.
| | |
| --- | --- |
|   No. of attendees |    Cost per month($) |
| 25 | 19 |
| 50 | 29 |
| 100 | 39 |
| 250 | 79 |
  5.UberConference 
With UberConference, we can host the meeting anywhere anytime. It includes a lot of versatility in its essential features at affordable prices.
Key Features:
Video conferencing tools are available in both phone and desktop versions

Allows file sharing via dropbox, google drive, and Evernote

Enable operating google drive live in the conference

Allows automated calling to the participant when the meeting begins

Third-party integrations with G-Suite, office 365, slack, LinkedIn, etc.

Allows recording in MP3 format

Allows sending an email link to each participant of the meeting recording

Enabled screen sharing

Integration with social media like Twitter and LinkedIn is also available

It Accommodates 100 participants in one meeting

It provides voice intelligence in the paid plan
Limitations:
The application puts a cap of 45 minutes in a free plan for every meeting, which might disappoint users.

The maximum users that can be entered is only 100, which is comparatively lower than other such platforms.
Pricing:
The basic plan up to 10 participants is free, while the one up to 100 participants in the business plan, charging $15 per month.
Note – Watch Our youtube video, for the best comparison –
 6.Cisco Webex
Cisco Webex is a software designed by specialists keeping the need of all classes of businessmen in mind. Placed in one of the top video conferencing platforms, it provides a number of features in the market, challenging its competitive platforms.
Key Features:
Video conferencing tools, along with presentation tools and hand-raising features

Enabled screen sharing

Enabled recording and playback ability

Live chats available during video conferencing

24×7 online support

Compatible with iOS, android, windows, MacOS, and cloud

Allows file sharing during the conference

Enabled webinar hosting with a single host

It can accommodate 100 persons in the free plan while the number exceeds to thousands in the paid plans
Limitations:
In its webinar space, it doesn't provide a window for question-answer sessions and polls related to the meeting, which other similar tools in the market provide.

There cannot be multiple hosts in the webinar, and social media integration for the same is not available.

The features enabled for the video conferencing tools are highly supportive to the user, but while coming to the webinar space, a lot of times, the user is disappointed.

App installation is required to access video calling in a browser or desktop site.
Pricing:
It offers a free trial to the users, after which users can select their plans accordingly.

The starter plan costs $13.5 per month for one host.

The Plus plan costs $17.95 per month for one host.

The Business plan costs $26.95 per month for one host.

While for the enterprise plan, the user has to connect to the sales department of WebEx for negotiations.
The Demio webinar is a specialized webinar platform. It is a modern and powerful tool keeping up with the expectations of users.
Key Features:
Enables different kinds of webinars like live, recorded, hybrid (live prerecorded), etc.

Allows automated replays of webinars

Has the embedded option of private chats

Creates polls, question-answers window, and surveys inside the application

Give the analytical insights into the webinar performances

Allows live document sharing and screen sharing

Compatible with iOS, Android, cloud, SaaS

Multiple hosts are allowed to host a webinar

Allows third party Integration with applications like Zapier
Limitations:
If a webinar is targeting a high number of audiences, the user might be disappointed. The maximum participation allowed is 500, and that too in the business plan.

The cheapest plan can only accommodate 50 attendees.

The pricing sometimes goes heavy on the pockets of small organizers due to the cap put on the number of attendees.
Pricing:
A free trial of 14 days is granted with one host and 20 attendees. However, all the plans are priced.

The starter plan, allowing 50 attendees and 1 host, costs $34 per month when paid annually.

The growth plan, allowing 150 attendees and 1 host, costs $69 per month when paid annually.

The business plan, allowing 500 attendees and 4 hosts, costs $163 per month when paid annually.
8.Microsoft Teams

Microsoft teams, also famous as only Teams, is a platform for video meetings and file storage and sharing.
The app is found to be benefitting the student-teachers' community in the times of COVID.
Key Features:
It has an inbuilt meeting planner for organized channel management

It is comparatively more compatible with Microsoft office than other similar platforms

Available both in desktop and app versions

Provides a log for activities of the user

Has active chat teams, calling availability, and file sharing

Channels can be customized in teams for different occasions

For example, if there are 3 departments in an office, say legal, technical, and HR, three teams can be made through 3 channels, and meetings can be carried out in an organized manner.

Each channel has chat tabs with active threads

Allows both audio and video calls along with screen sharing

Enables caller to leave a voice message too
Limitations:
It is restricted to Microsoft office users and demands a commitment to Microsoft

The costs are pretty high comparatively
Pricing:
There is a free plan available. However, the specialized plans are as follows –
(If paid annually per user)
Office 365 business essential plan costs $5 per month.

Office 365 business premium plan costs $12.5 per month.

Office 365 E3 plan costs $20 per month.
9.TrueConf
TrueConf is a Russian software that is compatible with desktops and mobile phones for video conferencing tools and online networking.
Key Features:
Enable annotations, electronic hand-raising, and presentation tools in video calls

Enable screen sharing and the private chat window

Enable playback ability and recording

Have voting management enabled and schedule planners with calendars

Enable analytical tracking

The host has remote access and monitoring access

Enable webinar hosting
Limitations:
The user faces trouble while using this app. Post-implementation training is not very clear with the users

The user has to obtain a server license to join the conference, which becomes a tedious process
Pricing
The cost is for one day to 365 days

If a meeting is scheduled on a particular day, the user can hire the software for $50.00 for 24 hours

The paid plans start from $240 per annum
10.FreeConference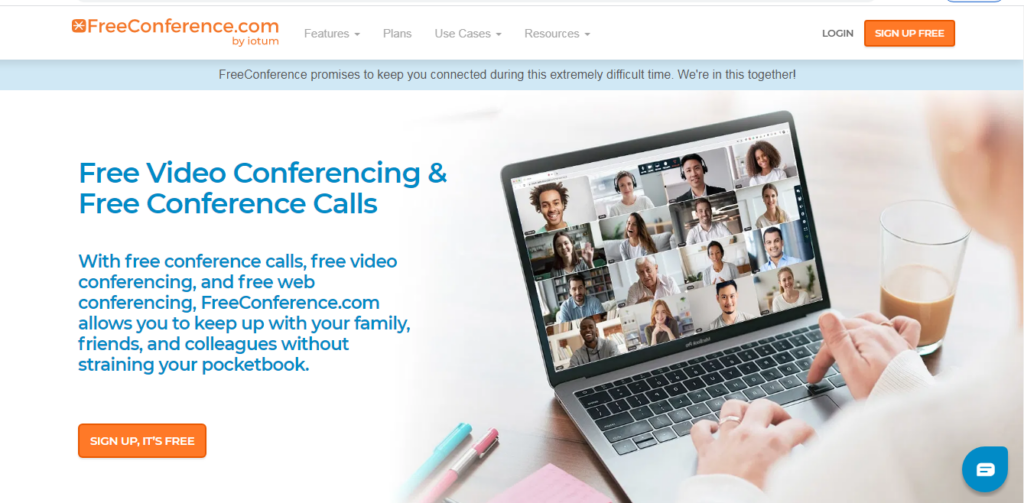 How would you react if all of the utilities for a video conference come free to you?
Well, FreeConference made it real for you. The app has its cost tiers, but we believe the necessary and required features are fitting well for a user in the free plan. All you need is to create an account, and the platform unlocks for you.
Key Features:
Compatible with desktop browsers, Android, and iOS

Enabled entry up to 100 web participants and 1000 call participants

Active chatbox and screen sharing

Scheduling of meetings is available

Enabled document sharing and whiteboard features

Enabled audio and video recording and high-security features in the paid plans

Enabled youtube streaming in the pro plan

Despite being free, the sound quality is crisp and compelling
Limitations

:
Apart from the absence of live technical support, the users have found the app to be of great purpose for them.
Pricing:
A handful of features come free for the user. However, the paid plans are as follows-
Starter plan costing $9.99 per month

Plus plan costing $24.99 per month

Pro plan costing $34.99 per month
Conclusion 
A lot of these platforms are emerging out today due to the requirements in the times of COVID. All of them have their own pros and cons. To choose a platform, you may go through the crisp details we provided. Feel free to contact our specialists today to know the suitability of a perfect video conferencing platform for you.
If you'd like to discuss how one of these video conferencing alternatives can help your business or brand, then please drop us an email and contact us.