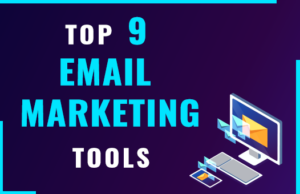 While the digital world is experiencing brisk growth, the stream of email marketing tools has successfully marked its essential presence in digital streams.
Email marketing targets the subscribers sharing common interest towards a product or merchandise. A lot of times, we have our inbox flooded with such broadcasted newsletters. We find some worthy of giving time to, while some we dismiss, but the impact of such marketing cannot be rejected from the user's mind.
To make email marketing more influential and helpful, the marketers keep trying new trends and tools and modify their work strategy. This doesn't only increase user-friendliness, but also help the marketers gain more clicks and ultimately increased PPC.
The email marketing tools help in content creation, effective optimization, email broadcasts, and lead generation. These tools overall make the job easy and less time-consuming.
We have curated a list of best email marketing service providers
These can help small to mid-segment to big organizations to engage with prospects & existing customers and grow their business.
1. Mailchimp
Mailchimp is one of the most effective all-in-one email marketing tools, which performs many functions for marketers and businesses.
Key Features:
It provides healthy contact management.

This tool serves secure and effective surveys on behalf of a marketer to subscribers.

It maintains data analysis along with the availability of 80 beautiful templates.

This tool helps maintain communication with clients, customers, and people who subscribe to the website or seem interested in a product or anything that the company is serving.

It offers an intermediate level of email marketing automation.

This tool sends first 10,000 emails of the month free to 2000 subscribers

It provides a list of segmentation and customizes users of different categories so that emails can be broadcasted according to customer's interests.

This tool allows third-party integration with other applications like WordPress, Zapier, etc.
Limitations:
Under DMARC policies of email providers, this tool is not compatible with Gmail and Yahoo mail though it goes well with the email address having personalized domains.

A lot of users find it expensive as the level of automation is intermediate only. If advance automation is expected, the user might be disappointed.
This America based automation platform is one of the essential tools of the fastest growing email marketing. Beyond the threshold, Mailchimp has its plans for different services it provides. The cost goes on from nearly around $29.99 per month and above. In Mailchimp, cost per email policy is also preferred, which means, an email sent to subscribers will cost the marketer around $0.03.
| | | |
| --- | --- | --- |
| Total subscribers | No. of emails | Cost ($) per month |
| 0 to 2000 | 10000 | Free |
| 0 to 500 | Unlimited | 10 |
| 501 to 1000 | Unlimited | 15 |
| 1001 to 1500 | Unlimited | 20 |
| 1501 to 2000 | Unlimited | 30 |
2. ConvertKit 
Specifically benefiting bloggers, podcasters, and small online businesses, YouTubers, Convertkit is our next email service provider on the list. Initiated by Nathan Barry, the service provides designed and customized newsletters and broadcasts them to the subscribers.
Key Features:
With the help of different tags, a different set of receivers can be targeted simultaneously, which helps in time management.

It allows the first 500 subscribers and an unlimited number of newsletters to them for free.

As per Hubspot, only 25% of newsletters get opened; therefore, this tool has an added feature of auto-resending broadcasts to unopened mails.

It has the feature of Visual funnels, which represent the sales data in a funnel shape. It helps in analyzing the growth pattern.

This tool allows Subscribers' tagging and segmentation into different categories to send customized emails to users as per their interests.

There are no caps on the number of emails to be addressed. Unlimited emails can be broadcasted in a month.

API integrations with third-party applications like zapier is available.

Reports and analyses are provided to the marketer from time to time.

It has the same page for creating and optimizing the mail and sending it, which makes the process in-line and less tedious.
Limitations:
This tool provides limited editing features.

There are barely two to three email templates, and the process is very tedious.

One has to go around with HTML or CSS to get templates, which a lot of marketers do not want to do.
The cost of plans varies for a number of users. The features provided are the same in all the plans. Convertkit is an efficient tool that is powerful and easy to use also with cheaper tariffs.
| | |
| --- | --- |
| Number of subscribers | Cost ($) per month |
| Up to 1000 | 29 |
| 1000-3000 | 49 |
| 3000-5000 | 79 |
| 5000-8000 | 99 |
| 8000- 10000 | 119 |
| 10000-15000 | 149 |
| 15000-20000 | 179 |
3. Aweber
Effective email marketing with around 700 responsive templates of newsletter with a simple combination of pictures and texts, we have Aweber as one of the fastest-growing email marketing tools in the list. To date, Aweber has over one lac users, making it one of the popular tools in the world of digital marketing.
Key Features:
It has a maximum number of templates superseding 500 in GetResponse and 80 in Mailchimp.

This tool allows automated broadcasting of emails to the subscribers;

It helps in viewing and analyzing the stats for the company;

This tool encloses phone, email and lives chat supports within its services;

It allows integration with third-party apps.

This tool automatically triggers emails on various occasions like when a subscriber subscribes, he/she will immediately receive a welcoming newsletter.
Limitations:
Aweber doesn't let the user broadcast the newsletters to multiple segments. This limitation

 

lowers the quality of segmentation functionality in it.

With a significant number of templates, it has a few outdated models too.
The plan for Aweber starts from $19 monthly for 500 subscribers and follows linearly, providing the same features. There is no free plan; however, a free trial of 30 days is granted to the user.
| | |
| --- | --- |
| Number of subscribers | Cost ($) per month |
| 500 | 19 |
| 2500 | 29 |
| 5000 | 49 |
| 25000 | 149 |
4. Get Response 
With over 3.5 lacs users, Getresponse is the tool you cannot avoid to have if you are using email marketing as a tool to develop your business. Containing a large number of responsive templates, it performs all the essential functions like all other tools in the market.
Key Features:
The services include creating newsletters, analytical surveys.

Automation of emails to subscribers via auto-responders is enabled.

The user can analyze his/her email marketing campaigns through features provided by his tool like open rate, clickthrough, etc.

The first month is free for trial, and beyond that, it charges amount based on different packages. The package starts from $15 per month for 1000 subscribers.

Webinar hosting up to 500 participants is enabled on this platform.

There is a conversion funnel present in the tool for building automated sale funnels.

E-commerce in integration with woocommerce, Shopify, etc. is also enabled by GetResponse.
Limitations:
There might be bugs and clunks sometimes occurring while working that decreases its functionality.

The drag and drop interface is not user friendly.

The pop-ups occurring during the task are less mobile-friendly as well.
TARIFFS
| | | |
| --- | --- | --- |
| Plan name | Number of users | Cost ($) per month |
| BASIC(email sending and contacts engagement ) | 1000 | 15 |
| PLUS( generate leads, profits and sell products) | 1000 | 49 |
| PROFESSIONAL (pro optimization and integration) | 1000 | 99 |
| ENTERPRISE(high-profit generation) | 10,000+ (NEGOTIATIONS ARE SENT FOR THIS) | NEGOTIABLE ON SUBSCRIBERS SIZE |
5. Moosend 
Providing all the necessary features like all other email marketing tools, we have next on our list Moosend. With the essential services of 40 user-friendly interface, third party integration and plugins, segmentation, etc., Moosend guarantees the speed and affordable delivery rates for broadcasting the newsletters.
What makes Moosend advanced is?
CRM system to show the behavior of subscribers on previous newsletters.

Customized information from subscribers is collected.

It grants open-click device preferences to trace activity on the email newsletter.

This tool offers phone, email, and live chat support to the user.
Limitations:
The domain authentication process is a bit tedious to prevent bad domains.

The set up of Moosend is a little bit troublesome.  However, when the set up has been established one can enjoy the services to a great extent.
Moosend provides 15% off on the half-yearly package and 20% off on an annual package. The costing for this tool depends upon the number of subscribers, and is as follows: –
| | | |
| --- | --- | --- |
| Number of subscribers | Emails allowed to be sent | Cost($) per month |
| Up to 1000 | Unlimited | Free |
| Up to 5000 | Unlimited | 10.00 |
| Up to 50000 | Unlimited | 150.00 |
6. E-GOI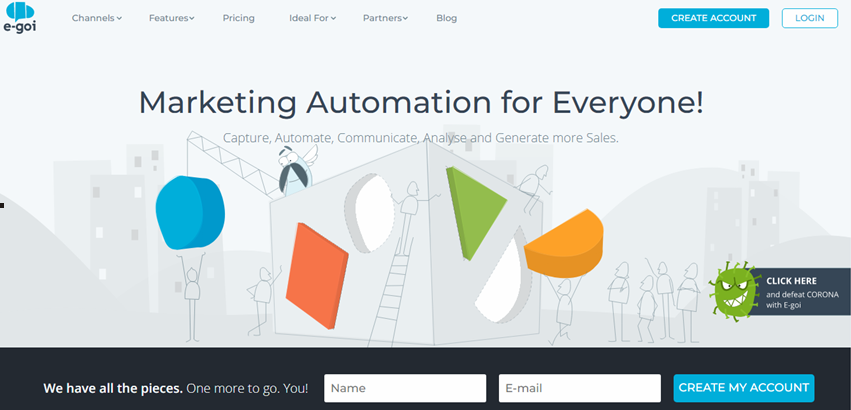 Effectively and efficiently designed. E-GOI is not only an email marketing tool but also includes a lot of features to benefit its customers. Providing general marketing tools like A/B testing, autoresponders, customized broadcast to subscribers, etc., the platform offers-
Key Features:
It allows Webinar arrangement in the tool.

It offers integration with google ads to the user.

Segmentation of the subscribers' list is made, and API integration with 2000+ apps is provided through this platform.

Live support through chats, phones, and emails is delivered.

It guarantees compliance with can-spam rules. These rules are the guidelines for marketers to follow for a user-friendly space.

Event-triggered emails are automatically generated to keep the customer engaged. Let's say, if a user has a birthday today, the email marketing tool will make a Happy birthday newsletter and send it to him/her.
Limitations:
However, it has a lot of advantages to offer to the customer. But many a time, Week statistics are observed while using autoresponders and A/B testing options.
It offers a free trial to the customer for a month. The pricing starts at $30.00 per month.
7. Mailer Lite
Bringing a wide variety of designs and features, Mailerlite is very easy to use.
It works in a modern, quick and straightforward way. They have launched their app in the digital market. However, it is only provided on iOS (iPhone Operating System). 
Key Features:
Email Marketing automation is advanced.

Customized newsletter broadcasting and survey forms are available in this tool for users.

Segmentation and tagging system is available for different category of subscribers to send personalized emails.

Basic reporting and analysis are enabled in this tool.

It is available in 8 languages. Till now supports five languages.

Unlimited storage availability is provided to the user.

It gives access to third-party integration with Shopify, WordPress, etc.
Limitations:
A limited number of templates are available in the free plan.

It doesn't provide spam and design testing

This tool only supports the basic level of reporting features.

It lacks social tracking as well, and e-commerce is only limited up to Shopify and Woocommerce.
The price chart for the same is as follows-
| | | |
| --- | --- | --- |
| Number of subscribers | Emails allowed to be sent | Cost($) per month |
| Up to 1000 | 12,000 | Free |
| Up to 1000 | Unlimited | 10.00 |
| Up to 2500 | Unlimited | 15.00 |
| Up to 5000 | Unlimited | 30.00 |
| Up to 10000 | Unlimited | 50.00 |
8. Mailigen
The next tool in our list is Mailigen. Originated in 2010 in New York, it has become an impressive tool in a shorter span.
Key Features:
It serves the broadcasting of unlimited newsletters. There is no upper cap to the number of emails that could be sent per month.

SMS marketing is enabled in this tool.

Supports .xlv, .csv, .txt files for contact managementprovides

 essential features like Auto responding, A/B testing, reports and analysis, and user-friendly customizations and templates.

This tool has third-party integration with platforms like Google Drive, Dropbox, WordPress, etc. And has e-commerce integration with woocommerce and Shopify.
Limitations:
HTML codes are required to be changed sometimes to get the desired

template, which everyone is not willing to do.

The list segmentation and re-confirmation is a little tedious process.
It provides a free trial to users without asking for payment credentials. Further, on the purchase of an annual package, a 20% discount is granted to the customer.
| | | |
| --- | --- | --- |
| Number of subscribers | Emails allowed to be sent | Cost($) per month |
| Up to 500 | Unlimited | 10.00 |
| Up to 2500 | Unlimited | 25.00 |
| Up to 7500 | Unlimited | 50.00 |
  9. Active Campaign
If you want to generate multi-channel marketing like sending SMS, social- media tracking of contacts, and Facebook Ads, along with the email marketing tools, ActiveCampaign is the right tool for you. Renowned as a highly automated platform for email marketing, it provides.
Key Features:
It has inbuilt CRM allowing the sales team to act quickly and accordingly

It enables Lead scoring and social data management to streamline the sales

This tool gives access to SMS marketing, personalized conversations to the visitors

All the basic features of email marketing like broadcasting customized newsletters, auto-responding, A/B testing, segmentation, and third party integration with Shopify, big commerce, and Woocommerce are covered in this tool.

It offers thorough analytics on areas like page-visits, eye-tracking, click maps

Free migration – if you are from a different email marketing platform, it does the account migration for free.
Limitations:
It doesn't provide the landing page editor.
If you are a smaller businessman or a beginner, the charges of this software are not going to support your pockets.
It provides unlimited broadcasts to subscribers in all its plans and a 14-days free trial. The rate list goes as follows-
| | | |
| --- | --- | --- |
| Plan name | Number of users | Cost ($) per month(yearly payment) |
| LITE(email sending & contacts engagement ) | 3 | 9 |
| PLUS( CRM, E-Commerce) | 25 | 49 |
| PROFESSIONAL (pro optimization, site messaging & integration) | 50 | 129 |
| ENTERPRISE( priority support & one-on-one consultation) | Unlimited | 229 |
Conclusion
These email marketing platforms suit different categories of users in different ways. You can get started with one tool or use multiple tools for different purposes. Don't wait to start your free trials.
If you'd like to discuss how email marketing can help your business or brand, then please drop us an email or leave your contact details and we will be happy to schedule a free consultation with one of our digital marketing specialists.