The office productivity suites are a boon to enterprises and institutions in present times. These cloud-based productivity suites are in such high demand and available in multiple options that stakeholders cannot decide which one to choose. Moreover, Best free office suite has become a necessity today to carry forward the work remotely.
Everyone needs the best free Office Suite
Office Suites provide an array of utility tools that are imperative for the day-to-day activities of any individual. From a combination of spreadsheets, word processors, email utility, image editing, database tool to high-end tools like video conferencing, the best office suites are a must-have for any business.
The share of the best office suite market in the United States is mostly shared by Google's G Suite and Microsoft's Office 365, with Google suite being the winner holding a share of 56.97 percent and Office 365 grabbing 42.63 percent, of the market till April 2020.
Where Google and Microsoft are already world leaders in the best Office suites, Zoho is an Indian initiative to come in this race. Impressively being a comparatively smaller player in the market, Zoho has fared well till now, making its mark in the market.
The count of Zoho subscribers has reached 13 million to date, and it is counted among the top best office suites for client handling and management.
We have compiled the information about three premier offices suites Microsoft office 365, G-Suite, and Zoho. They are the best suites available in the market for a user's convenience perspective.
 ZOHO Office Suite
Zoho Corp. was founded in India in 1996, and expanded globally in 2005, and it launched its Zoho office suite. It contains all the basic features of the best office suite like spreadsheets, writer, email facility, calendar, etc.
Digital researchers have pointed out that if people are seeking a cheaper version of office 365, then Zoho is the choice. Besides the similar kind of features it is providing, it has integrated with google drive as a cloud service provider and with the MS office too to manage docs and sheets within Zoho CRM.
 PROS –
If you are looking for the best office suite supporting outlook, google drive, Mailchimp, google maps, etc., then you can go for Zoho.
It can be customized according to your business needs.
It has a user-friendly graphical interface.
It has methods to generate leads, read analysis, track the progress of meetings, automate sales activities, etc.
CONS –
Zoho doesn't allow the direct transfer of contacts from social media. It only allows us to build contacts through emails.
Sometimes the software shows usability issues. As it is created using AJAX, it may behave lower than the expectations.
Geolocating, live reloading is not always supported by the application.
The compilation of its features is done below in the table.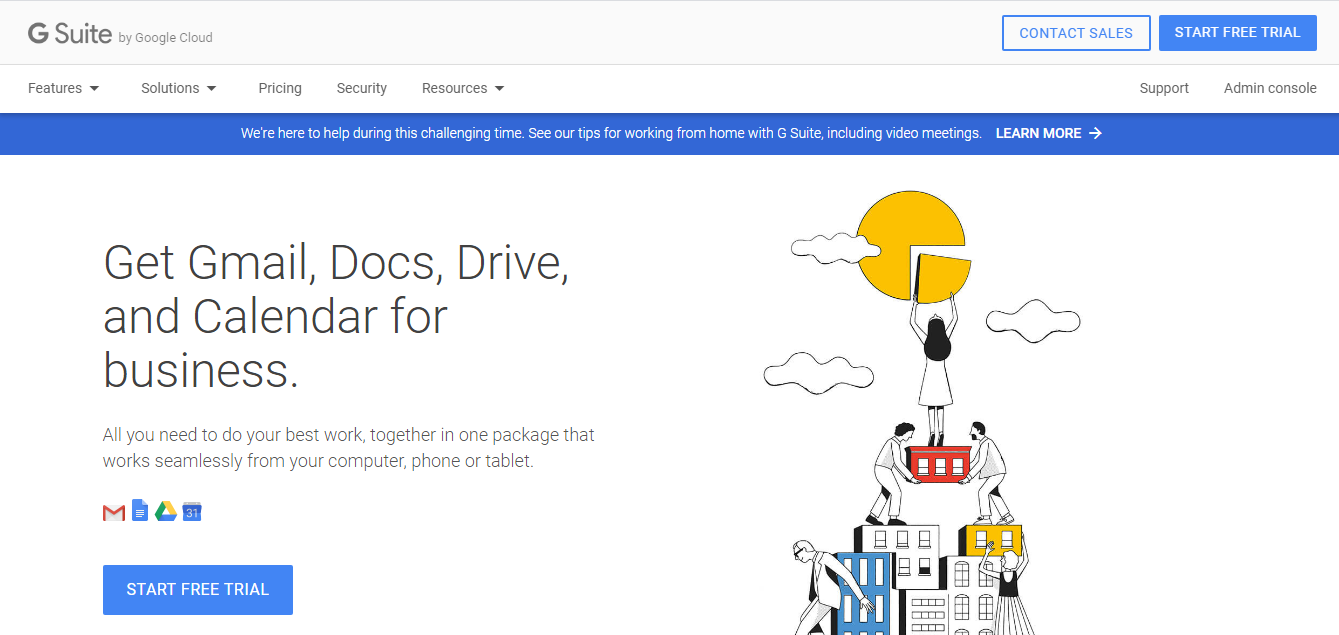 Today, 1 out of 4 users is vouching on Google as the leading service provider. Undoubtedly, the G-Suite of Google can be considered as the most used online productivity suites. With G-suite, a lot of institutions and offices have transitioned their IT department to the cloud servicing, and it is estimated that with several over 2 billion G-Suite users. In the upcoming 5 years, the IT area will completely move to the cloud.
PROS –
It has collaborated with slack, basecamp, keep and jumble, etc., out of which jumble is an IOT based software. It provides the smart boards which can be connected through the internet.
It is easy to use and provides maximum cloud storage through Google Drive.
The charges fit the pockets of every category of users
CONS-
The user interface of docs and spreadsheets are less friendly to the user as compared to the MS office.
There is no option to search for a document as whatever is edited earlier shows up on the top.
Why G-Suite? The services are discussed in the table below.
Microsoft Office 365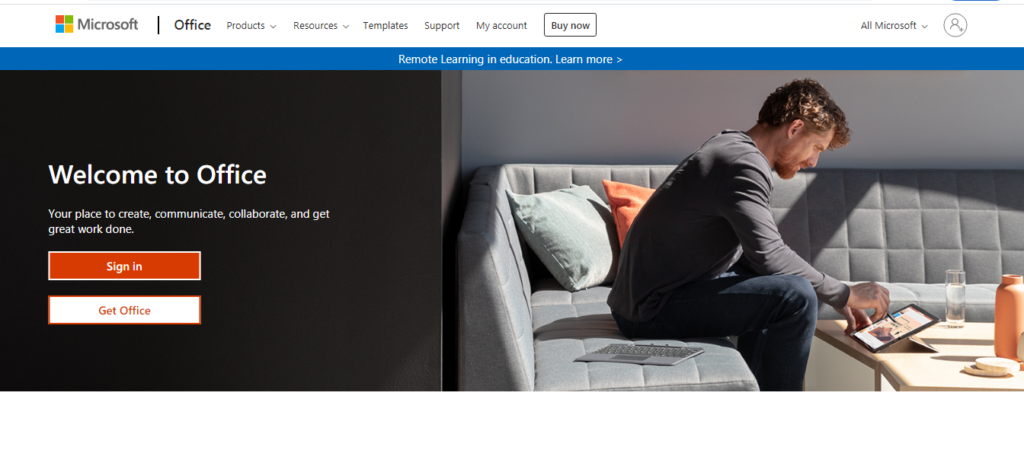 Along with Zoho and G-Suite, Microsoft also offers an all-in-one package – Office 365 for business services. Microsoft is a world leader in Office utility suites, which has far created its credibility across the world. All of the people belonging to IT or even working with computers for their work management must have, from the very beginning, been familiar with the office tools like word, excel, etc.
The suit witnessed an increase of around 2.5 million per month in the number of users till now. The total number of users relying upon office 365 has crossed the 200 million mark to date.
PROS –
Easy access anywhere, anytime by the members of an institution.
It makes the user aware and knowledgeable of cloud computing.
With no extra charge, the users can update to the latest version with advanced features. However, using the updates sometimes becomes messy for the users as well.
It has enabled advanced security mechanisms and encryptions.
CONS–
Since it uses cloud storage, it may be vulnerable to security threats.
The cost can be a bit high for lower-level organizations, startups, and beginner level endeavors.
It requires a high-speed internet to access files. If the internet slows down, sometimes the access is lost.
For more clarification,  watch our youtube video –
How promising Microsoft has been to its users while launching its office suite, and how it is keeping up in the race, we have done a quick and easy to go review of the three platforms in the table below.
Comparative Analysis
 
ZOHO
G Suite
Office 365
 
COMMUNICATION FEATURES
CLIQ, MAIL,

CONNECT

(VIDEO CONFERENCING, CHAT THREADS)

GMAIL, HANGOUT

( VIDEO CALLING AND LIVE CHATS)

TEAMS FOR VIDEO CALLING AND OUTLOOK FOR EMAILS AND CHATS
WRITER
WRITER
GOOGLE DOCS
MS WORD
SPREADSHEET
SHEETS
SPREADSHEETS
MS EXCEL
PRESENTATION
SHOW
GOOGLE SLIDES
MS POWERPOINT
ANNOTATIONS AND PRESENTATION TOOLS
AVAILABLE
AVAILABLE
AVAILABLE
THIRD-PARTY INTEGRATIONS
SLACK,

FACEBOOK, TWITTER, LINKEDIN AND GSUITE APPS

FACEBOOK, TWITTER, YOUTUBE VIA

GOOGLE STREAM, SALESFORCE, SHOPIFY, HUBSPOT

SKYPE, TEAMS, SHAREPOINT, SALESFORCE, SHOPIFY, HUBSPOT
COMPATIBILITY
APP IN ANDROID AND iOS, NO APPS IN BROWSER
COMPATIBLE WITH WINDOWS, iOS, MacOS, Android
COMPATIBLE WITH WINDOWS, iOS, macOS, Android
HIGH SECURE ENCRYPTION AND SECURITY
AVAILABLE
AVAILABLE
AVAILABLE
CALENDAR AND FILE SHARING
AVAILABLE
AVAILABLE
AVAILABLE
CLOUD STORAGE
UPTO 1TB IN PAID PLANS IN GOOGLE DRIVE
UNLIMITED IN PAID PLANS(1TB IF LESS THAN 5 USERS) IN GOOGLE DRIVE
UPTO ITB PER USER IN ONE DRIVE
PLANS
STANDARD- $2/USER/Mo

PRO-

$5/USER/Mo

ENTERPRISE-$8/USER/Mo

BASIC-

$6/USER/Mo

BUSINESS- $12/USER/Mo

ENTERPRISE-

$25/USER/Mo

BUSINESS ESSENTIALS

$5/USER/Mo

BUSINESS-

$8.25/USER/Mo

BUSINESS

PREMIUM-

$12.5/USER/Mo

PROPLUS-

$12/USER/Mo

E1-

$8/USER/Mo

E3- $20/USER/Mo

E5- $35/USER/Mo

ADDITIONAL TOOLS
CRM, BOOKS (SMART ACCOUNTING) and CREATOR (TO BUILD CUSTOM APPS)
GOOGLE MEETS, FORMS, SITES, APP MAKER, CALENDER
ONE NOTE, PLANNER, MAYANALYTICS, YAMMER
 Summing up
We can prudently say that all of these suites are highly efficient and resourceful.  They are frontrunner utility tools which most of the people need irrespective of their nature of work, Zoho is a preferred choice for the small -effectiveness and cutting edge features. Also, for a smaller business, opting for Zoho will serve both the pocket and the purpose.
To know which tool is going to suit you well, you can contact our specialists for free. They will help you in choosing the best free office suite as per your business needs.