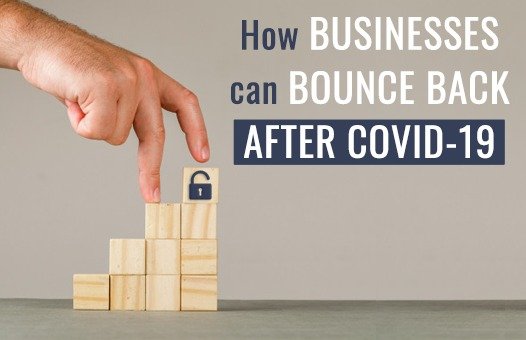 How Businesses Can Bounce Back After covid-19 – The impact of Covid-19 is impending on the businesses irrespective of size and scale. It is going to take a while for the economy to revive, forcing the companies to adopt digitalization and online framework. Businesses need to adopt newer techniques to ensure they are running at the right pace and generate profit in the pandemic-stricken economy.
The need of the hour is that the companies create the right business model in which they can operate and function in the changing ecosystem where most of the activities would be carried in a contactless and online environment.
Nearly 2.05 billion digital shoppers are expected to be in 2020, which is almost 7.8 billion people in the world. This showcases that digitalization is imperative in building a successful and profitable business.
We have already witnessed during the lockdown in lieu of covid-19 that only the companies which had digitalized their business and were operating over the internet in full scale have been able to continue their operations. Hence, business owners need to bring their business online irrespective of their size, domain, and scale of operations.
Thanks to technology and higher ready to use services available, it is easier than ever to digitalize your business and start operating online. In this article, we will discuss in detail the various steps and ways you can take to bring your business or service on the internet with ease.
Kick start the Digital Journey with a Website
The most important aspect of kickstarting your digital journey is to get a highly interactive and impressive website for your business. The website is the first interaction of your brand and the customer online. It reflects your brand vision and creates a connection with the users, compelling them to take a Call to Action, bringing sales to your business.  Before designing, developing, and rolling out the website, deciding a good domain name for your website is important. You would need to register a Domain name with the Web Hosting company.
You can reach out to a good digital marketing agency that helps to understand your business model, your brand vision, and then help you develop and design a website that replicates your functions. It would be best if you decided on a domain name that is catchy and identifiable by your target users. Once done, you can register for the domain name and also get the required Web hosting.
Web Hosting companies provides all the services required to bring the website online, including domain name registration, website hosting, email account setups, and database management.
Start  Spreading the Word About Your Website with Right Branding
Once your website is up and running, the next step is to ensure that your companies do the right campaigning and branding to ensure that the business gets the right traction on the website. With the right branding and marketing, the companies can bring the traffic to your online store, website, or educate the customers for your business.  A right digital marketing company can help businesses to design the most effective branding campaigns which are specially meant for your industry and cater to the needs of the markets you deal in.
There are many tools available online from renowned companies like Adobe, which help you create amazing brand collaterals, brochures, magazines, advertisements, and everything under the umbrella of branding. The hi-end tools help your business create the right material for the business to effectively communicate your events, promotions, and day to day notifications for both online and offline media.
Adobe tools give the best in class designing and drawing tools, which can help businesses greatly impact users.
Reach Out to Customers Through Social Media
Today, Social Media is one of the most prominent platforms for marketing and creating brand awareness. As per Global Web Index, every person spends an average of 2 hours and 22 minutes on social networks and messaging. Thus, businesses need to leverage this space.
Once you have created the right brand collaterals and designed your marketing campaigns, the next step is to create the right social media campaigns for the business. Most people use social media these days to get reviews, recommendations, and all sorts of information for the products and services they need.
Using an effective and strategically planned social media presence can facilitate a highly profitable juncture to the businesses. In the post-covid-19 ecosystem, people would indulge more actively in online buying.
Social Media Management tools help users to manage and plan their social media posts and activities effectively. Using calendars, you can schedule your posts, using the analytics features, you can see the impact of the social media channels. For example, YouTube is one of the most used video-sharing platforms; you can create engaging videos for your customers to educate them about your brands and offerings. Using the right SMM tool like Tube Buddy, you can optimize the capabilities of your YouTube channel by robustly generating real-time suggestions on videos.
Bring the right traffic to your site using smart SEO
Search Engine Optimization is extremely important to ensure that your content created for your brand is useful and reaches out to potential customers.  As per a study, more internet users conduct more than 2.2 million searches per day only on Google. Thus SEO is important to bring the right traction to your site.
Without right and effective SEO, your business website or eCommerce store would never attract the right traffic, which can give you the ROI for your investments. Right SEO is a combination of correct tools, use of right keywords, and strategically developed content that can generate traffic.
The SEO Tools like SEMrush, Mangools,  Serpstat help the users to implement the right SEO techniques and analyze their activities and content in real-time to understand the effectiveness of the campaigns. It helps in collective data analysis and competitive research to deliver the most coherent keywords and topics that the users want to read about. Answer the Public is another SEO tool that combines the searches from Google and Bing provides an overview of questions people are typing most of the time.
Optimized websites in which the landing pages are created with good content as per smart SEO techniques can rank higher on search engines, helping you get better business. The businesses which have suffered the loss of clientele due to covid-19 can use Local SEO more actively to reach out to customers.
Affiliate networks also provide a good opportunity for businesses to generate funds from their website and portals and gain traction by leveraging the traffic inflow on other sites. Post Affiliate Pro is one such SEO tool that can be extremely handy in monitoring the affiliate programs with ease. SEO Platforms provide an effective suite of tools through which users can monitor their SEO activities.
Sell Online by Setting Up Ecommerce Stores with ease
Online shopping is need of the hour, and right now, everyone needs to bring their offerings online so that the users can buy products through the online stores without the hassle of visiting the physical stores.
Ecommerce stores have been in demand for many years now, be it retail or wholesale; today, people prefer to buy things online after thorough comparison ad reviews. In the times of covid-19 when there is lockdown and people are still hesitant to visit shops physically, small vendors and business owners can set up their eCommerce or online stores to enable the customers to buy the products they offer online without any hassle. These days a lot of tools are available to set up an online store with ease. One can create an instant checkout platform without the need of any programming knowledge through these tools. A neat layout and an easy-to-use interface are readily available for the customers with the highly reliable tools available.
Ecommerce sites are a great way for the vendors and sellers to reach out to customers and sell their products and generate profit.
Educate and Train Online Using E-learning Solutions
Do you have an education institute or teach students professional skills or academic courses? Certainly, the Covid-19 pandemic may have impacted your business as everything was shut during the lockdown. You may lose students in case you have not been able to maintain continuity in classes.
A lot of people are using video conferencing tools and webinars to ensure that they are connected to their students and trainees. Schools also have regular classes with the students through video conferencing platforms. However, the e-Learning solutions provide a better and enhanced way of providing training to the students, which can be real-time and self-paced. Using the right e-Learning solutions, institutes and educators can devise their courses and curriculum and ensure that the students are facilitated with the right knowledge even without physical classes.
E-learning solutions provide customizable features to create courses, video tutorials, exams, and tests. Post Covid-19 Pandemic, the face of education and training is going to change massively, thus the need for online coaching, e-Learning would increase.
Create Impressive Media with Video Editing and Graphic Editing Tools
Any branding, Social Media marketing campaign, or website layout is incomplete without the use of impressive media, mainly in the form of attractive graphics and video. The video consumption has increased multifold in times of pandemic as people have more time at hand. As per HubSpot, 85% of businesses use video as a marketing tool to reach out to customers. With the penetration of social media, a lot of information exchange happens over communication platforms like WhatsApp, Facebook, Snapchat in the form of videos and pictures. The need of the hour is to create high quality, good looking graphics for the images and videos which can attract the viewers and thus compel them to take a call of action. It can be in terms of inquiry, read more. Users share generously on the internet, any video or image which they find innovative and informative, apart from content, the graphics play a very important role here. Highly sophisticated graphic editing tools are available in the market these days through which you can create engaging posts in a jiffy without any hassle.
Similarly, video editing can become seamless, and you can create engaging videos with high-end graphics and simulations using the right tools.
Manage and organize your work efficiently
One of the most important aspects of keeping your customers happy and ensuring brand loyalty is the efficient management of work within your teams. Be it management of documents or maintaining an accurate account of finances or communicating promptly with the customers or within your teams, you need a comprehensive office suite to complete your day to day business activities and keep a record of everything.
No longer physical files and mails can facilitate proper business operations. Instead of using separate applications for different tasks, your business needs an enterprise-based office collection, which can help you maintain documents, spreadsheets, presentations, notes, etc. and facilitate emailing, social media posting, project management, etc. at one place.
Ace Your Email Marketing Campaigns
The key to a successful business is right and timely communication with the clients, keeping them aware of every detail at the various steps of a business transaction. Emailing works as the most efficient communication; it is important to reach out to the customers at the right time, whether it is informing them about the new product, sending the registration information, or simply thanking them.
Sending arbitrary emails, with random content that is not formatted or formulated as per proper structure, can create an unprofessional image. Thus, you need an effective email marketing tool that can help you design and plan the right email marketing campaigns in a phased and structured manner. With the right email service provider, you can create automated emailers, prompt responders, and use the advanced reporting systems to understand the effectiveness of your campaigns.
Email marketing can help businesses reach out to a large number of customers and help to communicate effectively.
Stay Connected with Teams and Customers Using Video Conferencing
It is important that the teams within a business or enterprise can connect and work from remote locations in the present times. Right now, in the times of covid-19, pandemic physical movement is restricted, and we do not know how long it would take for people to travel for business purposes freely. Thus, to ensure that the business is up and running, you need to enable your employees and team members to connect and communicate through various online platforms such as Go To Meeting, Slack Social, Click Meeting. Video conferencing and webinar platforms are required these days as they bring teams together and provide seamless interaction with clients in real-time.
A lot of video chat platforms are available these days. However, you need to choose the one which provides safety, security along with advanced features like screen sharing, video playback, and multiuser connectivity.
In nutshell, by using the right tools, businesses can create a good online presence and gain the lost foothold in their markets. If you need assistance from our experts to help you pick the relevant tools for your business to bounce back after covid-19, feel free to contact us.