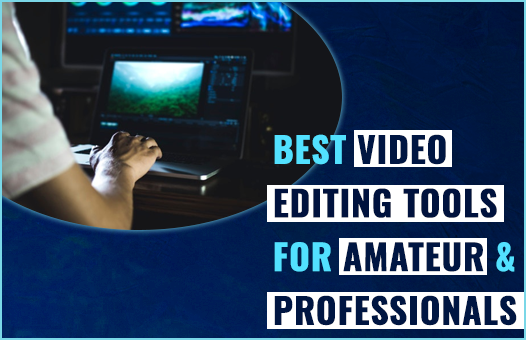 In recent times, video content has been absolutely ruling over social media with more than 87% of online marketers using Best Video Editing software in their digital marketing strategies. Needless to say that bloggers, advertisers and digital marketers can't swim in the stream without Best video editing software.
Since there are a lot of tools available so we have consolidated a list of best video editing software so you can churn out good professional videos to keep your digital marketing strategy ahead of the curve. Let's dive into the details of each of these tools and how they can facilitate to create and manage a customized video layout.
1. ADOBE
Adobe brings its users, a complete set of tools. While all of its tools are cost-efficient for video industries, it may sometimes hit hard on the pockets of freelancers and entrepreneurs who are beginning with their video editing careers.
One cannot distinguish between the tools that Adobe provides. All of the tools add complementary features to the videos. Let us see how.
a. ADOBE PREMIERE PRO
With a lot of features entitled in it, Adobe Premiere Pro is the most preferred editing tool around.
It offers:
4k and higher HD resolution videos;
Convertible formats for media;
Simple video editing with background sounds;
Supports multiple camera recording and;
requires windows or MACOS for functioning.
While simple videos can be edited on the desktop through premium pro, motion graphics can be added through the after-effects.
b. ADOBE AFTER EFFECTS
Adobe After Effects is used to add motion graphics to the produced video. It adds digital visual effects to the movies, video games etc. So when one is done with producing a simple video through Adobe premium pro, he can come to after-effects to add the desired effects. Another such supporting software from Adobe is adobe animate and Adobe audition.
c. ADOBE ANIMATE
While adobe after effects add motion graphics to the video and the end results are in video format, Adobe Animate, earlier known as flash, is used to create animations. It gives the animation to the hand-drawn objects and puppet characters. The output of this software is a web-based animation and not a composed video. The tool gives the necessary creation to animation required by a creator.
d. ADOBE PREMIERE RUSH
Though Adobe Premiere Rush is a simple performer of premium pro, it is more of a streamline version. It is available in iOS and performs functions like desktop functions of a pro. It supports live video and audio recording for the video and also enables direct social sharing through the platform. However, Rush is still in its infancy and is looking towards growth.
Pricing – The company offers a package of services depending on your needs. The starting price is, however, $19.99 per month.
2. FILMORA
Filmora by wondershare is most easy to use platform for video editing. The interface is so easy to track that it will seem so friendly to the editor in the first go itself.
Features –
Compatible with webcam to allow voice recordings and video captures.
Hundreds of transition effects are present to make videos more effective.
Allows the text editing on the videos.
Supports more than 10 output formats to export your videos including mkv, WebM etc.
Enabled direct social sharing on YouTube, Facebook etc.
Easy to use trimmer and merger facilities are available.
Allows quick editing of the videos by providing themes and music to the videos.
Requires a minimum of 2GB RAM
Compatible with Windows (64 bit) and MACOS version 10.9 or greater.
Limitations –
The functionalities sometimes get disrupted.
No provisions to add animations to the videos.
Not compatible with PC lower than 64 bit.
Watermark is present in the videos edited by using the free version.
Pricing – It provides an annual plan for $39.99 per annum. However, the lifetime subscription costs $59.99 and the unlimited access is for $99.87.
3. COREL VIDEO STUDIO
Corel Video Studio Pro supports video editing, photo slideshows, video capturing etc. The best feature of Corel draw includes supportive tutorial sessions which help the user to learn its functions.
Features –
It has a windows based deployment.
Enabled 3D editing, and speed adjustment.
Has split/merge tools and a user-friendly interface.
Enabled titling, transition effect and colour grading for a decent presentation.
Enabled slideshow making, audios and video captures and video sharing.
Supports up to 4k HD format and 3D media.
Limitations –
The installation of software is a tedious process.
Blurred rendering is a common issue that the user faces.
The software occasionally hangs or crashes while other softwares are open in the background.
Pricing – $80.00 per annum.
4. LUMEN 5
Founded in Canada in 2016, Lumen is a platform to draw social attention towards your project. It provided a good variety of video-editing services.
Features –
Enabled animation effects.
Supports social sharing and HD resolution.
Enabled customized effects and voice-over feature.
Supports content marketing through brand management, campaign management and video management.
It has a cloud-based deployment.
Videos can be edited in 720p resolution exceeding up to 1080 in the paid plans.
Limitations –
Technical glitches occur in this software causing the delay.
Voice customization is not available.
The paid plan offers limited services as compared to other applications, thus, if you are a freelancer, you may find it expensive.
Pricing – It offers a free plan with limited features. Users can shift to paid plans for better effects.
| | | | | |
| --- | --- | --- | --- | --- |
| Plans name | Starter |  Premium | Business | Enterprise |
| Cost per month ($) | 19 | 49 | 149 | Negotiable |
5. iMOVIE BY APPLE

iMovie by Apple is pre-installed video editing software in Macbooks. The apple users can capture the videos in their iPhones and share on their MacBooks to enable effects and editing in the captured video.
Features –
It comes free for Apple users.
It is easy to use and has a user-friendly menu for editing options.
It imports and edits 4k videos smoothly.
It has all the top effects and templates for video editing.
It can easily trace out the required media from the iCloud.
It is well optimized and highly responsive to the user.
Limitations –
Limited to MAC users only.
Lack options like Multicam editing etc.
UI cannot be customized.
Pricing – Free for Mac users.
6. COOLIX
Used and trusted by more than a thousand companies including Nestle, Coolix has found its way in top 9 video editing tools today. It offers a variety of customized video templates for advertisement and business purposes.
Features –
Interactive catalogs and potential customer formats in videos are present.
Enabled CRM integration with platforms like Hubspot, Salesforce, Mailchimp etc.
Compatible with iOS and Android in mobile phones.
Limitations –
So far it is seen that users are completely satisfied with the services. Although sometimes, the smaller level businessmen and freelancer have found the price chart to be less convenient.
Pricing –
| | | | |
| --- | --- | --- | --- |
| Plan's name | Starter | Professional | Enterprise |
| Price per month ($) | 19 | 65 | Negotiable |
7. POWERDIRECTOR 365 BY CYBERLINK
Powerdirector software by CyberLink is a long-running software in the race of these tools. It provides a lot of easy to use features to the users at a decent price.
Features –
Provides the user with a large number of video effects, motion graphics and AI styled plugins.
Offers slideshows, included in movie wizards, and a large number of interfaces for videos.
Supports new video formats like blurry discs to perform disc burning functionality.
Compatible with Windows only.
Availability of Live technical support.
Enabled sharing on YouTube.
3D animation and cloud connection up to 10GB storage are provided through this software.
Limitations –
It is not available in phone versions and compatibility is only limited up to windows.
A 3GB RAM is required for the quality production of the video.
Watermark appears at the beginning of the video for 5 seconds.
Supports 3k resolution and more. Lesser resolutions ain't supported.
Pricing – It costs $4.33 per month when paid annually. However, if the user wants to purchase the whole suite, the cost is $8.08 per month.
8. RENDERFOREST
Renderforest is a cost-efficient and easy to use video editing tool. It is highly recommended for the beginners, freelancers and new marketers.
Features –
It has a cloud base deployment, the user need not download any app on the device.
There is a free version available.
Voice and animation can be added to the video.
Enables the users to make logos, create a video in HD quality, and slideshows. It provides annotation and whiteboard services as well.
Basic utility features come free in this app. However, the user can shift to the premium plan if required.
Enabled screen sharing, animations and transitions, customized templates and social sharing.
Video can be captured live for editing in HD resolution.
Limitations –
It doesn't provide analytics of the usage.
3D videos cannot be edited.
Video cannot be edited in offline mode. Internet connection is required to operate the cloud services.
Sometimes, not having concerned app trouble the user.
Pricing – This platform comes free to its subscribers. However, for advanced services, they can shift to the paid plans.
| | | | | |
| --- | --- | --- | --- | --- |
| Plan | Amateur | Pro | Business | Enterprise |
| Cost per month ($) | 59 | 89 | 119 | 299 |
9. WEVIDEO
Wevideo is a platform recommended for freelancers, bloggers, small and large enterprises. It has more than 20 million registered users across the world.
Features –
It is compatible with android, iOS and has a cloud-based deployment.
Provide 720p to 4k resolution to the videos. Allows horizontal, square and vertical tools for editing.
Enabled screen-casting, voice-over and slow-motion graphics.
It has a music library with hundreds of sounds to spark your project videos.
Provide creative themes, fonts and green screen options which supports student-teacher presentation purposes as well.
Provides reporting and analysis to the users about the usage of the content.
Enabled social sharing, video capture and speed adjustment.
Limitations –
The plans are somewhat costlier. Limited features can be accessed in the free version.
Privacy can be convoluted since there are many possible sharing options for the content.
Some tools are operated by complex functionalities which irk the user.
Pricing –
| | | | | |
| --- | --- | --- | --- | --- |
| Plan | Power | Unlimited | Professional | Business |
| Cost per month($) | 4.99 | 7.99 | 17.99 | 29.99 |
To Summarise
To take a call which tool you should go for, just consider features shared for each and your budget. Work out your video marketing strategy and create quality video content to get the desired results.
Want to know more about Best Video Editing Software, you can contact our specialists for free.