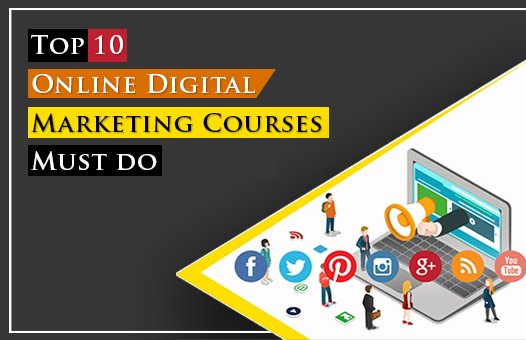 In the words of Brian Herbert, "The capacity to learn is a gift; the ability to learn is a skill; the willingness to learn is a choice."
Be it any field of work, it is the willingness to learn that guides us towards attaining knowledge and practical skills.
The online and offline certification courses are one popular way of learning the underlying concepts of the subject and understanding their practical implications.
Also, as per a study, the clients are willing to pay 20% to 40% more to professionals who have completed certified courses.
Online Digital marketing certification courses are in demand from freshers as well as professionals from different fields.
Choosing Digital Marketing Field of Work  
Marketing stands for spreading a word about one's services or products, commercial or otherwise, among the relevant audience. During the last decade, marketing has changed drastically.
Most businesses have gone online to acquire their share of consumers out of 4.4 billion internet users around the world.
This digital movement has led to the rise of the digital marketing industry and the need for experts who can provide result-oriented digital marketing services to businesses.
Businesses have observed a 200% ROI by using digital marketing channels like Google Ads.
Video Marketing alone has contributed an 80% increase in the conversion rates for businesses that have chosen to embed a video on their landing pages.
Many professionals are keen to pursue a career in digital marketing based on the positive and upward industry trends in 2020.
One can choose to become a generic digital marketer (jack of all trades) or specialize in one of the streams like SEO, SMM, PPC, and so on.
Things to Decide
You can find hundreds of online and offline resources to get yourself acquainted with digital marketing concepts.
While reading up from scattered resources can increase your knowledge; however, only professionally designed digital marketing courses can provide you a structured method to pick up the underlying concepts along with guidance for practical implementation.
The biggest dilemma, however, is how and what to choose? When you research online, you will come across a huge list of courses.
Instead of going through each of the titles, it is advisable to start with making two crucial decisions:
Whether to select an online or an offline digital marketing course(s)?
Whether to begin with a consolidated digital marketing course or to opt for one or more specialized digital marketing channels such as content writing, SEO, ORM, SMM, etc.
The first decision depends upon your availability for the course, while the other choice depends upon your interest and a little research about the current trends.
After taking the first two decisions, you must look for reliable vendors who can deliver the best online digital marketing courses, in a manner most suited to your needs.
To make your selection easier, our experts did thorough research on the best digital marketing courses available in the market and came up with a list of the best. 
Here Comes Our List of Top 10 Digital Marketing Courses
We have listed below a few highly ranked online digital marketing courses of 2020.
     1. Digital Marketing Learning Programs by Netilly
These learning courses are structured to focus on making the participant job-ready in the digital marketing field. It is the first of its kind learning programs in the entire digital marketing space as the focus is more on the hands-on experience of the techniques than the theory.
Netilly offers three best online digital marketing courses as below:
Beginners Master Class
Advanced Learning Program
Expert Learning Program
These course helps entrepreneurs, business owners, and professional marketers to get into the basics of digital marketing.
In all these courses, Netilly provides three weeks of instructor-led online learning sessions along with hands-on of each module. Below modules for digital marketing techniques are covered:
Module 1- Basics of Digital Marketing
Module 2 – Basics of Web Development
Module 3- Search Engine Optimisation (SEO)
Module 4- Basics of Graphic Design & Video Marketing
Module 5 – Social Media Marketing
Module 6 – Pay Per Click Part 1- FB Ads
Module 6 – Pay Per Click Part 2- Google Ads
Module 7 – Email Marketing
Module 8 – Content Marketing
Each module is covered over two days, on the first day, the domain experts take the online live sessions, and the following day, the participants take the online quiz and assignments. This course builds up a strong foundation for working in this field.
       2. Inbound Marketing Course by HubSpot 
The course is structured to focus on Customer-first Marketing. It focuses on the techniques to draw potential customers and visitors towards a business inwardly, instead of going outward to sell the products or services. The course help entrepreneurs, business owners, and professional marketers to get into the basics of inbound marketing.
In this course, HubSpot provides 4 hours of video and a free downloadable study guide which covers the following inbound marketing techniques:
Content creation
Content marketing strategy
Social promotions
Lead nurturing
Conversion optimization
Topic clusters 
The study is divided into 11 classes, each containing 2-5 video lessons and a quiz. This course builds up a strong foundation about attracting and retaining the customers for any business.
      3. Online Marketing Foundation Course by LinkedIn 
LinkedIn, as the leading professional social networking platform has taken the initiative in providing high-end learning in the form of certified courses. This helps recruiters to choose from highly skilled professionals.
For those who want to grow as a marketing professional and brush up their basic marketing skills, LinkedIn offers an Online Marketing Foundation Course.
The program develops marketing skillset with 4.5 hours of video lessons, quizzes, practice exercises, written transcripts, and an online notebook.
The subjects it covers include the basics of SEO, web analytics, email marketing, content marketing, social media marketing, and influencer marketing.
Being the first course in a series of approved courses by the American Marketing Association, which was established to allow people to master digital marketing skills, this course has high professional value.
      4. SEO Fundamentals by SEMRush 
SEMRush is a well-known name in the field of online visibility and marketing analytics software. Their team of experts has designed an SEO fundamentals course for people who wish to understand how search engine optimization works and put it into an executable marketing strategy for potential customers.
Even business owners and marketing executives would benefit from such a certification course. The program can help participants in digitizing their business as well as to attain maximum online visibility.
The program starts with a basic understanding of how search engines work, search page layouts, the concept of crawling, technical SEO, indexing & ranking, ranking signals, international and local SEO.
The competency of an SEO professional is measured through the conversion rate of a business website. The course covers every aspect of SEO in 31 lessons, compiled as 4 hours of video lectures. Additional resources and practice tests help in building up practical skills.
This course has sealed its position among the top three digital marketing courses of 2019. SEMRush is one of the leading authorities on search engine marketing (SEM) makes such an SEO certification offering highly reliable and credible.
Note – Watch our youtube video for the best digital marketing courses –
     5. Google Analytics for Beginners 
For tracking website traffic and related metrics, Google provides an analytics platform. Google analytics shows stats and figures concerning multiple dimensions of a business website. It can be as easy as reading the number of visitors and as complex as understanding the behaviour of the visitor and the webpage. To aid a better understanding of its widely used web analytics service, Google offers a "Google Analytics" course for beginners.
The course outlines the fundamentals of basic Google Analytics account creation, reading analytics reports, setting up filters and views, setting up the dashboards, creating goals, and setting up campaign tracking.
After completing the course, one can confidently take up tasks like setting up Google analytics for a client's business and help them with suggestions based on the metrics from the platform. Advanced analytics programs are also available for continuous learning.
The high relevance of the course cannot be denied given the monopoly of Google in the search engine market. 
     6. The Complete Digital Marketing Course at Udemy 
With 1,00,000 courses and 42,000 instructors, Udemy is the leading online learning platform. It has multiple options for digital marketing, among which, the Complete Digital Marketing Course is the most comprehensive one.
A combination of 12 subjects combined in one, the course provides 20 hours of training, quizzes, and practical steps, including projects, checklists, and actionable lectures.
The program covers SEO, YouTube Marketing, Facebook Marketing, Google AdWords, Google Analytics, Email Marketing, Copywriting, WordPress, and Market Research.
This course offers high value for the invested time and money for participants – be it business owners who have just started their firms or freelancers who are seeking highly paid projects or website managers who are struggling to drive traffic on their websites.
     7. Effective Content Writing for SEO at Udemy
Quality content is gaining the attention of marketers and potential customers alike. Interactive and accurate content is the lifeline of the internet. Hence, there is a rising demand for content creators.
The "Effective Content Writing for SEO" course on Udemy helps in understanding the type of content required to be written for acquiring the top 10 rankings on Google, the basic SEO rules that content needs to follow and creating well-optimized content for search engines and users.
Bloggers would find it the most relevant course to pursue.
     8. Digital Marketing Master Course by Digital Vidya 
Digital Vidya is the initiator of digital marketing courses in India, back in the year 2009. Their instructor-led online Digital Marketing Master course provides the most updated curricula. The program is delivered via 44 modules.
The firm is the official training partner for Google India; students are trained with the most recent changes made in the search and marketing techniques by Google.
The course is exhaustive as it covers every single function of Digital Marketing activity, be it SEO, Social Media Marketing, Email Marketing, Inbound Marketing, Web Analytics, Facebook Marketing, and other digital marketing topics.
     9. Content Marketing Courses by LinkedIn Learning-Lynda.com 
Lynda.com was founded by Lynda Weinman in 1995 and was acquired by LinkedIn in 2015, under its subsidiary LinkedIn Learning, which is a platform offering online courses on software, creative, and business skills.
In the field of Content Marketing, LinkedIn Learning offers 59 courses and training programs. The courses are available online along with "view offline". The program focuses on fundamentals of how to market relevant content over the internet and promote business through newsletters, podcasts, social media, etc. 
    10. Facebook Ads Certification Course 
Social media users have grown by 202 million between April 2018 and April 2019, with Facebook having 2.375 billion users.
Facebook provides a marketplace, and other advertisement plans to help businesses and individuals in showcasing their offerings to an enormous number of users.
The best part is, it is an interactive platform, where potential customers and businesses can connect in real-time and crack a deal.
Facebook Ads Certification course at Udemy teaches basic as well as advanced concepts of Facebook marketing, optimizing Facebook Ads campaign, and analyzing the reports.
Conclusion 
Digital Marketing is a vast and growing industry. Business owners, marketers, and professionals from across industries today realize its importance.
It is estimated that India alone requires nearly 20, 00,000 digital marketing experts by 2020. Therefore, a huge opportunity exists for beginners and professionals to build a career in Digital Marketing.
Please share with us in the comments below, if you have subscribed to a digital marketing course out of the list we shared. If yes, was it worth the time and money? We would love to hear your thoughts.