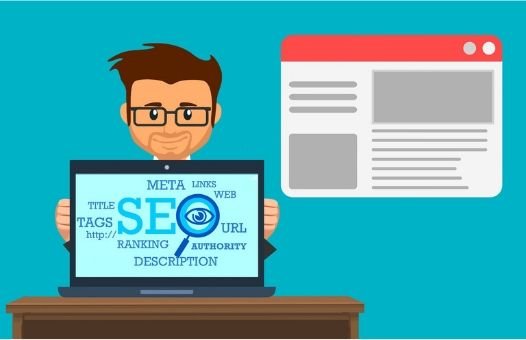 Search Engine Optimization (SEO) is like Game of Thrones; you need to battle with your competitors using the right keywords and techniques to be on top of the Search Engine Results.
However, choosing the right SEO tool is one of the challenges nowadays considering the level of competition out there.
But we are here to help you prepare for the battle with the list of best free SEO tools, handpicked by our experts. There are SEO-free tools as well in case you are on a specific budget.
Best Free SEO Tools In 2020
1.  SEMrush
SEMrush is the Marketer's favourite tool. It's one of the best on-page SEO tools to analyze your website and that of your competitors. You can look at your trending articles, social shares, word count, and related keywords all in one place. This makes it easier for you to research well before writing your blog post and helps you analyze it after publishing the post.
The best thing about this tool is that it also helps you plan the content for your blog with its content marketing kit. Not just that, SEMrush gives about 14M ideas for a single keyword. Just imagine how great that would be for your content chart.
Digital Marketing Specialist, Brenton Marcum, said their keyword strategy for writing copy for blog posts, websites, social media, and their clients, is done using SEMrush.
Type: Tool
Pricing: Paid – $99 per month
Best for Keyword research, Competitor analysis
Key Features:
Analyse competitor's keywords, ad budgets, and marketing activities
Find less competitive keywords
Compare domains side-by-side
Get visual data in terms of charts
Segmentation of your keywords by topic
Perform Site Audit
Check your website using On-Page SEO Checker
Get useful insights about your site's organic traffic
Measure and compare the performance of your content
2.  Mangools
Mangools is one of the best SEO software which comprises of below tools:
KW Finder (Keyword research)
SERP Checker (SERP Analysis)
SERP Watcher (Rank tracking)
Link Miner (Backlink Analysis)
Site Profiler (SEO Metrics and Insights)
Their USP is that they have a very smooth user interface which doesn't require any technical knowledge to use.
The best thing is you can get a ten-day free trial without a credit card.
Also, they offer 40% off on their annual plans with unlimited keyword suggestions on Mangools premium and agency plan.
Type: Software
Pricing: Paid
Monthly
Basic-49$, Premium-69$, Agency-129$
Annual
Basic-29$, Premium-39$, Agency-79$
Best for: Keyword Research, Competitive Analysis, Backlinks
Key Features:
Keyword analysis and suggestions
Analyse Competitor's keywords
SERP analysis
Tracks your website ranking
Check backlinks
Checks Domain Authority, Page Authority and Credibility of a website
Provides a browser extension
Analyse Google's SERP changes
Helps check website's SERP snippet
3.  Serpstat
Serpstat is a great all in one SEO tool whose mission is to help businesses outrank their competition to gain higher profits.
It was founded in 2013 as a keyword tool but later became all in one SEO platform in 2016 focusing on generating leads through organic and paid search.
While they also help you track your competition and improve your content.
Interestingly, they have about 5 billion keywords in their database, and 25,000 are updated every minute.
The best thing about Serpstat is that they provide a free plan which helps you find relevant keywords, analyse backlinks, and do competitor's research.
You can also save 20% on yearly SEO plans.
Type- Software
Pricing – Free for limited tools, Paid (Lite, Standard, Advance, Enterprise)
Monthly
Lite-69$, Standard-149$, Advance-299$, Enterprise-499$
Yearly
Lite-55$/month, Standard-119$, Advance- 239$, Enterprise- 399$
Best for – Keyword research, PPC analysis and competitor's research
Key Features
Helps you do keyword research and competitor's analysis
Analyse PPC campaigns
Track your website rankings
Gives content ideas
Performs On-page SEO audit
Track your competitor's keyword positioning
Displays reports and infographics
Uses API
Analyses Backlinks
4.  Moz
Moz is one of the best SEO tools that is used by many experts. Despite the regular algorithm changes that Google does, Moz is one tool that is up to date. Besides, it is also known for its chat support to the customers.
Moz comes with a free trial period of 30 days, post which you can decide whether to buy it or not. Now, that's something great because most of the paid SEO tools allow you to have a trial for only seven days.
The 'page optimization feature' is said to be the best as it helps you optimize every single page of the website by clearly mentioning where to make changes or what to add.
Type: Software
Pricing: Paid – @99 per month post 30 days free trial period
Best for: Keyword Research, SEO Report, SEO Audit, Backlink Research
Key Features:
Allows you to track the keywords for which you're ranking.
Finds out issues on your website and alerts you about the same.
Prioritized recommendations enable you to optimize your web pages.
Get custom suggestions that help you create content.
Link Explorer helps you find quality backlinks for your website.
Moz Local helps small businesses and enterprises get maximum outputs with minimum efforts.
Watch our you tube video as well to have more information on SEO Tools:
5.  Post Affiliate Pro
Post affiliate pro is the highest-rated and reviewed SEO affiliate software that helps you improve your site's ranking on SERP's (search engine result pages). It also facilitates tracking the growth of affiliate programs and networks.
It has a very intuitive user interface, so it's easy to manage commissions, campaign manager and reports.
One can integrate post affiliate pro with over 170 payment gateways and CMS.
The best thing is they are giving a 14 day free trial for network owners, merchants and affiliates.
Type-Software
Pricing-Paid post 14-day free trial
Pro-97$, Ultimate-197$, Network-477$
Best for – Manage affiliate and network programs
Key Features
Affiliate link styles
Direct link tracking
Forced matrix
Commission groups
Performance awards
Split Commission
Flash banners
Html banners
Image banners
Mass payments
Multilingual Support
Web2.0(Ajax)
Campaign, banner and affiliate report
Map overlay report
Online users report
6.  Answer The Public
Answer The Public is a keyword research tool that gives a free report of what your consumers are searching. The report is displayed in a visually appealing format with several questions and tags.

It's an online tool for content ideas as well. While the free version gives useful insights, you can also go for the Pro version, which is beneficial for agencies.
Type: Online tool
Pricing: Free /  Paid ( Pro version for $99 per month)
Best for: Keyword Research, Content Ideas
Key Features:
Get search results in the form of questions, prepositions, comparisons, alphabetical, and other related keywords
Displays visual data
Allows you to save the displayed data in the form of an image
Helps you generate content ideas
7.  Ubersuggest
Ubersuggest is everyone's favourite as it is a free tool for SEO. It's the lighter version of paid tools. Performing keyword research using Ubersuggest is quite easy; you can do it either by entering your competitor's URL or by entering the seed keyword.
The latest update of this tool also allows one to find out backlinks of your competitor's site. Not just that, you can easily get long-tail and short-tail keywords along with SEO difficulty.
Type: Online tool
Pricing: Free
Best for: Keyword Research, Backlinks
Key Features:
Estimated visit counts give you an idea about how much traffic you can get
Keyword suggestions based on the entered keyword
Get content ideas for your website
Provides the backlink data
Visit your competitor's top-ranking pages
8.  Seo Site Checkup
SEO Site Checkup is a tool that is useful to optimize your website for SEO. Checking your website manually for errors or issues to be fixed is a time taking process, but SEO SiteCheckup automatically does it for you. All you need to do is, enter your website URL and get a real-time report and fixes that are required.
This tool solves all the SEO issues instantly with just one click. It's an excellent tool for beginners as well as professionals. You can monitor your website's SEO performance on a day-to-day basis and change it accordingly.
SEO SiteCheckup is one of the best SEO audit free tool, which is available for a free trial period of 14 days.
Type:  Tool
Pricing: Paid – $24.95 per month post-14-day trial.
Best for: SEO Audit, Monitoring, Competitor Analysis
Key Features:
Analyse your SEO issues instantly
Day-to-day SEO monitoring
Notifies when your SEO score changes
Compare your competitor's SEO side-by-side
Generate SEO reports
Create automated checkups
9.  Ahrefs
Ahrefs is one of the best tools for SEO, and many bloggers recommended it. This tool crawls the website efficiently and gives almost accurate results. You can perform keyword research by either entering your competitor's URL or by typing the seed keyword. This gives you a list of keywords, both long-tail, and short-tail.

You can filter your keywords according to search volume, keyword density, paid difficulty, etc. That's the best part of this tool. Also, it allows you to vomit negative keywords.
Ahrefs is freely available for seven days.
Type: Tool
Pricing: Paid – $99 per month after 7 day trial period
Best for: Keyword Research, Competitor Analysis, Site Audit, Content Ideas
Key features:
Site Explorer for getting insights about organic traffic and backlinks
Use Keywords explorer for getting the right keywords
Content explorer gives you content ideas
Site audit feature shows you the issues that need to be fixed
Find the content gap of your competitors and generate content for your site
Compare multiple links of competitors at once
10.  Keyword Planner
Keyword Planner is a free tool by google ads. You can use it to find low competition keywords. However, it doesn't display the search volume precisely.
The keyword planner is mainly used for paid ad campaigns. It helps you discover new keywords and also shows the bid estimates for those keywords.
Type: Tool
Pricing: Free
Best for: Ad Campaigns, Keyword Research
Key features:
Search the most relevant keywords for your business
Find out how often a keyword is searched
Gives you suggested bid estimates for each keyword
Add the finalized keywords to your advertising plan
Conclusion
These are the must-have tools to aid and support your SEO Efforts. Using them will make your research easier and will surely help you rank better provided you work hard consistently and keep optimizing your website and content regularly.
However, the free version of most of these tools provides limited functionality, and sooner or later you will need to upgrade to paid versions especially if you run a digital marketing agency. One such tool is SEOptimer which provides a 14-day free trial. So, you can try it out without having to pay upfront.
You can get started with one tool or use multiple tools for different purposes and share your feedback with us.
If you'd like to discuss how the best free SEO tools can help your business or brand, then please drop us an email or leave your contact details and we will be happy to schedule a free consultation with one of our SEO Specialists.