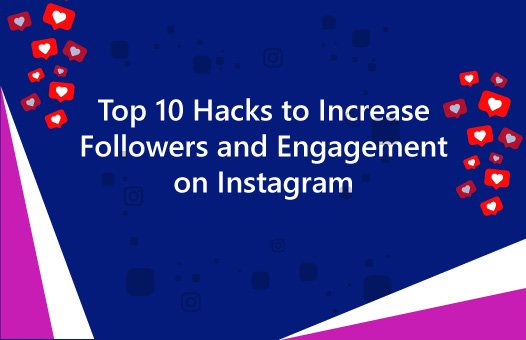 Did you know Instagram made its debut in 2010? Yes, you read that right. In a short span of time, Instagram has become one of the most powerful and influential social media platforms.
Currently, it is the second most engaged network after Facebook and has more than 60% of its users logging in every day.
Specifically, businesses such as travel, fashion, or food, segments where the target audience tends to  love visuals, have a tremendous opportunity to engage with their audience on Instagram, where 80 million photos get uploaded every single day.
Everyone wants to increase followers on their Instagram account, but it is a not task which can be accomplished in a day or two. It is a cycle of practices you have to implement to make your brand stand out on the platform. Eventually, engagement is the ultimate goal of any Instagram post. If your audience is not engaging on your Instagram posts, then all your efforts are of no use.
So let us discover some useful hacks which can help increase your followers and boost engagement of your Instagram Page:
1. Cross-promote Instagram posts on other channels
Social platforms are all about cross-promotion. If people like a page on one platform, they are also likely to like it on other platforms. You can promote your Instagram account on various platforms to increase your followers. Many Social Bookmarking sites also let you share a link to your other social media handles.
According to a study of one billion Facebook posts, pictures posted on FB via Instagram get 23% more engagement.
So leverage other social sites to promote your Instagram page, this is a great way to increase Instagram followers naturally and organically.
2.Post at the right time
You may be putting in a lot of effort in generating unique content for Instagram, but what is the use if it does not reach your audience.
Just posting on Instagram is not enough. You need to check which time will give you the best output. And to do that you can check Instagram Insights.
Instagram Insights gives you a full picture which will help you to create your marketing plan. You can figure out on which days and at what time is your audience most active, and you should keep that in mind while posting.
If you post keeping in mind your audience online timing, you will automatically see a boost in your engagement. Further, your post will have a better chance to appear in more feeds when your audience engages early with your content.
If we talk about Netilly, our followers are most likely to be on Instagram between 6 pm-9 pm, so we try to post around that time. Every small bit counts!
3. Use all the features
Instagram is known for releasing new features every now and then. Be it posting videos, boomerangs, stories, polls, questions, Igtv, ads, etc.
Instagram is all about interaction with your users, and Instagram has given you a bag full of different ways to do so. Widen the horizon of your Instagram marketing by using all the features Instagram provides to the fullest.
You can increase followers of your Instagram account by using all the features Instagram provides you.
As an example, you could reach new customers by building an Instagram ad, and by making your posts unique and creative, you can make them follow you. 
4.Create shareable and engaging content
Social Platforms are for people. While it is an excellent platform for marketing, but people don't join these platforms to get promotional content.
People like to see compelling content on social media and will only follow the pages which gives something new and valuable to them.
If you want to increase followers on your Instagram account, you need to be one of the two following things:
A big name in the market like Coca-Cola, Levis, etc. as people are curious to connect to big brands like these.
A unique content creator.
People like to see content that motivates them, educates them through facts, or did you know or makes them laugh. Create content keeping yourself in the viewer's shoes. Until a user cannot establish a relationship with your content, he or she would not like to follow your page and engage with it.
But if you hit the right chords, your page followers will increase and can even get shared among the follower's networks.
People are always hungry for unique and exciting content. If you give them that, then you can also smartly sneak in your sales post in your Instagram profile.
Let's say you are a dog walker, you can make an Instagram page where you can share various tips for dog care, habits, etc. and sometimes promote your services. The key is to promote your services naturally and not stuff your audience with that.
People will only follow a page if they are getting something out of there.
For example, Femina Magazine puts out a lot funny, motivational, and relatable posts on their official profile. People like to share these type of posts in messages, feed, or even as stories which helps increase your followers.
5. Use video content
Video marketing is a great medium to convey a message without using too many words. Videos are a great way to leave an impact on your audience and also quickly give them content.
Videos give more engagement than image posts on Instagram, especially when the videos are long. For videos more than 60 seconds, you can leverage the IGTV feature. While uploading videos on IGTV do select the option to 'post a review'. This helps in promoting the video through feeds.
Instagram is popular with video sharing, and you can use this fact in your Instagram marketing. The more people view and share your video content; the more will be the engagement and followers for you.
6. Leverage the power of Insights
Insights works like magic and gives you the information you need to post the right way.
You can view your audience and seek details about what percentage of your audience is male or female, the country or city to which they belong, and at what time they are most active.
You can also view insights for each post individually and understand what attracted your audience to a specific post and how much engagement did you get. Studying Insights wisely and making changes according to it will help you gain the followers you are looking for.
7. Use hashtags wisely
Instagram lets you use up to 30 hashtags in a single post. Hashtags are important keywords which you associate with your posts. Using correct hashtags will help people find you.
You can see how to select the most relevant and popular hashtags for your post with various hashtag finder tools.
It is not advisable to use hashtags that have huge competition and are associated with lot of public posts.
8. Be consistent and create a brand for yourself
If you have visited Neil Patel's Instagram page, you will find that all his posts use his brand colours which are orange and white. When you are repeatedly exposed to that, your mind memorizes it and associates those colours with that brand no matter where you see it.
Similarly, many big brands use this concept to create a permanent memory in the public's mind.
You can also use this to boost your posts on Instagram. Create posts with same font styles and keep the colour shades constant, so that people start remembering them and that will eventually increase your brand value.
See how all the posts of Neil Patel on Instagram are in the white and orange theme; this helps in establishing brand consistency.
9. Instagram bio is also useful
Your bio is what tells the user about your page and what you represent. Many people follow a page by looking at the bio of your Instagram page. Bio is a short description which you give on Instagram, which defines your page.
You are only allowed to use 150 characters in your Instagram bio, so you need to choose wisely.
Use your bio to create a unique and exciting description of your page which pushes the user to follow you. Use the right keywords and make your Instagram Bio useful.
10. Use polls or host a photo contest to engage your followers
Polls and contests lead to higher engagement as they have a direct call-to-action for your followers. Throwing a poll is easier as you don't need to announce any winner for same. Further, followers who have participated in a poll or contest pay more attention to your account to see the result.
You can search for previous contests by using popular hashtags such as #photocontest and #contest and work out details for your contest. Promote it big time and ensure once the contest ends, you do announce the winners across your social networks.
11. Make posts that are saveable
Have you seen the save option on Instagram?
This feature allows you to save Instagram posts that you can view later at any time. People like to see posts that they can save and share with people.
12. Ask questions in captions
Social media is all about engaging with the audience and making them a part of your conversation. Having questions in your posts you share or in captions can help you get more engagement as it works as a call to action for your audience.
13. Do Instagram Contests
Contests are a fun way to interact with your audience and grow engagement. You can host contests for giveaways such as quizzes, puzzles etc. People like to participate in contests and it works for both the brand and audience equally. The brand gets more engagement and likes and the audience gets something in return!
14. Comment on big accounts regularly
Well, this may not be directly linked to your page but it is very helpful. Comment on 10-30 big accounts daily. This way you can get noticed by others and they may find your page interesting. Doing this consistently will surely help you gain more followers
15. Reply to all comments
People always like brands which are active and connect with their audience. To make your audience engage with your posts more, always reply to them. This shows that you are active and your audience is important to you.
So, always reply to your audience to gain trust and good image in their eyes.
To Wrap Up
These are the effective ways to grow your Instagram account, enhance engagement, and increase your brand's awareness. Please do share with us your experience after implementing these hacks.
If you'd like to discuss how these hacks can help your business or brand, then please drop us an email or leave your contact details and we will be happy to schedule a free consultation with one of our SMM Specialists.