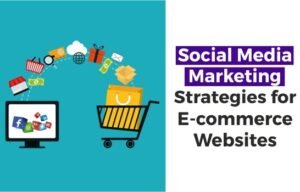 What is Ecommerce Social Media Marketing?
E-Commerce Social Media Marketing (SMM) is an effective way by which eCommerce stores that use social media platforms connect to existing and future customers to increase brand value, attract traffic, and increase sales.
Why is Social Media Marketing important for e-commerce?
According to Statista, India has an e-commerce penetration of 74% and this is only set to grow in the coming years. If you are an eCommerce store owner, this is the time you should start investing time in trying to reach a larger set of audience.
Where would you find a readily available and interested group of audience who will invest in your product or service if you reach them the right way? On social media platforms of course!
There are close to 376 million social media users in India in 2020 and the number will increase to 447 million in the next 3 years.
According to the Social Media Trends report of 2019 by Global Web Index, Indian social media users spend close to 2.4 hours every day on their social media platform. This is 2.4 hours available for eCommerce companies every day to reach out to their customers personally.
Companies that make the right use of this time garner more audience, get popular, and gradually increase their sales.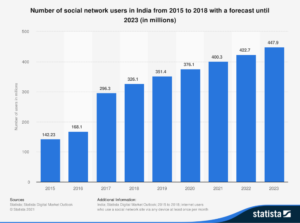 Social Media Marketing strategies for eCommerce
SMM strategies include a list of carefully planned steps tailor-made for the particular brand to improve its social media presence and target the right audience.
A lot of brands keep posting multiple times a day, every single day, and still see no improvement in their sales and customer base. Other brands post once a day or even less frequently but have thousands of organic reactions and engagements to every post of theirs. It all depends on your eCommerce Social Media Marketing strategies.
Here are the top strategies you can use to improve your sales and drive traffic to your website.
1. Be Consistent
Sound simple? Many brands miss out on this and pay the price. You could be having the best SMM managers and awesome content, but if you are not consistent though, you will not be making a mark.
Consistency does not mean spamming your audience with content every hour. It means following a pattern while posting. You can post just once a day, but be regular about it. Do this every day, 365 days a year.
Over time, your users will know when you post content and will start looking forward to the same. Consistency also means you create content that you know well and don't post everything under the sun.
If you are a skincare brand, you can engage with dermatologists to create posts that talk meaningfully about skin damage and ways to overcome it. When you do this regularly, you will build an audience who come to check out your posts regularly and engage with you emotionally. Caution to exercise – refrain from talking about random topics on your page and dilute your content value.
2. Sharing, not selling
Now, this is such an important strategy that all brands, big and small, need to understand right. What is the goal behind creating painstaking Social Media Marketing strategies for eCommerce? It is selling your product or your service to the audience. However, you can't convert your social media pages and posts into a 100% selling medium.
The audience gets disinterested and frustrated if you keep targeting them to buy something from you in every single post you create.
Social Media Marketing is about creating meaningful and worthy relationships first. You consistently share meaningful information with your users and make your posts something that they can make use of. Selling will happen on its own once you build a loyal audience base on social media.
3. Build Trust & Authority Through Your Blog
It is recommended that all eCommerce sites have their blog page where they are active and consistent. What do blogs do?
They indirectly drive traffic to your website
They are powerful tools to create meaningful relationships with customers
They build trust and help you become an industry leader
They give you a space to share relevant and useful information
Blog pages can talk about anything interesting that readers may want to know of. Relating the content with the products/services offered by the brand makes more sense as you can add links to your eCommerce store here.
If you want to know more about eCommerce in general, we would suggest you check good blogs that offer original and valuable information to their readers.
Do make sure you follow Netilly's blog page. We update our blogs regularly and write about things that genuinely interest you as an eCommerce merchant.
4. Promotional Offers
Who does not like promotions and offers? In traditional physical stores, weekly offers and promotions are printed out and pasted around the stores to let people know about them. You obviously cannot do that for an online eCommerce store. That's why you make use of social media for the same.
One of the most important jobs of an eCommerce Social Media Marketing strategy is to take to the audience the current offers and deals. Here are few top SMM promotion types you can try out.
Instagram hash contest
Referral promotions
Contests and coupons
Cross-promotions
'Follow-us' giveaways
Limited-period promotions
All these are ways to help the brand gain more followers, get more interest in their pages, posts and influence people into buying what is offered.
5. Leverage the Power of Data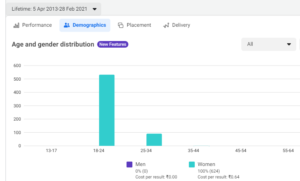 (Sample Facebook Ad Demographics)
Data is the biggest thing as of now. Billion-dollar companies work simply in collecting and distributing data and are hugely successful. Brands are running behind in gathering data that leverages their position in the industry. All social media platforms help you collect data about your visitors and customers. It is your work to analyze the data and understand how better you can target your marketing strategies.
Social analytical data also tells you what is trending, what people are interested in, and what kind of audience likes your brand. All these are critical data you should not miss.
If you are having trouble interpreting these freely available data, get in touch with a social media marketing expert who can help take over this process for you. Your brand is not making use of its full potential if it is not leveraging the power of data.
6. Tap into the power of instant messaging
One of the best things that can happen to improve your brand image and value is to have one-to-one communication with your past, present, and future clients and customers. Instant messaging apps help you achieve this.
Instant messaging apps help people and businesses communicate with one another instantly, over the internet. Google Talk, Facebook Messenger, WhatsApp, WeChat, Telegram, and Skype are few popular examples.
You can use instant messaging in the following ways –
Send customized messages to your customers
Answer queries and resolves grievances of customers
Instantly reach out to people who need you
Create groups and share the right content with different segments of the audience
Target the right people personally and improve the conversion rate
7. Showcase Social Proof
Social Proof is a very interesting psychological concept that was first coined in the year 1984 by Robert Cialdini in his book called 'Influence'. According to this concept, people, when they have very little information about something, assume that others around are better equipped with the information and follow their heed.
Celebrity endorsement is a very popular kind of social proof. Consider the brand 'Too Yumm' that sells packaged chips and crisps. This brand is a part of Guiltfree Industries Limited. Virat Kholi was signed to endorse the brand in 2018. While people have very little idea about what ingredients are added to the actual product, they pick the pack from supermarkets because they assume the cricketer will not endorse an unhealthy product!
You can also take the example of skincare and cosmetic brands endorsed by flawless-looking celebrities. The idea here is the same.
Here are few ways you can showcase social proof as a part of your eCommerce Social Media Marketing strategy.
Get a stamp of approval from a recognized board
Get a celebrity to endorse your brand
Get social media influencers to endorse/talk about your brand
Work on getting quality testimonials
Interested more about Social Proof? Check this article that talks about 'Social proof in social media shopping'.
8. Building relationships with influencers
Influencers are people who have built a reputation for themselves on social media and are active and have thousands of followers. Influencers who talk positively about your brand can help build social proof that was discussed above.
All kinds of brands need online influencers to take them closer to the audience. Influencers need to be convinced and satisfied with your product/service to talk about them on their pages. Engaging with the right influencers naturally helps increase your sales.
9. Invest in Social Media Marketing
Now, all the above eight points are effective eCommerce social media marketing strategies. They are not the only strategies available though. SMM is a concept that keeps getting updated every day. Strategies that worked yesterday may not give the right results today.
The only way you can reap the benefits of SMM is by investing time, money, and effort in the same.
Conclusion
Not all business owners are SMM experts. That is why we are here to help. If you have been struggling to make a mark online, we can create the right eCommerce social media marketing plan for your business to help you take leverage of social media.
Even the smallest of brands can benefit by showcasing themselves right online. Get in touch with us to know how effectively you can improve your eCommerce business using SMM. We will schedule a free consultation for you with our experts and help you make the right first step. Contact us right away.