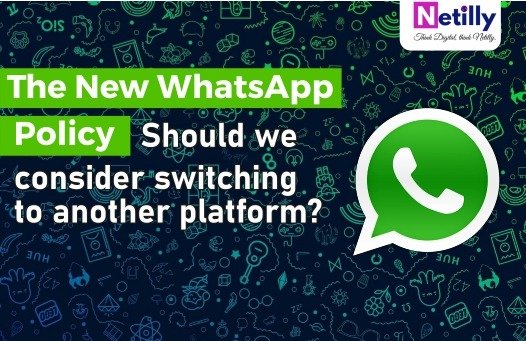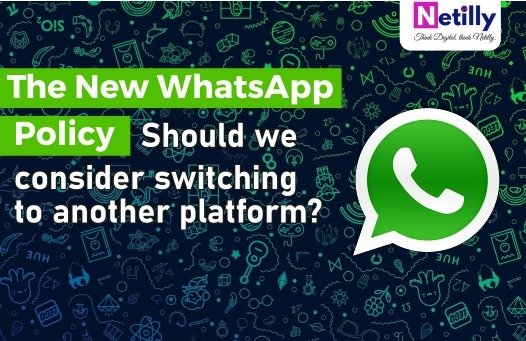 WhatsApp has always taken pride in the fact that it gives utmost importance to security and encryption and has told customers time and again that user information and chats will remain private.
That's why users and experts are worried about the impending new privacy policy up-gradation that WhatsApp is planning to bring in.
WhatsApp is a cross-messaging and Voice over IP (VoIP) free platform that has more than 2 billion active users. After WhatsApp was bought by Facebook in 2014, it has turned into one of the most used cross-messaging apps globally.
From January 4th, 2021, WhatsApp users are shown updated privacy policy rules and are asked to accept the same. Users can opt to postpone agreeing to the same until February 8th, 2021, but after that, they will have no choice. They will have to agree to the update or stop using the platform.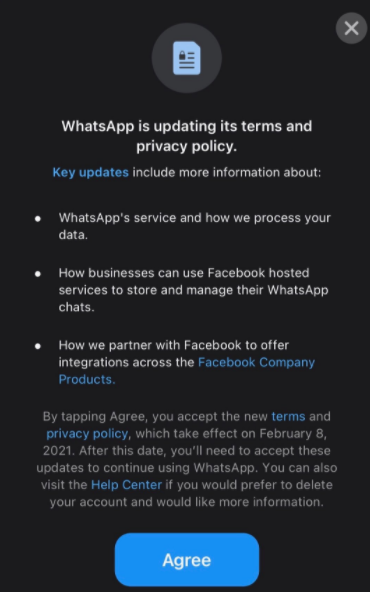 Will WhatsApp be reading your chats and listening to your calls?
WhatsApp has always promised that your chats and your calls will stay private. Chats are encrypted and your messages are stored on your device and not on WhatsApp's servers. This promise will hold true even after the policy up-gradation. Your chats and your calls will remain encrypted and safe.
Why are people worried about the policy change then?
The problem with WhatsApp's privacy policy update is how it would be using other personal information available on the messaging platform and how your information will be used when you interact with business accounts on the platform.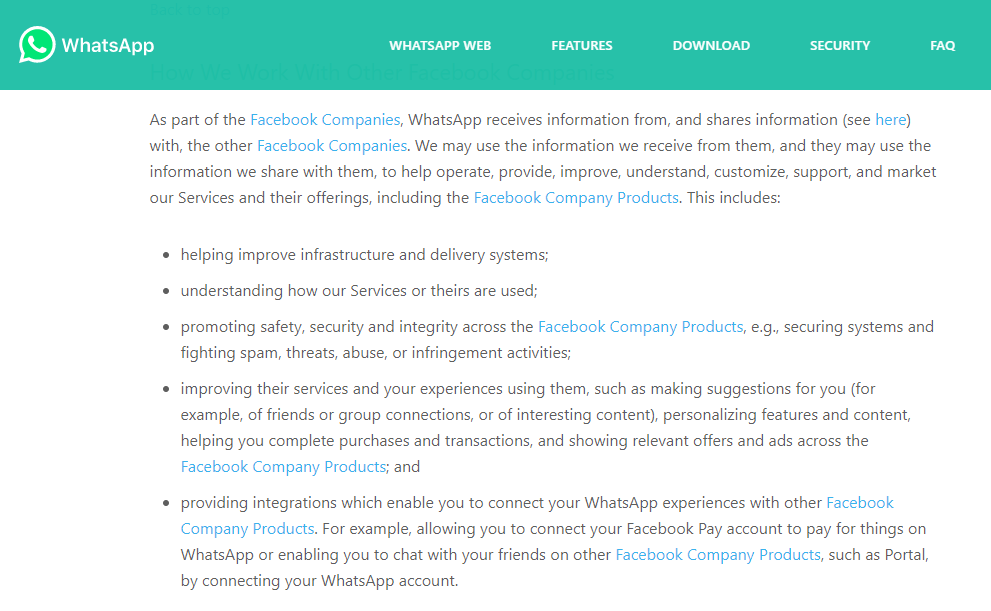 (Image source: whatsapp.com)
WhatsApp states that it is one of the Facebook Companies and hence will be sharing your information from WhatsApp to other Facebook companies and other third-party services that WhatsApp works with.
Here are some of the details that WhatsApp will be sharing with Facebook whether or not you agree to it from February 8th, 2021.
Your phone number
If you use WhatsApp payments, your transaction history, and details
Mobile IP address and other device-related information
Browser information and what mobile network you use
Hardware details including battery level, signal strength, and other kinds of device operation information
WhatsApp will also be sharing User information like these with Facebook –
How you use WhatsApp and how long you use the app
Your WhatsApp settings
How long and how often you interact with other users
Your profile photo, status, and location
These new privacy policy changes give users no control over their personal, financial, and purchase information.
This policy of WhatsApp will not be applicable in the European region, thanks to its stringent data sharing policy.
India's updated Data Protection Bill could have helped WhatsApp from sharing your information, but the bill has not been passed yet, so Indian users face vulnerability.
Indian cyber law experts call this move of WhatsApp, a method to try making money out of people's private data without giving them a choice to refuse.
Recently, the Confederation of All India Traders (CAIT) met the Minister of Information and Technology, to demand the government to restrict WhatsApp from applying the new policy update in the country.


                                                                                               (Image source: Twitter.com)
Technology enthusiasts and business leaders from around the world are resorting to social media platforms to talk about this new policy update.

                                                                                                    (Image source: Twitter.com)
WhatsApp privacy policy and its use for business accounts
Business accounts are accounts created by businesses on WhatsApp to communicate with users and send them information about their products, services, and customer orders. Another worrying change in the privacy policy of WhatsApp is about how much of your information is going to reach these business accounts.
There are more than 50 million business accounts on WhatsApp. Once the new privacy policy is updated, business accounts will get more information about the users to target the right product/service/deal for the individual.
Remember that Facebook is offering to act as a host for business accounts and will manage their communications with customers. Facebook will also have most of your user information through the new WhatsApp policy.
This means that Facebook companies will be using such information to offer better services to their business customers.
What's the alternative if you care about data privacy?
Thankfully, WhatsApp is not the only cross-messaging and voice-over app in the market. If you care about your data privacy and WhatsApp is not ready to make changes to its privacy policy, you can think of switching over smaller but equally good messaging apps like Signal and Telegram.
A comparative analysis between WhatsApp, Signal, and Telegram
WhatsApp – WhatsApp is the world's most popular messaging app. Businesses use the app to get in touch with customers and users send texts, voice messages, images, documents, and videos over this platform.
Top features of WhatsApp
Ability to post statuses
Can form groups (maximum group size – 256)
Group video calls (maximum of 8 members)
Can share photos, videos, and documents (maximum size – 16 MB)
Messages are backed-up through third-party cloud services
No ads
Signal – Signal is a cross-platform non-profit messaging app that was founded in the year 2014. It is available for iOS, Android, and desktop.  Signal offers end-to-end encryption for all texts and voice messages.
Top features of Signal
Self-destructing messages (messages can be created to last in the sender and receiver's screen only for a specific period)
Note-to-self feature to jot down things like in a notepad
Screen security – Prevents other apps from taking screenshots of your Signal screen
No ads
Simple user interface
Telegram – Telegram is a non-profit freeware software that also helps with cross-platform messaging and with VoIP. This software was developed in 2013 and already has around 400 million monthly users.
Top features of Telegram
Ability to form large groups (200,000 members)
Unique features like creation of polls, quizzes, and bots
File sharing size limit of 1.5 GB
Does not share any information with third-party apps and companies or governments
Telegram claims that it delivers messages the fastest
Ability to send self-destructing messages
To give you an idea of how invasive WhatsApp and Facebook are when it comes to your 'personal' data, check this infographic out. This tells you what information is collected by all three of these messaging apps when you install and use them.
What does the future hold for WhatsApp?
In India, the choice of whether or not you let the Facebook group of companies use your information depends on individual users. It is going to take a little more time for the government to pass the data privacy bill.
One group of people argue that giants like Google already have most of the personal information of a user and this new privacy policy of WhatsApp is not going to affect them much. Such individuals are going to keep using WhatsApp after agreeing to the privacy policy.
Another larger group of people have already started exploring other safer and private forms of messaging services including Signal and Telegram. These apps are being downloaded in large numbers as you read.
As people start asking questions about WhatsApp and Facebook's invasion of privacy, more such freeware cross-platform messaging apps are going to be created with stringent and iron-clad privacy policies.
The latest update: What does WhatsApp have to say?
WhatsApp looked like it was caught unaware by all the backlashing it has received in the last couple of weeks. About 25 million new users had signed up for Telegram in just 3 days. People are sharing all kinds of information about WhatsApp and its privacy policy on all social platforms.
The brand was quick to respond though.
WhatsApp recently created an FAQ section on its website with an explanation of what its privacy policy meant. Here are few points from the list.
WhatsApp cannot see your messages or hear your calls
It will not use your shared location or send it to Facebook
WhatsApp groups will be private
It will not share your contacts with Facebook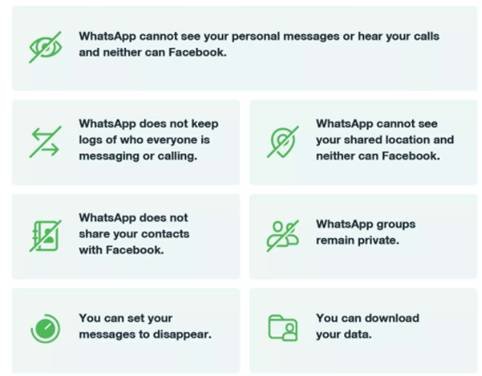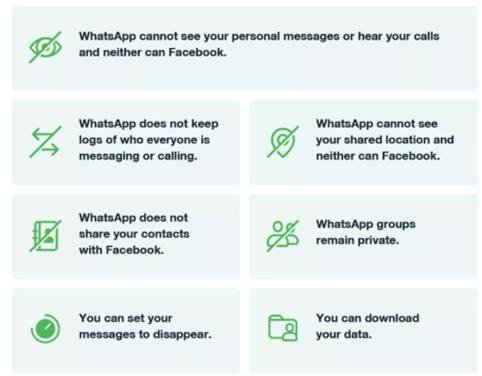 WhatsApp has now announced that it will delay implementing the updated privacy policy by a couple of months from February 8th to May 15th.
The Indian government has for its part sent a questionnaire to WhatsApp that includes questions like what permissions will the app need to function and what categories of data will the company collect and share. The government has also asked WhatsApp to withdraw its privacy policy update in India keeping in mind the data privacy and security aspects of the country.
Conclusion
The internet is already a difficult place to venture into if you want to hold your privacy close to you. With such policy changes, it is going to be even more difficult to keep your activities and interests to yourself.
No one can say Signal or Telegram is 100% effective. You, as a consumer, will have to look through their policies and terms and decide if they are safe for you to create your accounts with.
If you are planning to quit WhatsApp, it is not enough if you delete the app from your phone. You will have to delete your account from the app's settings.
                                                        <WhatsApp Settings – Account – Delete my account>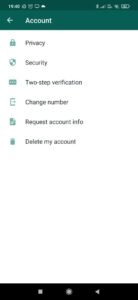 Even then, experts say that your past information and texts, images, docs, and videos shared are going to remain in the WhatsApp system.
We will have to wait and see how WhatsApp and Facebook respond to the extreme reactions and displeasure shown at this privacy policy update.
What do you feel about this new policy up-gradation by WhatsApp? Will you continue using the app or switch over to other more secure messaging platforms? Let us know in the comments below.
For more such useful information about digital media , stay tuned to our new blog posts