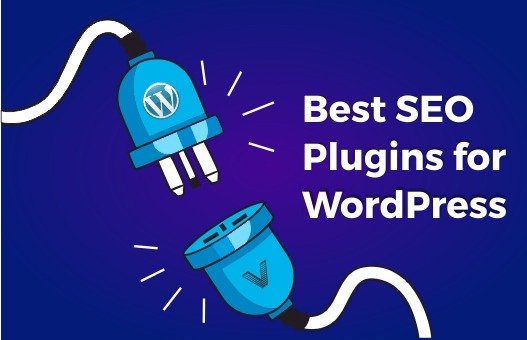 Is your WordPress blog/website SEO friendly? – A question every brand and every blogger should ask themselves.
WordPress is one of the most popular platforms to create your website or blog. It brings incredible themes and powerful features for everyone. Many themes and features are free, and hence the platform has gained millions of users.
If you want your WordPress website or blog to get organic traffic and be noticeable, the page has to be SEO friendly. Search Engine Optimization (SEO) is the process of improving your site's visibility and bringing it unpaid, organic traffic. Every website benefit from organic traffic.
There are so many WordPress SEO plugins that you can install to help improve your site's SEO ranking.
Here is a list of top plugins you should consider using.
1. SEMRush SEO Writing Assistant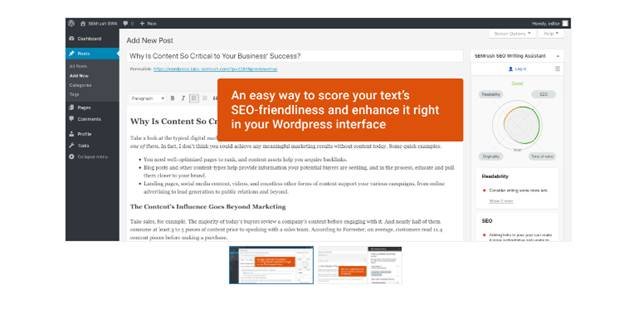 SEMRush is a competitive research and SEO company that was established in the year 2008 in the United States. The company is headquartered in Massachusetts. The SEO Writing Assistant helps you analyze how SEO-compatible your content is. The plugin can also be used to analyze the readability aspect of the content.
Features
Check the originality of the content using the plagiarism check feature
Check the tone of the content with a click of a button
Improve the ease of reading the content using the readability score
Analyze the SEO quality of the content
Find recommended keywords
Pricing
Basic plugin – free
Paid packages – Pro – $99.95/month, Guru – $199.95/month, Business – $399.95/month
Free trial – 7-days

Google Analytics uses machine learning capabilities and unique insights to give you data and suggestions that improve your SEO ranking. The Google Analytics Dashboard by ExactMetrics is an exclusive WordPress plugin that helps you install and use all the top features of Google Analytics on your WordPress page.
Features
Provides SEO score tracking
Universal website/blog page tracking across different campaigns and websites
Helps segment the traffic based on individual keywords
Recommends the best keywords to optimize the page
Scroll tracking helps you know where the users lose interest while browsing the page
Pricing
Basic plugin – free
Paid Packages – Plus – $99.50/year, Pro – $199.50/year, Agency – $399.50/year
Squirrly SEO is a fully-featured software for SEO that also includes an awesome SEO audit plugin. This is also one of the most downloaded plugins on WordPress for SEO analysis. Even if you are not an SEO expert, it is easy to make use of this plugin to improve the positioning and the presence of your website/blog page.
Features
Get your weekly SEO, social traffic, and blogging score
Optimize content to improve page ranking
The SEO audit is done keeping in mind up to 20 aspects of the page including empty descriptions, duplicate titles and description, page load time, index status of your URLs, and more
Page ranked based on Alexa rank, domain age, site icon implementations, and page authority
Choose the pages that need to be audited
Pricing
All basic SEO features in the plugin are free to use
Paid packages – Pro – $20.99/month, Business – $71.99/month, Agency – $75.99/month
4. Yoast SEO
Called the #1 SEO plugin tool for WordPress, Yoast SEO a large group of loyal customers who benefit immensely from the tool. This SEO plugin has been helping millions of websites improve their SEO ranking and get more organic traffic since 2008. The plugin tool is used by small bloggers and large multinationals alike.
Features
Addition of meta tags and canonical URLs to automatically improve SEO ranking
Gets more visitors from social media pages and search engines like Google and Bing
Recommendation for high-quality and high-performing keywords
Provides readability checks for websites and blogs
Automatically suggests the addition of internal links
Detailed Schema.org integration
Pricing
The Yoast SEO free package is free for all and includes all basic SEO features
Yoast SEO Premium is the paid package that cost $89 per year for one site.
5. WP Meta SEO

WP Meta SEO is a WordPress plugin from the Joom United brand. This time-saving tool comes with many useful features like image SEO optimization, sitemap XML integration, and a meta-information bulk editor. The Joom United brand specializes in various other kinds of WordPress tools too.
Features
Ability to edit bulk website meta
XML and HTML sitemap generation
Console keyword suggestion
Google Analytics tracking
Duplicate metasearch
Image HTML resizing options
Search engine optimization of images
404 errors redirection
Pricing
The basic SEO plugin for WordPress is free
Paid packages – Start – $39/ six months, Pro – $49/year, WordPress bundle – $179/year
6. W3 Total Cache Pro
W3 Total Cache (W3TC) is another good WordPress plugin that helps improve your SEO ranking and makes your page SEO friendly. Irrespective of whether you are a beginner or an advanced WordPress user, you can make a great difference to your page using this plugin.
Features
Up to 10 times improvement in site performance
Improvements in SEO ranking
Reduction in page load time
Pages load and perform better even during high traffic
Repeat page views are instantly counted
Improved server performance
Pricing
$99/year
Another of the very popular and most downloaded SEO plugin for WordPress is the All in One SEO for WordPress (AIOSEO). More than 2 million individuals and brands use AIOSEO to improve the SEO rankings of their websites and blog pages. AIOSEO includes the below modules/tools.
Local SEO
SEO for WooCommerce platform
Smart Sitemaps
Advanced and extensive SEO modules
SEO optimizer tool
Schema snippets
Features
All basic tools needed to improve local SEO ranking
Automatic generation of WordPress XML sitemap
On page SEO analysis
Easy integration of social media pages
Woo Commerce SEO analysis
Pricing
14-days money back guarantee available
Paid packages – Basic – $49.50, Plus – $99.50, Pro – $199.50, Elite – $299.50
8. Ahrefs SEO WordPress Plugin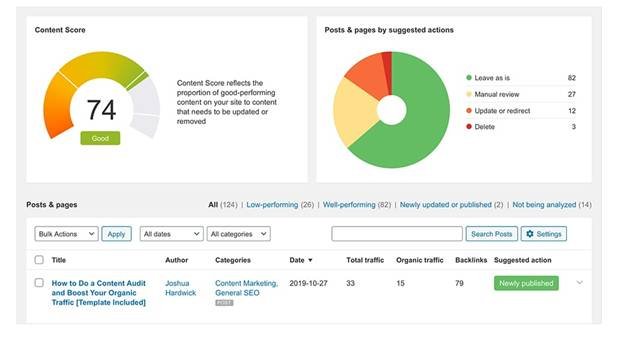 Ahrefs is a small independent search engine optimization company that specializes in conducting SEO audits that improve your ranking and increase organic traffic. The Ahrefs SEO WordPress Plugin automatically identifies low-performing pages and offers recommendations to improve their performance. The SEO audit combines Google Analytics report, backlink numbers, and organic traffic to take the right actions.
Features
Helps understand a page/website's backlink profile. Their live backlink database is refreshed every 30 minutes
The plugin pulls information from Google Analytics, processes and reads the data, and gives you solid actionable improvement tips
The plugin is lightweight and offers minimal stress on your WordPress server
Pricing
Basic plugin package is available for free
Paid packages – 7 day trial version – $7, Lite – $99/month, Standard – $179/month, Advanced – $399/month, Agency $999/month
9. Rank Math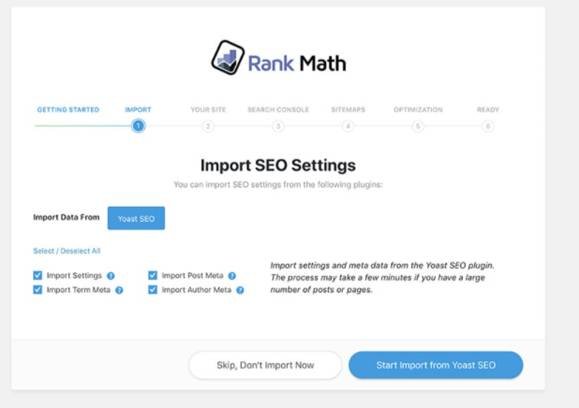 Rank Math is one of the best SEO plugins for serious WordPress users. The brand makes it very easy for anyone to optimize their content and their webpage. The product comes with 15 pre-built modules that make it very easy to configure the plugin based on your requirements. You can prevent hours of repetitive and monotonous work using this plugin.
Features
Helps measure and track keyword rankings
Runs detailed SEO analysis to identify problems
Easy user interface and installation process
Built-in advanced SEO tool that keeps giving suggestions and recommendations
Ability to integrate with Google Analytics
Advanced schema generation
Pricing
The basic version is free
Paid packages: Pro – $59/year, Business – $199/year
Conclusion
There are thousands of plugins available for managing SEO activities on your WordPress page. At the end of the day, choosing the best SEO plugin depends on individual needs. Certain features of certain plugins may prove vital for some than for others. Before you choose a plugin, analyze your needs, and compare them with the plugin's offerings.
If you are doubtful about what features would help your brand or your page, get in touch with us. Our SEO experts have years of experience handling WordPress apps, websites, and blogs and can guide you in picking and using the right plugin. Contact us for a free consultation right away.