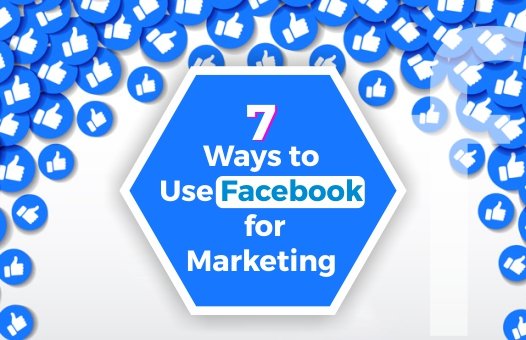 Facebook has about 2.7 billion users every month, out of which about 1.5 billion are active on the social media platform every single day. It is not surprising that most businesses are trying to promote their products and services here.
Facebook is one of the top social media platforms and is built to help you reach a larger group of audience very quickly. On average, each user spends up to 60 minutes on Facebook. This is the time you can use to introduce your product or service and convert their interest into sales leads by using Facebook Marketing.
What is Facebook marketing?
Facebook Marketing is a simple way of using a Facebook page to reach existing and potential customers and clients and offer your products and services to them. Such Facebook pages also serve as places you can promote discount deals, offers, and other benefits that can tempt a visitor to buy what you sell. You could be a brand, a local business, a service provider, or a Non-Profit Organization. Everyone benefits from having a Facebook page and promoting it.
Benefits of Facebook Marketing
Facebook marketing is flexible – You could be a small local business or a multinational organization. Facebook offers paid marketing features for all kinds of budgets. You can decide how much you want to spend every day, which is a huge advantage.
Choose to run your ads in specific places – You can run your ads on Facebook feeds or promote them as personalized messages on the messenger platform. Some businesses want their ads to show up only on mobile phones. Placements are easy.
Customize your target audience – You can filter your target audience quite comprehensively on Facebook. Choose a particular gender, age group, locality, and interest that your audience needs to have, and then ads run accordingly. This helps your marketing strategies create a bigger and bolder impact on those who matter to your business.
Promote your website on Facebook– Looking for more traffic for your website? It is effortless to run a promotion that makes people click on your website link.
Find worthy customers and clients – Facebook is one place you can easily spot clients and customers who have a genuine interest in what you offer. These individuals turn into loyal customers over time.
Personal interaction with customers – Use your Facebook page to answer queries and messages and solve grievances. This improves your customer's experience with your brand and puts you at an advantage.
Formats of Facebook Marketing
1) Video Ad – Video ads are the most popular right now. Videos are more eye-catching, and the chances of your audience stopping to look through the whole video are high. Video ads are exciting and self-explanatory. You can:
Create stories for customers to watch
Add advertising in existing videos that are most watched
Upload native videos that are shown in feeds
2) Image Ads – These are probably one of the most comfortable ads to create on Facebook. Image ads generate interest in the audience and encourage them to take a desirable action (click on the website link, shop for a product, fill up an interest form, etc.) Image ads can increase traffic, improve brand awareness, and get more likes and reaches.
3) Carousel Ads – In a Facebook carousel ad, you can show up to 10 pictures or videos to your audience. Each image or video can have its details and links. You can show different views of the same product or show ten other products/services to the target audience.
4) Slideshow Ads – If you have great images with you and want to show them as a slideshow to the audience, this is the best option. Slideshow ads load quickly and play well without the need for high-speed internet. This is an alternative to video ads and works quickly and hassle-free. Slideshow ads are great to tell a story.
5) Lead Generation Ads – Lead generation ads are the most effective ads when it comes to converting mere interests into closed deals. If you are from the sales team, you will know that getting the right leads matter the most. These lead generation ads let you do the following:
Collect information like name, contact details from customers
Get the email-IDs of potential customers/interested audience
Get the audience to answer vital questions you need for the business
Get people to show interest/enroll in a service or program you offer
Offer downloads to the target audience
Ways to use Facebook for marketing
1. Create the right kind of business page
The first way to use Facebook for marketing effectively is to create a page that draws Facebook users' attention. Millions of Facebook business pages are on the platform, but many of them are boring and dormant.
Have attractive cover and display photos that keep changing regularly. Ensure your 'about' section is prominent and contains all details a potential customer might want to know about you.
Be active on the platform and make sure you answer queries, messages, and respond to reviews quickly. This tells Facebook you are a dynamic page and your ads reach more audiences, and you get better exposure.
2. Post information that's useful to your target audience
You might be marketing your brand extensively with paid ads, but if your brand page is boring with ill-frequented posts, then it repels Facebook users who look for you. Here are a few things you can do to prevent this from happening.
Post regularly
Offer deals and discounts on the page
Share information that your audiences are genuinely interested in
Give the links of your blog page every time you post a new blog
Post fun video ads that attract more likes and comments
3. Host Facebook contests
This is one of the best ways to help your page reach more audiences and also find people who are interested in your product/service. Here are simple steps to create Facebook contests.
Create a contest prize
Decide on the desirable goal (more shares and likes, filling in a form, or getting more followers)
Decide on the contest entry method (asking people to like and share your page or tagging a friend)
Post the contest and promote it on your page and in relevant groups and marketplaces
Mention details of what can be won, how to win, who can participate, how winners are selected, and the date of winner announcement in the post.
Announce the winner and create a thank you post
Encourage the winner to share the information on his/her Facebook page
Make sure the Contest is genuine and the giveaway prize is worth the effort put in by the users.
4. Promote your page and promote your posts
Be regular with promotions. Try different kinds of promotions with different target audiences and compare the results you get. Apart from promoting your page, also promote important posts.
5. Try Sponsored Stories
Sponsored Stories is an exclusive marketing strategy offered by Facebook. Facebook creates stories when people like a page, visit a place or tag a brand. Let's say 'A' visited a restaurant and tagged the place on Facebook. When the same restaurant opts for sponsored stories, people who are friends with 'A' will find sponsored ads saying their friend liked this place.
Such sponsored ads can be shown days and weeks after 'A' had initially posted it. Sponsored ads are great ways of building trust by using a friend's relationship/interaction with the brand.
6. Make use of groups
There are millions of groups on Facebook. When you identify a group that exactly matches your target requirement, you have a rich pool of potential customers. All you need to do is introduce them to your product/service. You can post as the brand page here or get your digital marketing team to create individual profiles who can promote your brand on groups.
7. Make use of Marketplaces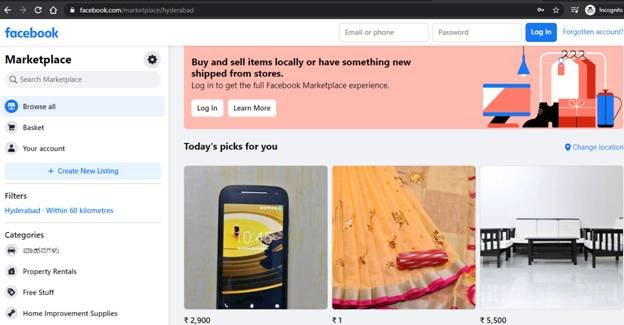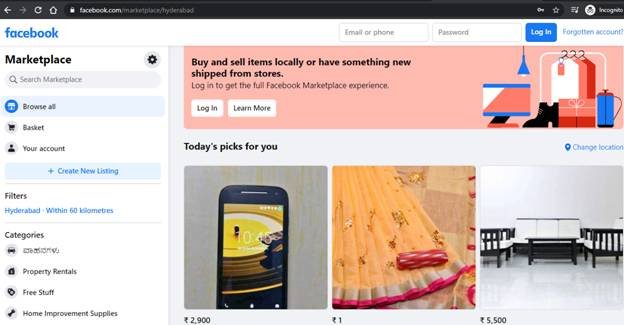 Marketplaces are similar to groups but created with an intention to buy/sell products and services. It is easier to market your products on marketplaces rather than in groups that may have stringent rules about no direct advertising. Find relevant marketplaces and share your product pages regularly. This helps build more customers with time.
Conclusion
We have tried to share with you, a few useful ways to use Facebook for marketing. These tips have worked quite well for a lot of Facebook users and we believe it would be useful to you as well.
Make sure to use all these 7 ways to use Facebook for marketing, and see results for yourself. Do you know any other successful strategy you have tried out? Let us know in the comment section. Our other readers would also like to learn more.
If you want to implement successful strategies for using Facebook for marketing your brand or business, drop us an email or contact us here. We will get back to you with a free consultation session.