What is Keyword research?
Keyword research is the basic process of identifying the popular search terms that people use on search engines like Google or social media pages like Facebook and Instagram. The basic idea behind keyword research is to know what the customer is looking for and tweak your offerings correspondingly.
In simple terms, without knowing what your customer is looking for, how will you optimize your website, market products, and services, and create content effectively?
Keyword research tells you the below details.
What is your customer looking for?
How and where is the customer searching for it?
How best you can present them with your product or service?
Once you identify the right keywords, you can use them in the content you develop to make sure it is ranked higher on the results page of search engines. This is one of the fundamentals of Search Engine Optimization (SEO) and helps you stay on top of your game.
Keyword research is not a one-time process though! You will have to periodically revisit the top keywords searched for and keep changing your SEO strategy accordingly.
Here is where a keyword research tool comes to help. Such tools constantly discover new and popular keywords and list them on their databases. They can tell you how good a keyword is, what other keywords are used by your competitor, and give you a list of well-analyzed keywords that would serve your purpose.
Using a keyword research tool to identify popular and right keywords helps your website or your content reach the right audience and get a higher ranking on Search Engine Results Pages (SERP).
Below is a list of top keyword research tools in the market right now. Compare their features and perks and use the one that fits your SEO needs.
Best tools for keyword research
1. SEMrush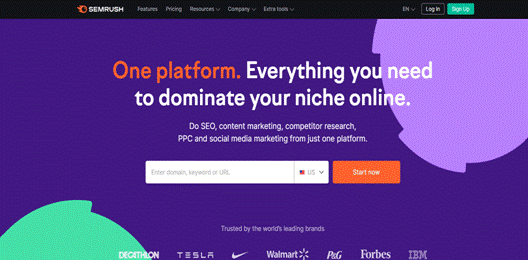 SEMrush is one of the top keyword research tools in the market used by 6 million marketers globally. The brand is based out of Boston, USA, and is a quickly growing content marketing and SaaS platform. The brand was established in 2008 and keyword research is one of its biggest strengths.
Best Known For:Having the largest keyword database in the market with more than 20 billion keywords
Pricing: Paid service – Pro – $99.95/month, Guru – $199.95/month, Business – $399.95/month
Trial Version: Available for a limited period
Key features:
Provides a complete list of keyword rankings and pages of top competitors
Helps to identify keyword gaps to create better SEO campaigns
Can compare and analyze up to 1000 keywords to see changes in SERP rankings in real-time.
2. Ahrefs keyword explorer

Ahref keyword explorer markets itself as the most completekeyword research tool in the current digital marketing scenario. Headquartered in Singapore, this multinational company had its foundation laid in 2010.
Best Known For:Accurate search volumes, the Keyword Explorer analyzes and presents data from over 171 countries
Pricing: Paid service – Lite – $99/month, Standard – $179/month, Advanced – $399/month, Agency – $999/month
 Trial Version: Available for a starting price of $7 for 7 days
 Key features:
Has a huge database of over 7 billion keywords
New keywords are updated every month
Keywords generated for more than 10 different Search Engines
Ability to show the number of clicks for your keywords.
3. Google Keyword planner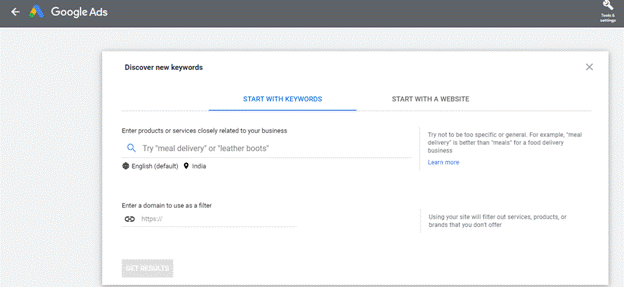 Google Keyword Planner is Google's little project that helps small and big businesses find new keywords that put them at the forefront of Google's search engine. Once you sign up and get an account, you can see new and trending keywords related to your business everyday and tweak your content based on that. You can also look for search volumes of a particular keyword and see its historic metrics too. All this is free and you do not have to spend anything.
Best Known For:Helping small businesses with the smallest of budgets grow
Pricing:Basic keyword research is free.  Running AdWords has no fixed cost – Set your monthly budget
Trial Version:N/A
Key features:
100% free
Find performance forecasts for the right keywords
Filter out keywords based on geography, language, gender, and interests
Easy to use for beginners.
4. KW Finder

Established in the year 2014, KW Finder started as a small keyword researchwebsite. In 2016 the brand was renamed Mangools. To date, keyword research is the top strength of the brand and its core team. Some of the top clients of this keyword research tool include Alexa, Adidas, and Airbnb. You can get search volumes and historical data of your keywords on KW Finder with a click of a button.
Best Known For:Picking up exclusive long-tail keywords (specific longer keywords customers use when they are close to finalizing a deal/purchase)
 Pricing: Paid service – Mangools Basic – $29.90/month, Mangools Premium – $39.90/month, Mangools Agency – $79.90/month. All plans have a 48-hour money-back guarantee
Trial Version: 10-day free trial available
Key features:
5 billion keywords available on the database
100 million competitor keywords searched and presented monthly
Supports 52,000 locations all over the world
The user interface is easy to handle and navigate
5. Long Tail Pro
Long Tail keywords are very useful for businesses as they take them very close to customers who want their products/services. Long Tail Pro was created by an internet marketer named Spencer Haws who has had several years of experience handling different long-tail websites. You will be able to get hundreds of perfect long-tail keywords from a single seed keyword you provide on the site.
Best Known For:Ranking the viability of keywords between 0 and 100, showing up to 400 keywords per seed keyword in seconds
Pricing: Paid service – Starter – $37/month, Pro – $67/month, Agency – $147/month
Trial Version: 7 day trial forStarter and Pro packs available
Key features:
Detailed keyword research based on top competitors
SERP analysis of keywords provided by clients
Daily updates on keyword rankings to help you take crucial decisions
Exhaustive Long Tail keyword blog, article, and video resources available on LTP Academy
6. Moz Keyword Explorer

Moz started in 2004 as a forum where SEO experts came together to research new ideas and thoughts. Moz slowly turned into a Search Engine Optimization Company with a keen interest in keyword analysis. The brand offers unlimited resources for both clients and those using the website for free. This keyword research toolwill help you identify the top keywords for your business in a few seconds and will streamline your SEO process.
Best Known For: Experienced core team, 24-hours online support, and a lot of great free SEO tools to use
Pricing: Paid service – Standard – $99/month, Medium – $149/month, Large – $249/month, Premium – $599/month
Trial Version: 30-day free trial available
 Key features:
Tracking possible across multiple search engines, including Google US and International, Bing, Yahoo, and Google Mobile
1-on-1 support from experts available
Easy to categorize, compare, and prioritize keywords
All keywords and SERP data are refreshed and updated every two weeks
Up to 95% accuracy for keyword predictions
7. GrowthBar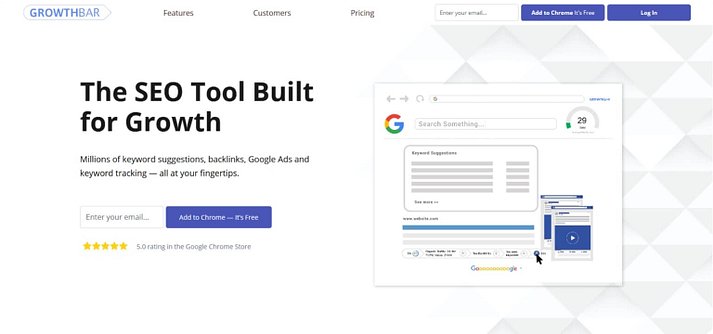 GrowthBar is the Google Chrome Plugin for Search Engine Optimization offered by Growth Marketing pro. This is the number one Google Chrome Plugin available right now. You get monthly search volume keywords and competitor scores from the keyword research tool. If you have a keyword in mind, use the tool to see how competitive it is. You can track the ranking of chosen keywords easily too.
Best Known For:Knowing perfect ranking difficulty scores, hundreds of best keyword suggestions
 Pricing:Paid service $39/month, basic plug-in version for Chrome is free
 Trial Version:5-day free trial available
 Key features:
Millions of keyword suggestions and backlinks provided
Ability to see any competitor site's organic traffic and domain authority
The basic version can be installed for free
If you have not invested in a keyword research tool yet, it is time to do so. Instead of spending hours together manually trying to identify keywords and using them right, give the job to the experts in the field. This way, the right keywords will add more value to your website or content and also convert customer queries to actual deal closures.
Conclusion
Do try out these awesome keyword research tools and let us know which one you liked the best. If you want to discuss how to use these tools to improve your business positioning, feel free to get in touch with us or leave your contact details. We will schedule a free consultation with one of our experts.