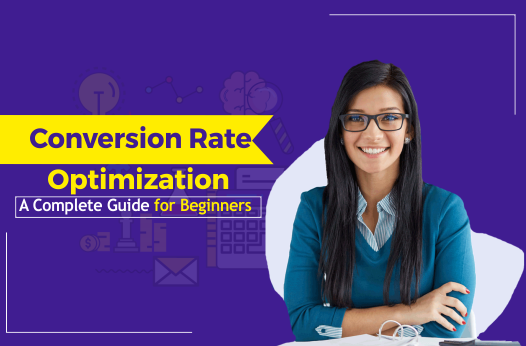 The purpose of a website or a blog page is to drive traffic to the page in the hope that the traffic gets converted into business leads that give the brand a reason to exist.
A website might have thousands of visitors a day. How many of them end up buying the product or service offered is a very important question to ask.
For companies to be successful in the long run, they should be able to convert mere visitors into potential clients/customers.
What is Conversion Rate Optimization (CRO)?
Conversion Rate Optimization (CRO) is making potential customers who visit a website take a desirable action pre-decided by the brand. In other terms, it is tweaking the website, its design, and offerings to make sure a customer's visit to your site turns into a potential lead.
The conversion of the interest of the customer into a potential lead is called Conversion Rate Optimization.
Businesses can make specific changes to their website and landing pages, create tailor-made experiences, and give visitors what they want to help convert them into customers/clients. CRO is an on-going process and it takes time for businesses to identify what works and doesn't for their site.
There can be many types of conversions businesses want.
Major/macro conversions
Buying a product
Opting for a service
Contacting the team for a quote
Minor/micro conversions
Signing up on the website
Adding products to a wish list
Adding products to the cart
Opting for email subscriptions
While many businesses spend a lot of money in driving traffic to their website through SEO strategies and paid ads, they do not take a similar effort in improving their CRO. High visitor traffic to a website is of no use when the CRO is very low.
How to calculate CRO?
The formula to calculate Conversion Rate Optimization is quite simple. There are two scenarios given below and the formula slightly changes according to the type of business.
Conversion rate based on traffic/number of sessions
Imagine owning a website that sells mobile phone accessories. Users visit the website, browse through the products, and check the prices. Few visitors leave halfway through while others complete a purchase. In such scenarios,
Conversion rate percentage = (New leads generated/website traffic) X 100
If you have had 500 visitors to your website and 10 people ended up buying the products,
Conversion Rate Optimization % = (10/500) X 100 = 2%
Conversion rate based on number of users
Imagine a different scenario. You offer a streaming TV subscription service. Your visitor subscribes to a yearly package from you. The visitor visits your website multiple times to check program lists and other details but does not purchase anything else for the whole year.
In this case, calculating the conversion rate based on website traffic does not make sense. You should be using the below formula.
Conversion rate percentage = (number of new orders/numbers of unique users) X 100
Let's say you had 200 new users signing up on the website. You got 50 orders/subscriptions that month.
Conversion Rate Optimization % = (50/200) X 100 = 25%
The benefits of CRO for small and large businesses
Why is CRO important? How can you make use of the CRO information to improve your business positioning and get better and more solid leads? Check out these top benefits.
Get better insights about your key audience – What kind of customers actually convert from being mere visitors? Which page on the website triggers them? CRO will give you lots of chances to experiment with changes in the website to see if the conversion rate gets better. It also helps you identify user behavior specific to your website.
Give a better user experience to your customer – By practicing CRO and making changes to the over-all design and engagement value, you make your website or blog page better every time. This improves user-experience and that, in turn, helps you get more leads.
Get better revenues without spending more on driving traffic – Trying to increase your revenues by improving website traffic with paid ads and other expensive marketing strategies is not a smart move every time. You should instead try and convert existing traffic into leads. This is what Conversion Rate Optimization does for you.
Improve your SEO efforts –Your website is going to be ranked higher on search engines if the user experience is good and your users are spending quality time on your site. Google had mentioned that its search engine is smarter and picked up user behavior as a trait to rank websites.
Make long-term associations with your customers and clients – By tweaking your website and making specific changes that push customers into making a desirable action, you are making the visitors happy. The chances of your customers returning to the site are higher too.
Top CRO strategies to Try
Don't let your visitor work too hard
Let's say your desired goal from visitors is to help them sign up on the website. You have driven a good amount of traffic to the site and the sign-up page opens. Imagine having a long list of form fields to fill up to create an account. Chances are the visitor gets bored halfway through and closes the page!
Ask only relevant information and make your visitor do the minimal of tasks possible and this will optimize your conversion rate.
Have specific Call To Actions (CTA)
Instead of assuming your visitor knows what the desired action is, tell it to them. That's easier and quicker. In case you want the visitor to make use of the limited-time coupon code you have on the site, have a bold CTA button on the home page that says 'Click here to avail your 20% discount coupon' helps.
Your visitors know what exactly the button does without any confusion. Transparency and clarity help in Conversion Rate Optimization.
Create a sense of urgency
This is a very smart Conversion Rate Optimization strategy that will help you get more leads. Making the visitor feel like he/she will miss on a deal is a great psychological trigger in improving the conversion rate. Some popular conversion tactics to create a sense of urgency are:
Have an exit pop-up that offers a discount or a deal when the customer is trying to close the page.
Offer a discount coupon once a product is added to the cart. There are more chances the visitor ends up using the discount and buying the product.
Display the number of products available in stock. People can get tempted to buy products that are low in stock.
Give a period within which an order has to be placed. Having just 15 minutes to complete purchasing something will push people into ordering quickly.
Run tests on landing pages and high-performing pages
Running tests regularly is a very important strategy to improve your Conversion Rate Optimization percentage.
Start with the research phase. Take some time to analyze what visitors are doing on your site, how long they stay on each page, and what they are looking for. Pick up quantitative data to get relevant information. Changes that are not backed by the right research don't usually work.
Make a list of possible changes that can help improve performance.
Try the A/B testing strategy. You split your traffic into two parts. You make changes to the website, its interface, CTA buttons, and other factors and implement it for one half of the traffic. You monitor the conversion rate. It is important to only change one thing at a time and test for improvements.
Collect enough data with these changes.
Implement the changes big-time if the testing proved it was successful. If you did not find improvements in the Conversion Rate Optimization percentage, identify loopholes in the idea and tweak the idea more.
Keep repeating the process regularly to increase your lead generation.
Conclusion
Conversion Rate Optimization is one of the most important tools you need to sustain as a leader and stay ahead in the race. If you have not been taking CRO seriously, it is time you did so. Contact us and we will put you in touch with some of the best CRO experts in the field. Get a free consultation and understand how to convert traffic into actual business sales that will help you grow.