All businesses –big and small, need eCommerce websites. There are no second thoughts about this. However, businesses stall in the process of creating their website. How should they go about the process? Should they make use of established eCommerce applications/platforms to host their website or should they build a website from scratch on their own hosting platform?
The first method is definitely quicker, hassle-free, and effective for businesses that want to start right away.
An eCommerce platform is a software tool or application that you can use to create a website and manage its various processes like marketing, sales, customer support, and other operations.
Two major eCommerce platforms that are quite popular right now are Shopify and WooCommerce. This article will help you compare the various features of Shopify vs WooCommerce and help you decide which platform would work better for you.
What is Shopify?

Shopify is an all-in-one eCommerce platform that will help you create a website and manage it effortlessly. Based out of Ottawa, Canada, the brand was established as an Application Programming Interface (API) in 2006 and allowed different developers to create applications on the website and sell them.
As of now, Shopify powers about 1,000,000 businesses online around the world and recorded a revenue total of 1.578 billion USD in 2019.
Between 2016 and 2019, the brand helped businesses contribute $319 billion in economic activities.
As of now, the brand aids businesses in setting up their online presence, creating marketing strategies, planning branding, and managing processes like payments, shipping, returns, and customer support.
What is WooCommerce?
WooCommerce is also an eCommerce platform that helps businesses build and manage their online websites. This brand makes use of open-source software based on WordPress to create websites and tools. The brand was established in the year 2011 and became very popular because it was simple to use and lots of tools and add-ons were available for free.
As of 2020, it was estimated that WooCommerce had 3.9 million websites that used their application.
What to Look for in Your eCommerce Platform?
Here are some of the features you should look for in an eCommerce platform.
Ease of setup – A good eCommerce platform needs to be simple and easy to set up and use. When there are too many complexities and multiple steps, it will drain you of your excitement and energy. Look for platforms that give you pre-set templates to choose from. This brings down half your work. You shouldn't be an expert to set up an account and create a website on these platforms.
Platform security – When you have an online website, your end goal is to get customers to pay for your product or service. Payment security is of utmost priority. Look at platforms that offer HTTPS/SSL certification and those that are integrated with well-known and reputable payment gateways.  When it comes to Shopify vs WooCommerce, both platforms are known for their secure checkout processes.
SEO compatibility – When a website is SEO friendly, it lists better on search engine rankings and is also easy to navigate through by customers. Both Shopify and WooCommerce platforms are built to adhere to basic rules of Search Engine Optimization.
When you choose to build a website through these brands, things like Meta title and description, headings, URLs, website structure, crawl ability factor, and speed and uptime are carefully curated to help you rank better.
Is it mobile-friendly? – According to Statista, the Indian m-commerce market was worth $38 billion in 2020. This number is only set to increase in the coming years. When you look for an eCommerce platform, make sure it helps you build a mobile-friendly site.
Flexible features and pricing – This is quite important when you look for an eCommerce platform for long-term association.  Your website may be dealing in multiple currencies or running a specific kind of promotion that is not very common. In such cases, the platform should let you customize features and charge you accordingly.
Customer experience – Customer engagement has to be smooth, easy, and friendly. What kind of features do these platforms include to make your customer's experience better? Check these details before choosing a solution provider.
Pricing-features balance – Pricing always plays a vital role in finalizing a provider. While some platforms may offer solutions at really low prices, their features may not be great. In finding the right balance between affordable pricing and the features, you actually might want to hit the jackpot.
Shopify vs WooCommerce: Pros and Cons
We have made it easy for you to compare Shopify vs WooCommerce. Here is a list of pros and cons that you should be looking at when you are choosing between these popular eCommerce platforms.
Ease of Use: Shopify vs WooCommerce
Shopify – Shopify is a fully-integrated, well-thought-out platform. You do not have to install any of the applications and learn its processes to build and maintain your website. Everything is offered on a silver plate and all you need to do is pick the features you want.
There are a lot of pre-designed themes to choose from. It also has an easy drag-drop interface. With Shopify, you don't have to be a professional developer or designer to build and manage a website.
WooCommerce – WooCommerce is an open-source software application. This means that there are so many tools and updates available on the website and you may have to spend more time picking what works for you. You may have to browse through hundreds of free and paid plug-ins to narrow down the right choices for you. There are more than 55000 plug-ins available on the website.
You should be using a separate builder app to create your website and there are no easy drag-drop options here.
Shopify is certainly better in terms of ease of use.
Payment Methods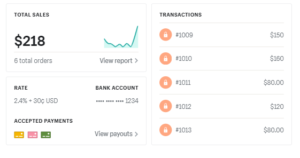 Shopify – Shopify has its own Shopify Payments tool. With this, you have to neither opt for third-party payment options nor worry about the security of the payment gateway. Everything is pre-set for you and ready to use. All you have to do is turn on the payment mode on the platform. Shopify Payments offers:
PCI compliant servers
3D secure checkouts
Data encryption for payments
Do know that Shopify Payments charges you transaction fees in addition to the amount charged by your bank. In case you decide to opt for third-party payment gateways, there are more than 100 options to choose from too.
WooCommerce – WooCommerce also has its own payment tool – the WooCommerce Payments. Apart from this, there are more than 100 payment gateways to choose from.
You can also use payment extensions on your WooCommerce-powered website including Amazon Pay, Paypal, Square, Stripe, and PayFast.
Since WooCommerce is a self-hosted eCommerce platform, it does not charge you any transaction fee. All you need to pay is your bank's transaction charges.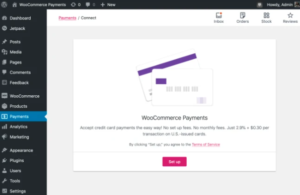 Shopify vs WooCommerce Dropshipping
Dropshipping is a trending eCommerce model that is perfect for businesses without warehouses and stocking options. Here, a business has multiple vendors. When an order is placed on the website, the detail is passed on to the vendor who takes charge of the shipping to the customer. Giants like Amazon and Alibaba also have dropshipping modes on their websites.
Shopify – With Shopify, you can integrate a lot of dropshipping apps like Aliexpress and Printify to your account and directly work with these apps. Your customer will see the front-end of your website designed like any other eCommerce website. Once an order is placed, you can seamlessly work backend on the dropshipping processes via Shopify and connect with your vendors.
WooCommerce – The WooCommerce dropshipping management tool is super powerful and does the following.
Manages your dropship store from end to end
Notifies vendors automatically when their products are ordered
Makes relevant changes to inventory
Send auto order-notifications to vendors
Integrates with dropshipping apps like Aliexpress and Amazon Affiliate Support
When you compare Shopify vs WooCommerce, they both perform equally well with dropshipping.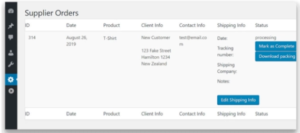 Scope for growth and expandability
Every business runs with the hope of growing big and expanding in the future. In such a case, is your eCommerce platform equipped to handle your growth? How will your website fare when you suddenly see thousands of people visiting the site every day? What happens when your catalog doubles and triples every month?
Shopify – Shopify is specially created to handle business with rapid expansion plans. The brand offers multiple plans for businesses of different sizes and you can easily upgrade your existing plan as you grow.
You can look at the exact features under each of these plans here. As your business grows, the infrastructure grows too and you can also get help from Shopify's professional team every step you progress.

WooCommerce – WooCommerce was mainly created to offer the opportunity for everyone to customize and create a website without having to spend a lot of money. As a result, you cannot expect handholding every step of the way here.
As you grow and expand, you will be responsible for identifying better plug-ins and tools to make your website better. You have to worry about security and hosting plans. Scalability is also something you should invest time and effort in and identify better hosting providers to handle your increased web-load.
When you compare Shopify vs WooCommerce, because of the increased efforts and thoughts that go behind WooCommerce's websites, Shopify gains a slight advantage here.
Support Options for WooCommerce vs Shopify
Shopify – Shopify has a vast and detailed help center where you will be able to find answers to most questions you have. The help center is well-structured and easy to navigate through. If you cannot find answers to what you were looking for, you can always contact the customer support team. The team responds quickly and is very helpful.
You can reach them via email, chat, phone, and social media platforms. They are available 24X7.
WooCommerce – WooCommerce also has a help center with a lot of basic FAQs answered. They have documented extensive videos, tutorials, and self-help guides for both developers and clients. Since WooCommerce is a self-hosted platform, your developer will be able to answer your queries better instead of the WooCommerce team.
You can, however, reach out to the WooCommerce team if you are unsure how to find relevant help. They are usually quick to guide customers.
WooCommerce vs Shopify: Pricing Differences
Shopify – Shopify comes with a basic pricing plan depending on what kind of business you are and there are additional charges and transactional fees involved every step of the way too.
There are no setup fees involved. The basic Shopify plan for smallscale businesses starts at $29 a month. Advanced plans cost $299 a month. Apart from these, you will be charged certain amounts per order if you use Shopify Payments.
If you opt for Shopify POS Pro, a store management tool for physical businesses, that is $89 a month extra.

WooCommerce – WooCommerce is free, open-source software. This means that they don't charge you anything to set up a website. However, there are other costs involved that you should be aware of.
Host and domain fees (Every host charges differently based on features offered)
While there are hundreds of free themes, few paid themes are to be paid for
Payment gateway costs (transactional fees will be charged for every order)
Costs to secure the website (SSL certification costs)
Shopify vs WooCommerce: Which one is right for you?
Have you been able to easily compare Shopify vs WooCommerce now? There is no right or wrong choice here. It all depends on what you are looking for from an eCommerce platform and what you are affording to pay for the same.
If you are a beginner with no basic knowledge of website development or management or don't have a large team to help you manage your website, Shopify is definitely a better choice for you. It is easy to understand and you can create and manage your website hassle-free. Shopify Plus is an add-on that offers enterprise solutions and dedicated experts who can handle high volume merchants and large business enterprises like a pro and leave you to concentrate on your strength – scaling up your business.
If you want a lot of customizations on your website and are truly interested in what freelance developers offer to your site, then WooCommerce can be a better choice. Shopify is too constricting in terms of tools you can use and customizations you can make. WooCommerce gives you free rein. It is also possible to find free or cheaper tools and plug-ins on WooCommerce that bring down your final cost of running a website.
Still unsure how to go forward? Get in touch with us. Our team will contact you for a free consultation and help answer queries that you may have.