Content creation is one of the most important marketing practices. It is now common to take the help of the internet to answer the questions people have, to entertain, and to even diagnose health symptoms.
When you provide quality content to your audience, you build a solid pool of data and information that can and will be used for years together and keep attracting traffic and leads for you.
According to DemandMetric, 60% of people check out a product or a service after reading relevant content about them. Also, businesses can generate 3 times more leads with the right content marketing strategy when compared to other traditional marketing methods.
Finding new content ideas is a common challenge business and content creators have as they grow. How do you consistently find ideas that click with the audience and don't end up creating redundant content that gets lost in the sea of information available online?
All content creators, even the most experienced ones, need to put time and effort into identifying promising and potentially good leads for new content. Here is a list of 11 top ways to find new content ideas that will help you keep creating valuable, interesting, and high-reaching content for your target audience.
Use Google Image Tags

Google is one of the best places to find out what people are searching for. A very interesting way of finding new content ideas is to make use of the Google Image Tags. Here is how you go through this.
Step 1: Open 'Google Images' and search for a particular keyword or a broad topic you may like to create content in. Let's search for Artificial Intelligence.
Step 2: Check out the tags on the top. Fifth-generation, deep learning, big data, automation, business are all keywords that are used along with artificial intelligence by people who browse the search engine.
Step 3: Swipe through to look for hundreds of such keywords.
Step 4: Combine your keyword and the suggested ideas to create a new topic. It could be 'Use of artificial intelligence for businesses' or 'Big data in artificial intelligence.
You get the drift.
The Google Image Tags keep changing regularly based on what people search for. Make sure you go through the process fresh every time you are looking for ideas.
Facebook Ad Library
The Facebook ad library is a place you can find what ads your competitors and industry leaders are running on Facebook at any given point.
This is a great place to find what kind of blogs and content that your competitors are promoting. Usually, blogs that do really well are promoted on social media pages to get them more visibility. Find new content ideas from this space and you will get your hands on topics that are already being searched and looked at extensively.
Step 1: Visit the Facebook Ad Library
Step 2: Enter the name of the competitor of your choice
Step 3: Ignore the ads that promote products and services. Pick up ads that promote blogs and topics
Step 4: Pick up possible content from here and curate your own version of the same
Reddit Keyword Research Tool
Reddit is a common discussion forum where people come together to share ideas, discuss issues, and offer solutions as a community. Reddit had 1.73 billion visits to its website in December 2020.
This is one place where you can authentically find what people are looking for and what interests them.
The Reddit Keyword Research tool is a smart free tool that will help you analyze the search patterns on this platform.
Step 1: Visit the Reddit Keyword Research tool and enter a broad keyword of your choice
Step 2: Look through the specific keywords used on the platform, their search volume, and their context in a matter of seconds. The search volume is pulled up from the Google Keyword Planner.
Let's say you want to create content around the diet plan 'Keto'. You enter the keyword on the tool and below are the results the tool generates.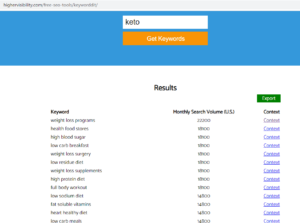 When you click on 'Context', you will find exact topics that used the keywords. This is a great place to instantly find new content ideas with minimal effort.
Here is a list of other popular keyword research tools you can check out too.
Exploding Topics
Exploding Topics is an advanced technology tool that can be used to find topics that are getting popular and a lot of traction before your competitors identify and make use of them.
There are so many categories to choose from. If you are a skincare brand, here are some upcoming topics that you can choose to create content with. These keywords have had really high search volumes in the past and have high projected growth rates in the future too.
If you click on a particular keyword, you can find out how much it has grown over the past years and its growth projections for the coming months/years. The tool also gives you related topics you can use to create more content.
Read Through Blog Comments
What better way to understand what your readers/users want than by reading through your blog comments? When you start creating genuine blogs that add value to your readers, they will get back to you with additional topics that they want you to work on. Check out Netilly's blog for instance. We worked more on PPC advertising after people posted about how they kept looking for that topic.
You can go one step further and look at blog comments in the competitor blogs to pick up possible content ideas too.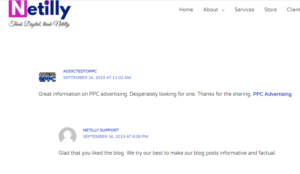 Let's take up the example of PPC advertising. Check out the blogs of top digital marketing brands like Moz and HubSpot. Check this comment by a user on one of Moz's blogs.
Your next idea for content could be different software tools to assist in PPC management!
Browse Through YouTube Channels
YouTube has become one of the most popular platforms to create new content. This is also a great place to find new content ideas. Here is how you can use the platform to your benefit.
Step 1: Know a broad idea of what you want to focus on
Step 2: Identify bloggers and brands that are popular on YouTube in your area of interest
Step 3: Check out their video listings
Step 4: Sort the 'most popular videos.
Step 5: Get ideas for new content here.
Let's see this with an example. Imagine you are a food blogger and you want to know what kind of recipes to post or cooking ideas to take up.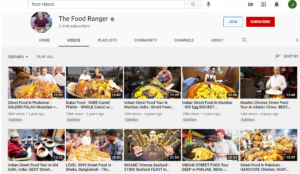 Check out channels like 'The Food Ranger'. Below is a list of videos that have had millions of views in the past.
Look for inspirations here. The topics of the videos can be used to create interesting content that your audience will love.
Google Analytics Landing Pages Report
If you have a Google Analytics account, you can check out the landing pages report here. The landing page report tells you which landing pages of your website or blog get more visitors. It tells you where traffic is coming from and what kind of content your audience prefer on your pages.
Assume a skincare brand posts a lot of content in its blog regularly. Analyzing the Google Analytics landing page report tells the brand that topics with keywords like 'organic' and 'natural' have more views and traffic. This means the brand should concentrate more on creating content with similar themes.
Related Searches on Google
Almost all brands and marketing teams make use of the Google search engine to find new content ideas. How can you take this a step higher?
Search for a particular keyword or a broad idea on Google.
Scroll down to find 'Related Searches'. This will give you more idea on what else you can create content on.
If 'Low Carbohydrate diet' is a possible topic of interest, you can also consider creating content on the below topics.
Check Some of The Potential Low-Competition Keywords
Low competition keywords are those words that are not much used by competitors and are not widely targeted. While most of these keywords may not be very useful, if you can sort low competitor keywords based on high search volumes, you can end up with something that can be valuable as a content idea.
Check out this search for kids' books on the SEMRUSH keyword magic tool. The 'Com.' Is the competitive density here. To make sure the keywords are worth something, the 'CPC' (Cost Per Click) has been kept high here.

Podcast episodes and descriptions
Podcasts are audio recordings of talk shows, blogs, stories, and other kinds of audio files that are available free for people to listen to. Podcasts are very popular in the United States with a growth rate of 37.5% in the last three years (2017 to 2020). In India too, more people are aware of and using podcast apps.
Download some of the popular podcast apps out there and find shows of your niche. You will be surprised at the wide variety of content people talk about there.
Browse through the popular podcast episodes in this niche and you can find good content ideas here.
Revisit and revive your old content
When none of these ideas take root and you are struggling to meet a deadline to launch something, consider revisiting and using your existing content. Pick up some old content of yours and try tweaking the graphics or updating data for today's market.
You would be surprised to see that reviving old posts helps improve your organic traffic and views. Readers who don't make the effort to go back to your earlier posts and blogs can also be exposed to these posts when you re-launch them.
Give this a try.
Take Away
Content isn't the king anymore, it is the whole kingdom!
Your readers and users are looking for valuable content from you that helps them in some way. Creating such content is like making the right investments. They grow over time and make you rich and prosperous.
You can also ask your social media followers what they want from you. You will be amazed at the number of content ideas you get from your readers directly.
Are you struggling to handle content the right way? Are you not able to build content ideas that help you grow? Let us know. Our team offers free consultations to businesses of all sizes to help them approach content the right way. We will create a customized content management plan for you to build your content value.