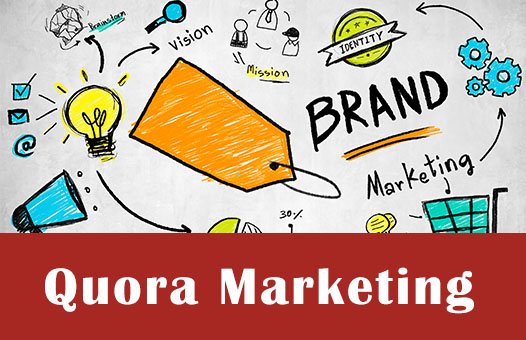 Every business needs a continuous flow of leads to sustain and grow. Generating quality leads in this competitive world is easier said than done. Other than traditional methods, there are numerous digital ways including SEO, PPC, and Social Media Marketing to generate leads for any business. But either you would need to wait for a long time for SEO to impact your business or pay heavily for the paid ad campaigns.
So, what is the best way out?
Quora is the answer as it is one such marketing platform which presents huge potential when it comes to generating leads for businesses. 
With more than 300 million monthly visitors, Quora offers a vast opportunity to network with people, which is an essential part of the lead generation process for any business.
What is Quora?
Quora is an online social platform which is different from Facebook, Twitter, or others prevailing in the market. Either you can ask a question on Quora to seek answers from an expert, or you can answer questions posted by people on the platform. From a lead generation perspective, you are usually playing the part of the expert answering a question than asking. Quora helps you reach your specific audience, and your audience can also reach out to you.
According to a study by Walker, customer experience (CX) will be the brand key differentiator by 2020. Quora might be the platform where you can enhance the customer experience by providing genuine solutions to their problems.
How is Quora becoming a great way of generating leads?
Quora results often occupy the top position on the Google search engine results page for almost all the queries on the web these days. You may consider all those Quora links as absolutely organic search results that can get you free traffic.
If you discuss a relevant product or a topic on Quora, there are high chances that it generates a considerable number of organic visitors. But this will happen provided the reader finds your answer valuable and click on your click-to-action link to know more. Whereas, other social media platforms such as Facebook, LinkedIn, and Twitter  or even email has a low click-through rate.
Where the traffic lies, there will undoubtedly be new leads. It paves access to the sales pipeline and allows you to interact with your customers or prospects by answering questions directly. Marketers are always on the lookout for opportunities to interact with their prospective customers. With such options, Quora Marketing is becoming one of the best methods for lead generation.
You can generate massive leads month over month and establish yourself as a thought leader, provided you use an effective Quora strategy. By identifying the right questions in your domain and answering them appropriately; you can build a massive online active community for yourself or your brand.
Quora as a business marketing tool
The very first thing to know about Quora marketing is that answers to the users' questions are the most essential tool in your hand. QUESTIONS – this is the most critical thing that Quora has been built upon. In the answers to these questions, lies the crux of marketing on Quora.
Here is a step by step approach, and a few tips and tricks about Quora marketing, that you should know before using Quora for marketing. 
Identify 'who's your potential customer
When using Quora for marketing, if you can identify the most relevant questions to answer, half of the job is already done. And guess what, identifying the right questions is not that difficult.
All you need to do is type in the keywords related to your business in the Quora search bar, and go through the list of questions that appear. You will find a series of questions, where the questioner is directly or indirectly looking for a product or service related to your business. And bang on, these are your target questions which you need to answer.
Let us understand this exercise of identifying the questions on Quora through a couple of examples. 
Example 1 – Suppose you run coaching center for IIT JEE coaching in Delhi. Then your keywords should be "coaching center Delhi," "IIT JEE Coaching in Delhi" and you will get plenty of questions to answer on Quora!
Example 2 – Suppose you are a fine dining restaurant in Pune. Then your keywords should be like "restaurants in Pune," "places to eat in Pune" so on and so forth.
Hope this gives you an idea about how important identifying your relevant topic is, and how exactly you can find them.
Provide real value by addressing the questions & be genuinely helpful
One thing you need to be very particular about while answering questions on Quora is that you should be solving the user's problem in some way or the other. This is the only way that you will be able to catch the reader's interest, even if for a second.
There is no point answering for the sake of answering. It's important to provide authentic, meaningful answers addressing the question to establish yourself as the genuine domain expert.
Needless to say, the questioner is looking for solutions to his or her problems and is least interested in your brand/product/service at this point in time. Therefore, do not try to go off on an advertising and self-branding spree straight off, and disappoint the reader at the onset. Instead, through your answer, convince the readers that it is you, and only you who can solve their problems.
Build trust for your brand on Quora
As important as it is to address the user's query, it is equally important not to forget the very purpose for which you are doing the whole exercise! You need to introduce your brand to the prospective customer in your answers on Quora, but you need to do it in a subtle way aligning it with the interests of the user.
Instead of giving vivid details of your product or brand, you should include backlinks to your website or landing page tactfully. There are high chances that the reader will click on the link if they find real value in your answers. Then, you can easily take it forward from there and convert them into quality leads for your business.
Create the content on your website around questions on Quora 
Once your target audience is identified as per step1, you can create content on your website for the questions asked by them on Quora. It's a great idea to repurpose those questions into relevant blog topics on your website.
Considering people are already asking those questions, you can smartly answer them by way of sharing your blog links. This way you can attract a lot of people on your website.
Be consistent 
As it is the case with any social media, consistency is the key to the success of Quora marketing as well.
Just as you gather likes and shares on Facebook, or followers and retweets on Twitter, you need to establish yourself as an authority on Quora as well. This can only be achieved when you write answers to the questions on Quora regularly and also make periodic updates to your answers posted earlier if required.
Quora has an algorithm that rewards you for posting regular answers, and even marks you as a top writer in a particular niche for posting consistent and knowledgeable answers in that niche.
After all, the essence of marketing on Quora lies in being an authority in whatever content you are generating. 
Track analytics to know market intelligence
The other important aspect of marketing on Quora is the effective use of the analytical tools offered by the platform.
Quora has a very well-conceived approach when it comes to analytics. It tells you how many views you have got on your answers, the number of people who have followed you, the number of up-votes as well as down-votes on your responses, so on and so forth.
But these numbers carry zero significance if you do not read them properly and draw meaningful conclusions from them. 
Therefore, keep checking the Quora analytics for your answers regularly and take measures to be more productive and efficient based on these. 
Create a compelling profile
All said and done, now let's come to the final question. If you are a newbie in the world of digital marketing or are a novice in using Quora for marketing purposes, then from where should you start?
How do you start posting answers on Quora? Should you create a company account on Quora, or post from an individual account?
The answer is you need not create a company account. A company account gives the impression of marketing or advertising to the readers and drives them away. Instead, keep it personal and genuine. 
Try to include some noteworthy accomplishments, if any in your domain and add it in your profile description. Don't forget to upload a professional profile image, which indicates you are approachable. Keep optimizing your profile as visitors do check it before engaging with you on Quora.
Final Take Away
With marketing on Quora, you can generate quality leads for your business. Alternatively, there are professional Quora Marketing specialists and companies, who are also Quora influencers, having a stronghold and widespread following on the platform. Hiring them to run your Quora Marketing campaign and write answers for you can be an excellent idea. The starting point of such  influencers is where you are likely to reach after hard work of many months or even years.
Quora marketing is undoubtedly one of the most rewarding digital marketing tools. If used correctly, it can work wonders for your product, service, or brand, and help you reach your business goals.
If you'd like to discuss how Quora can help your business or brand, then please drop us an email or leave your contact details and we will be happy to schedule a free consultation with one of our Quora Marketing Specialists.