Graphic designers are amongst the most sought-after professionals in today's time when digital promotions and social media marketing are at the helm. Simultaneously, both graphic and video content plays a pivotal role in informing, educating, and promoting the idea to the target audience. Graphic designers were always in demand for print, digital, and television media; however, with digital marketing and mobile-based systems, the best software for graphic designers needs has grown substantially.
In 2019, the graphic design industry grew at a rate of 2.7% to reach $14.8 billion.  And it is interesting to note that 67% of small businesses believe that graphic design is essential to business success and will grow substantially over the next few years.
Evolution of designing
Graphics have evolved enormously over the past few years, with the latest tools and technologies introduced in the market. Everything needs to be a class apart from 2D to 3D animation, High Definition, and interactive images. Designing has become one of the decisive factors in any project or campaign's success or failure these days. Brands invest a lot of time and money in getting the best designers who can create designs that reflect their ideas and vision.
Need for high-end tools
Graphic designers indeed need to have exceptional creative skills and innovation; however, they cannot decipher the ideation to a practical visual without proper tools. The conceptualization can be fantastic; however, until the visualization is great, there is no benefit. Thankfully, technology has advanced rapidly in recent past, powered by artificial intelligence, highly interactive platforms, and easy to use features, now the graphic designers can render images that look highly sophisticated and realistic.
Let us look at some of the most advanced and helpful best software for graphic designers.
1. Adobe photoshop
No one can imagine graphic designing and photo editing without Adobe Photoshop. It is one of the most used and advanced graphic editing tools with the highest-end capabilities to create a variety of images and graphics. Graphic designers vouch for this highly capable software that has sustained its stance as the best in the suite for decades. Photoshop is so popular that the term Photoshopping has become synonymous with image editing and photo enhancing. For designing layouts, magazine covers, graphics, and infographics, banners Photoshop is the best software of all time. It is a state-of-the-art raster graphics editor that is available for Windows, MAC and Mobile platforms.  Initially, photoshop was available as a standalone software however now it can be purchased as a subscription within the Adobe Suite.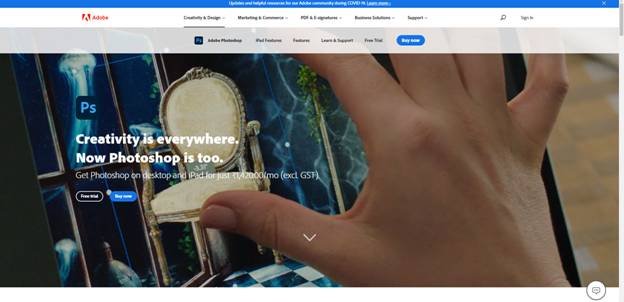 You can get Adobe Photoshop for ₹1,420.00/month with Adobe Creative Suite.
2. CoralDraw
CorelDraw is one of the oldest and most loved graphic design tools that help create high end and professional vector images and layouts for any designing need. It works well on all kinds of designers and gives a fantastic set of features for creating the most scalable and customizable images from scratch. Ideal for creating illustrations, photo editing, infographics, and typography tools. Hence, it is definitely counted among the best software for graphic designers.
Corel Suite comes with loads of new and useful graphic designing tools that can be chosen as per the company's visual needs.
3. Adobe Illustrator
Adobe Illustrator is another fantastic designing tool that helps in creating an excellent vector design. It is ideal for creating awesome logos with ease and finesses. Using the advanced mesh tool in the illustrator, one can quickly render awesome icons, sketches, and images. The sophisticated tools like pen tool, shape, pathfinder, swatches, and colors enable the designers to create amazing professional quality designs. The software is a little tricky to use, and one needs to spend some time acing its tools and tricks; however, it is one of the most advanced vector image creating tools. Once you have mastered the tool, you can create high-quality images and develop scalable vector designs.
Costing Illustrator is available at $20.99/month, and you can also get it with Creative Cloud at $52.99/month.
4. Adobe XD
Adobe XD is what the new age web and app developers need to create interactive, sophisticated, and highly agile UX and UI designs. The apps and mobile games' look and feel are the most captivating and crucial aspects, and users love everything creative and easy to use. XD helps designers create and share designs for the various apps, websites, games, and voice interfaces with ease.
It comes with easy to use templates and built-in features that help the designers deliver the most impressive designs with ease.
The subscription-based service for XD can be highly useful for app developers. You can try out XD with a starter pack to get access to introductory features for free.
The single app is also available for a monthly subscription of 676 Rs Per month.
Adobe XD is also available as part of the Creative Cloud All Apps subscription, 3585 Rupees per month.
All the Graphic designing software and image resourcing subscriptions are beneficial to Graphic designers of the present digital times. This being one of the best software for graphic designers helps create beautiful designs that can match the expectations and requirements of the new age users who do not compromise on quality. Brands can leverage many benefits from the present wave of graphic and visual content consumption by grabbing eyeballs through captivating designs. Great designs, appealing visuals, and state of the art layouts can add immense value to content.
5. Adobe InDesign
Adobe InDesign is Adobe's flagship tool for creating amazing layouts for various kinds of projects. The tool is highly sought after by graphic designers and editors for making professional print and digital layouts for postcards, eBooks, Brochures and Resume. It helps in creating versatile and flexible page designs for a variety of publications and print material. A great tool for easy and quick designing. You can get InDesign as part of the Adobe Creative Cloud subscription for 20.99 USD or 1500Rs/mo
6. Stencil
Stencil is a kind tool that helps bloggers and designers to create amazing social media images and graphics without any hassle. Bloggers and digital marketers love the device as it is easy to use and helps make visually inspiring creatives in a jiffy. There is no need to have expert knowledge of designing and keeping the parameters in mind while designing posters, ads, and images in this tool. It comes with easy to use templates and drag and drop features that help the amateurs also to render professional quality images.
Great graphics on the fly, this is what Stencil promises to its users.
It is available in the Free, Pro and Unlimited version.
In Free Version
You can save up to 10 images in a month
You get access to limited photos and icons
You can upload up to 10 photos and collections.
Pro version is available at 9 dollars per month.
You can save up to 50 images per month.
Save up to 50 images /month
2,300,000+ Photos
2,000,000+ Icons & Graphics
1,100+ Amazing templates
3,100+ Google Fonts
Logo / Watermarks
Font Uploads
Premium support
Upload up to 250 images
Create up to 25 collections
Keep up to 100 favorites
25 Instagram SMS /month
The Unlimited version gives you access to additional features at 12 dollars per month:
All-Pro Features included
Save unlimited images
Upload unlimited images
Create unlimited collections
Keep unlimited favorites
100 Instagram SMS /month
7. Canva 
Canva is an all-time favorite of people who want to create beautiful and versatile digital designs with no knowledge of designing tools etc. It is easy to use and has loads of drag and drop features to create incredible designs. The templates are easy to use, and there is a lot of customization available. Ideal for creating newsletters, promotions, brand flyers, social media ads, and emailers, this tool is available online with no need for installation. You can easily use the available templates, images, and stock images to create lively, colorful, and creative designs with no extra effort. It has easy to use platform which is self-intuitive and extremely user friendly.
Canva allows you to create designs, save, and publish them with ease.  Most of the features in Canva are free to use, and you can get started with simple signup with email. You need to buy a subscription that gives you access to highly creative and sophisticated stock images, templates, and tools to use the advanced features. 
Your designs can be impactful, impressive, and look professionally done with Canva.
Final Words
Your ideation and visualization can reach exceptional standards when created through highly sophisticated tools. This software eases the tasks of creating and designing and give a professional edge to your branding material, whether digital, print, static, or dynamic.
We hope the above information helps you find the best software for graphic designers tools for your needs. If you know some other interesting tools apart from the ones talked about above, do let us know in the comment box. And if you bought any of the above-mentioned tools, then we would be happy to know your experience about the same. For more exciting blogs and discussions, keep following Netilly weekly blogs.
If you are looking for any professional graphic design services, feel free to contact us.
FAQ
What is the best software for graphic design?
Adobe Illustrator, Coreldraw are the most popular software for graphic designers.
Do graphic designers use canva?
Yes, Canva is a great, easy to use and drag and drop online platform for beginners.
Where can i download images?
Some of the best website for image sharing are stencil.