For year's enterprises have used the Adobe Creative suite products for various business needs covering the bundle of utilities from publishing documents, delivering creatives, and processing images. Adobe has dominated the creative market with its path-breaking software like Adobe Photoshop, Acrobat PDF and Illustrator, etc.
Adobe's coming of age products is now available bundled as a package under the Adobe Creative Suite. Most designers and creative agencies depend primarily on the Adobe software solutions for delivering design and branding related collaterals.
Adobe Creative enables small and large businesses to work cohesively with the design teams to provide high-quality collaterals, design brand promotional materials, for both print and digital.
Who Needs Adobe Creative Cloud Suite?
If you have any design, media, and marketing needs, then Adobe Creative Suite is just what you need. These days any enterprise irrespective of size and nature heavily depends on digital marketing and promotion. Social media marketing itself involves creating a lot of creatives, banners, memes, videos, etc.
Adobe Creative Suite offers all the software tools one needs to deliver the best creatives. Photoshop, Premiere, Lightroom, Illustrator, etc. are industry standards for creative professionals. Earlier available as standalone, now these tools are available within the Adobe Creative Suite.
Why Should You Subscribe?
Although extremely resourceful and highly productive, the Adobe tools were costly for individuals and freelancers. Adobe has provided a more flexible and affordable option for the users by bundling the tools and offering Creative Cloud as a service with a monthly subscription instead of a one-time purchase.  The subscription fees are variable based on the tools and services purchased.
Along with the software tools, you also get access to the super-useful features which enhance your work capabilities and effectiveness. The suite comes with 100 GB cloud storage to store and manage your creative data, a portfolio website on the Adobe Portfolio, and Adobe special features like Fonts and image library.
Benefits of Adobe Creative Cloud Suite?
It enhances your overall work capacity, and instead of purchasing individual apps from different sources, you get a suite of tools to work seamlessly on any creative project.
There is no upfront cost that needs to pay for the expensive tools; instead, you can procure the services by paying monthly access.
You do not need to pay for the upgrade costs for the newer versions of the software since you are using the cloud everything you access is always updating at no extra cost.
Access to everything is available along with some extra features with the Creative Cloud. You heard it right with the monthly subscription you get access to the latest products, services, and tools. Longworth the regular tools you also get access to Adobe Illustrator, Acrobat and Adobe XD, etc.
Unlike the software's legacy desktop versions, you can access the Adobe cloud across devices and share data without any hassle. The various files in the legacy formats can be shared across platforms easily on mobile phones, tablets, etc. Sharing a draft with a co-worker or client is a breeze.
What All Adobe Creative Cloud Includes?
Adobe creative cloud comes with various apps that work for designing, photography, video, and audio editing apps. It also offers a suite of web and UX development apps. Overall, Adobe Creative Suite is an excellent choice for businesses to cater to their all-round requirements for creatives and front-end development.
Adobe Creative Suite Apps
Design Apps
Photography Apps
Web & UX Apps
Video & Audio Apps
Photoshop
Photoshop
XD
Premiere Pro
Acrobat Pro
Photoshop Mix
Spark
Character Animator
Bridge
Photoshop Fix
Dreamweaver
Prelude
Capture
Lightroom
Animate
Prelude Live Logger
InDesign
Lightroom Classic and Mobile
 
Audition
InCopy
 
 
Media End
Sketch
 
 
Premiere Rush
Comp
 
 
After Effects
Spark
 
 
Speed Grade
Illustrator Draw
 
 
Story Plus
Illustrator
 
 
 
Dimension
 
 
 
Adobe Creative Cloud Options
The creative cloud is available in various options, and you can select one as per your needs. Students, Individuals like freelancers, and businesses can opt for the plan.
           1.  Adobe Creative Cloud for Business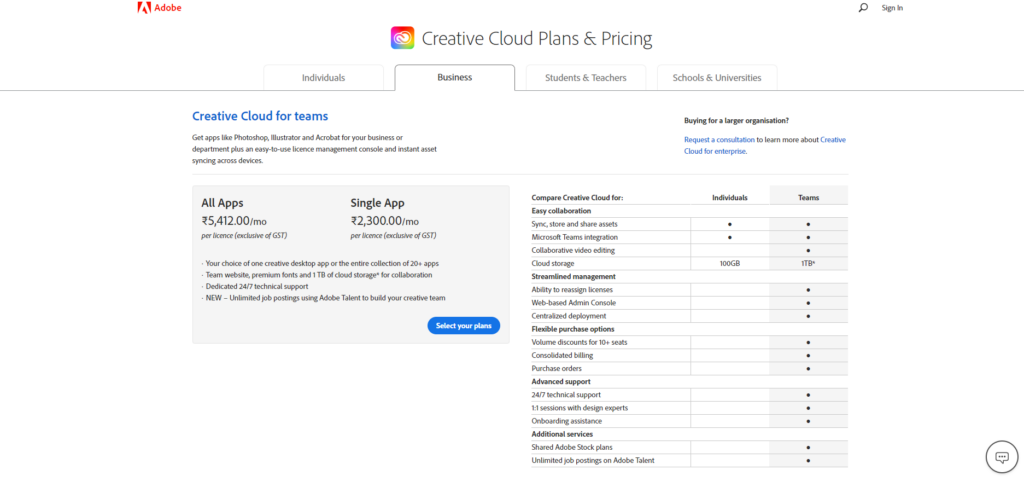 Multiple licenses for the Adobe creative cloud are available in the business plans in which you can use the licenses to new users as the business requirements. You can do a lot of collaborative work in business plans like video editing etc. It is advisable to avail some discounts for ten or more users.
Two options of Adobe Creative Suite for Business are as below:
Single app for 24.99 Dollars/ INR 5412 a month each license
All apps for 59.99 dollars per month per license
The Adobe Creative Cloud for Business helps the enterprises and small companies to get access to all the necessary tools and software for their branding needs. When there are several users within a creative designing and delivery team, the Business plan serves the purpose. There is no need to get licenses for separate users and specific tools. The bundled package gives all the employees access, and it becomes easier to share and collaborate work. The Adobe Creative Cloud for Business plan is highly useful and also cost-effective for business owners and companies.
2.  Adobe Creative Cloud for Students and Teachers
Students and teachers get a substantial discount for the Adobe Creative Cloud for Students and teachers.  if you study in a university or a college, school, or institution.  Students may get a discount of up to 29.99 dollars or INR 1353  per month.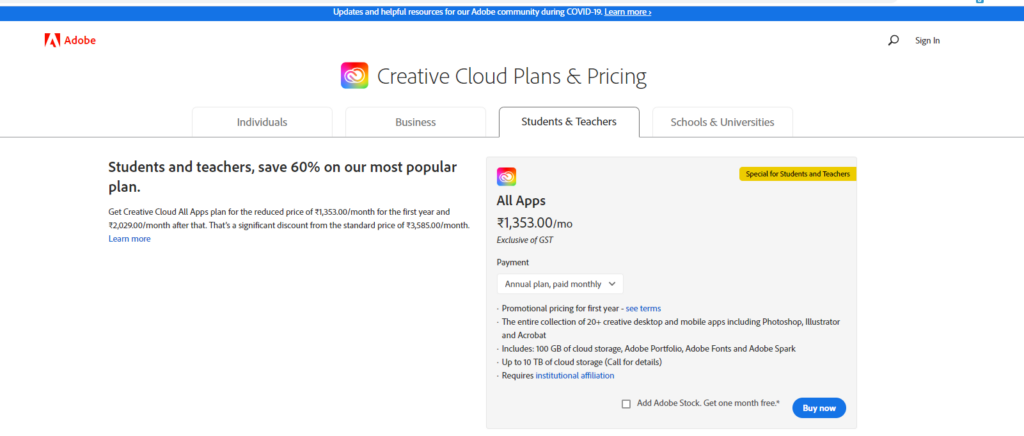 Adobe Creative Cloud for Students and Teachers helps the learners and trainers access the highly useful Adobe creative tools in a cost-effective pricing. There are special discounts for students and teachers, which they can avail by providing the institutional credentials at signup time. Considering the high cost of Adobe's creative tools, it may be difficult for the students to afford them; however, with the right plans available in the Adobe Creative Cloud for Students and Teachers, the students and trainers can use tools and gain expertise in these tools.
 3.  Adobe Individual Plan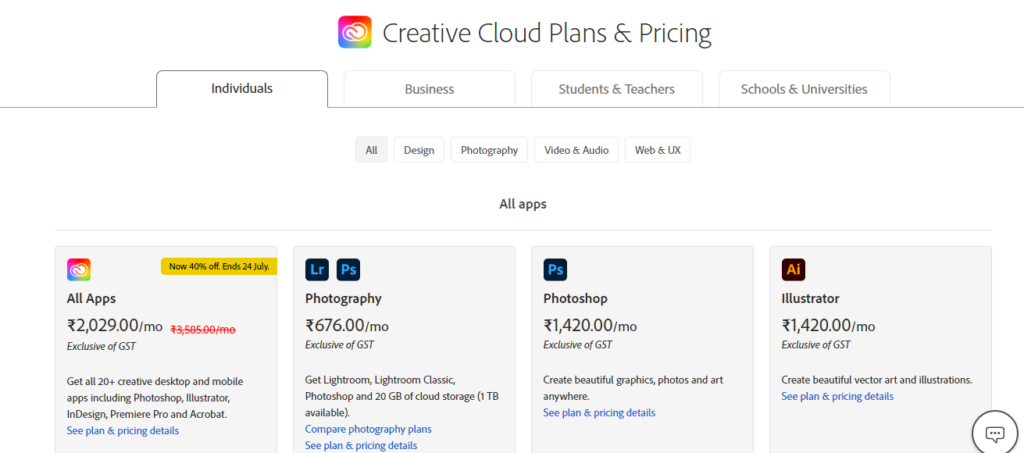 The freelancers and solo entrepreneurs need a variety of Adobe tools for their creativity and business work. Such people can subscribe to the Adobe Individual plans in which they get access to all the required services.
Photography for 9.99 Dollars per month
Individual Apps at 20 Dollars per month
All Adobe Apps for 52.99 Dollars per month
All the Apps along with Adobe Stock Photos for 82.99 Dollars for month
The Adobe Creative Cloud Individual plans are for those who want to use specific tools and software for their individual needs. For example, a video editor would not be interested in Adobe Photoshop and would want to invest in Adobe AfterAffects or Adobe Lightroom. The Adobe Individual plans are most suited for freelancers and soloprenuers
Utility Apps Available in the Individual Plan
Let us see the individual apps available in Adobe Creative Cloud with their monthly pricing. You can choose individual apps that you use as per your need.
Conclusion
Adobe Creative Cloud is a must-have if you want to scale up your business's creative side and enhance the capabilities of your design teams.
In the times of digital marketing, the creative ingenuity of any promotional effort or project matters a lot. Instead of using standalone tools that do not offer professional finesse to your creatives, it is always advisable to the highly revered Adobe tools which have proven excellence.
Video editors, audio designers, photographers, directors, and documentation experts rely primarily on the Adobe Creative Suite for delivering high-end results to their customers. Learn the new techniques and polish yourself as a skilled professional using the Adobe Creative Cloud. Ace up your branding initiatives with the Adobe Creative Cloud Suite.
With its customized plans and extended offerings, you can get hands-on experience in limitless designing and rendering.
FAQ
Can you buy Adobe creative suite?
Yes, You can easily buy Adobe creative suite through netilly tools section.