You might have a professional-looking and very useful website. However, if the site is not SEO-friendly, you might not be able to get as much traffic and as many customers as you wanted.
Search Engine Optimization (SEO) is the organic way of improving your website traffic in the form of search engine results. When your website is SEO friendly, people will be easily able to find you through the right keyword searches.
Let's imagine you sell Christmas trees online. Your products are some of the best in the market and you also offer the cheapest prices. These two factors will not ensure you get customers though. If your website is not SEO friendly, people searching to buy Christmas trees online will not be able to see your website listed in the first few pages on search engines like Google or Bing and will end up buying elsewhere.
Offering good products and services and making your website SEO-friendly are both equally important for small and big businesses.
Benefits of an SEO-friendly website
SEO ensures you get traffic without paying for it
An SEO-friendly website improves user experience
SEO improves your conversion rate (converting traffic into sales)
SEO helps your brand stay ahead of the competition
Tips to create an SEO-friendly website
Here are awesome tips to create an SEO-friendly website.
1. Use a responsive design
One of the first things that put off both the search engine and the customers is a slow and unresponsive website. All search engines are designed to rank websites that are fast and responsive on top. By simply making your website and its design responsive and quick, you will be helping get more traffic and will be ranking on top of the search engines like Google.
Make sure your website is responsive to the environment it is in. Three factors your website has to be adaptable to are:
The platform that it runs in (android, iOS, Windows)
The screen size (is the website compatible with mobile phones, tablets, and computers?)
Orientation the site is viewed in (landscape/portrait modes)
2. Create website content to target valuable keywords
Many brands focus on just one keyword that exactly matches their business and rank it high on their website. You are not fully utilizing the power of keywords this way. After you conduct keyword research, choose a small group of highly-relevant keywords and use them in the right places on your website.
Most websites use keywords in the copy but forget other areas. You can incorporate keywords naturally in most places on the website including:
Title
Headings and subheadings
Meta descriptions and meta tags
Header and footer links
URLs
Internal links
Use keywords that are usually searched in places like Google. If you are an architect and have a website offering interior designing in Delhi, instead of having a generic keyword like 'interior designing', use something specific like 'interior designing for new homes in Delhi'.
This will improve your chances of getting relevant traffic.
3. Optimize header tags to help search engines better understand your pages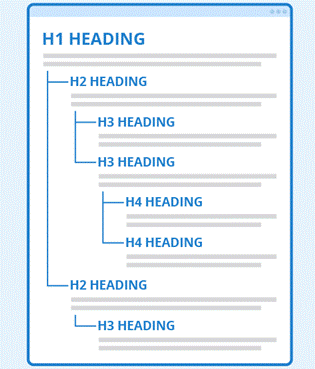 Header tags are tags that differentiate between titles, headings, and sub-headings in a website. H1, H2, H3, and H4 are the most commonly used tags.
Search engines like Google scan through the header tags first and consider them a priority. Most times, your header will tell the search engine what the content is about and helps it list your content when a specific query is posted.
A study found that 79% of users only scan the contents of a website and don't read fully the first time? This is why using the right headers and giving your website's content a clear structure is important.
All your header tags must have the right keywords in them. Here are some other ways to optimize your header tags.
Use headers to breakup content into easily-readable forms
Use the same case and font size for your headers
Make the headers interesting
4. Concentrate on internal linking
Internal linking is providing a link to one page of your website on another page. For instance, you can give the link to a particular product page in your blog. You can add a link to your services offered on the menu.
Google Bot is Google's crawler program that reaches your home page first and moves through the rest of the website based on the links you have on the page. All search engines have such crawling software. These internal links provide a structure to your site and tell the search engine how pages are related to each other.
Make sure all your pages are internally linked wherever it makes sense. When a page is linked multiple times internally, the search engine assumes the page is more important and ranks it higher.
5. Optimize Meta Description
When you search for something on Google, you see relevant websites with a small summary of the page mentioned below. This summary is called the meta description.
Meta descriptions may not be used by search engines to rank your website. However, it helps users decide whether or not they should click on your site link. Providing a well-created and precise meta description that is to the point will increase your Click Through Rate (CTR).
Make sure the description is clear and include keywords if possible
Do not add double quotations in meta descriptions
Have different meta descriptions for different pages on your website
6. Improve the Page load time
Page load time is the time taken between clicking a link and the page getting completely loaded. While page load time is an important factor for the users, it is also vital when it comes to search engine rankings.
Page load time is a factor that determines how search engines rank websites. Search engines like Google prioritize websites with faster page load time and show them on top of the search list. Visitors spend lesser time on websites that load slowly.
Google started using site speed as a factor in its search ranking algorithm in 2010. To date, it considers page load time a relevant factor that website owners have to keep in mind if they want to rank higher and get more organic traffic.
7. Make sure your website is mobile-friendly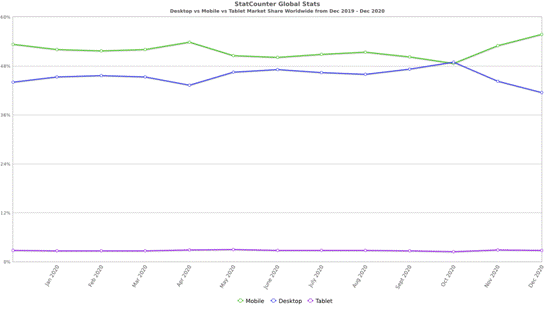 In 2020, about half of the world's internet traffic was channeled through mobile phones. About 50% of people looking for something on the internet, use their phones to search. It is hence absolutely important that your website is mobile-friendly. Here are a few smart tips to make your website mobile-friendly.
Make the website responsive to different screen sizes
Get rid of pop-up ads and banner ads
Make use of the Accelerated Mobile Pages (AMP) framework to improve speed while browsing on mobile phones
Make button sizes and Call-To-Action tags bolder and easily accessible on smaller mobile screens
Make sure the font sizes are large enough to read on the small screen
Test the mobile performance of the site here – https://search.google.com/test/mobile-friendly
In 2015, Google released a statement saying it would now include mobile-friendliness as a factor in ranking websites. If your website is not adaptable to mobile screens, you will not be able to get organic traffic.
Conclusion
To ensure your amazing product or service reaches the right people, SEO is important. Search Engine Optimization is a strategy that will provide you long-term benefits. It is not a one-time solution though. You will have to keep making changes, checking the response, and tweaking your algorithm regularly.
If you don't have a lot of experience about the latest in the SEO field, outsource it to the experts. Our SEO team lives and breathes website optimization. Get in touch with us for a free consultation right away and we will help you increase your organic traffic, make the website user-friendly, and improve your conversion rate.