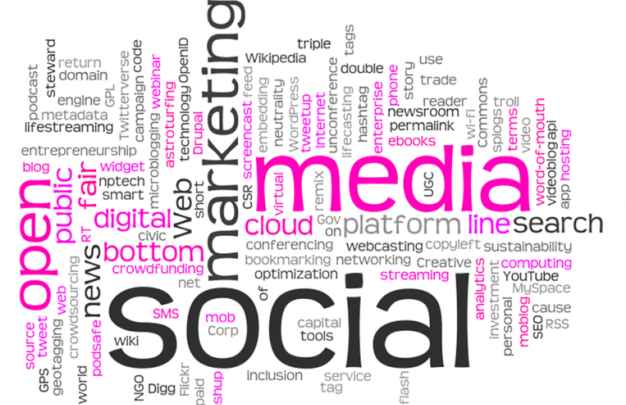 A decade back, nobody could have imagined that communicating with people anywhere across the globe would become so fast.
Today not only can one connect within a fraction of seconds but also share pictures, videos, and documents over the internet so easily and instantly!
Sharing live updates, stories, experiences, or moments through social media platforms such as Facebook, Instagram, and Twitter are an "in" thing.
In fact, social media has become an essential part of people's everyday lives. From teenaged youngsters to septuagenarians, everyone alike is hooked onto the social media apps on their mobile handsets.
With an estimated 4.1 Billion internet users and nearly 3.1 Billion social media users, the landscape for today's diverse social media has drastically changed.
According to a survey done by 'The Manifest' of more than 600 social media users, people regularly access a variety of social media channels via a mobile app or computer web browser.
Further, an interesting but scary revelation from the report is that the average person will spend nearly five years, four months of his or her life on social media.
Time Spent on Social Media = 5 Years, 4 Months in a Lifetime
86% of people use social media at least once daily out of which 72% use it multiple times every day.
These numbers are bound to grow, as most people are becoming increasingly dependent on their social networks for advice.
People use social media platforms to reach out to their friends, relatives, or colleagues for things like medical advice and travel recommendations.
Facebook is literally a country by itself, with over 62% of North Americans using it. And that's just one of the many social media platforms.
With so many people on social media platforms like Facebook, Instagram, Twitter, etc., these channels have become revenue generating customer-bases for businesses across the globe. How? Simply through something called 'Social Media Marketing.'
Social media marketing (SMM) is the use of social media websites to market a company's products and services and generate organic (free) traffic to their sites.
This helps in optimizing the website's position on search engines, i.e. it will be seen in the first few results as anyways 90% of users browsing the internet to search something do not usually look any further than the first page of the search engine.
Many businesses also promote their products or services directly on social media platforms.
SMM provides businesses with an effective way to reach new prospects, engage with existing customers and promote their brand, mission or tone.
Creative and engaging marketing on social media can bring phenomenal success to businesses by creating brand visibility and even driving leads and sales.
In fact, SMM has become an integral part of the digital marketing strategy of most small and big businesses as well as professionals and freelancers.
How does SMM work?
SMM experts use social media ad campaigns and various other strategies to develop messages and 'sticky' content and have people engage with it.
Individual users share those posts with their online social community of family, friends, and colleagues resulting in the matter going viral.
This strategy provides several benefits upfront, such as:
The content reaches a wider audience that an SMM manager may not have been able to access otherwise.
Shared content carries an implicit recommendation when sent by someone whom the recipients know and trust.
Cost of SMM is low compared to traditional marketing approaches like advertising.
Unlike traditional advertising where the reach and effectiveness can't be measured, social media platforms provide accurate insights into engagement metrics ( like the number of people reached, number of clicks, the number of views and resulting actions).
Sticky content gets a user's attention and increases the possibility that he or she will conduct a desired action, such as purchase a product or service or else share the content with others on social media platforms. This, in turn, helps in search engine optimization (SEO).
Some social media ad campaigns encourage customers to share their feedback, such as product reviews or comments, which is an excellent way to engage directly with the people.
Further, many social networks allow users to provide detailed personal, demographic, and geographical information, which enables marketers to tailor their messages such that it is most likely to resonate with the intended users.
This helps companies ensure that the marketing campaigns are specifically targeted at the right audience.
To be able to measure and quantify results for the money, time, and efforts which have been put in 'marketing campaigns' is an essential goal for any business.
Social media platforms have in-built data analytics tools that allow marketers to track how successful their efforts have been. Also, the impact of SMM efforts on the traffic data on a website can be monitored using Google analytics.
Some of the metrics used to measure the success of an SMM campaign include the number of likes on a post, the number of shares and reach (can be monitored using tools like BuzzSumo), the number of click-through rates and views and finally, the sales funnel created through the leads generated.
If we dive deeper into SMM, there are primarily two ways of doing SMM promotions- active and passive.
Active SMM Promotion
If sharing your content on various social media platform is a task in itself, then no one is going to do so. Forget people doing copy and paste links of your content across various social networks.
To encourage social sharing among web users, active SMM promotion is the way forward. Active promotion means adding links such as social media sharing buttons (as below) to the content on your website.
You can add these social media buttons to your blogs or content on the website with simple code that allows users to share your content across the web with just a couple of clicks. In WordPress, these buttons don't even require any plugins.
Social networks which can be used for SMM campaigns are listed below (Most have their own terms of use):
Facebook
Twitter
Instagram
LinkedIn
YouTube
Pinterest
Quora
With the above mentioned social media platforms, companies also have the option of launching paid ad campaigns to reach wider target audiences, thus improving traffic on a website or a specific web page.
Passive SMM Promotion
Passive SMM promotion refers to promoting activities on social media platforms by updating statuses, publishing images, videos, tweets, or posting blogs.
Traction through passive promotion is achieved by creating content that works well on the individual platform as each platform is different. On one, blog content may work whereas on another, a video may do better and on another probably, pictures dominate.
Hence every platform requires a different strategy but, in the end, whatever content is posted, must be informative and engaging so that people share it more and more with their online communities.
This kind of promotion also seeks customer's direct feedback real-time, which can be further analyzed to enhance their brand experience.
Preparing an SMM campaign for your business
Before you start creating SMM campaigns, consider your business's goals. If you for launching a social media campaign without a proper strategy in mind you'll possibly get lost as it's like roaming around a jungle without a map
When defining your social media marketing goals, here are some questions to ask:
What are you expecting to achieve through SMM?
Who is your target audience?
What message do you want to pass on to your target audience?
Which all social media platforms would your target audience use?
Your SMM strategy should be driven by your business type. For example, a travel business can get a lot of traction from a strong presence on Instagram or YouTube being highly visual platforms.
A business-to-business (B2B) company might find more leverage on LinkedIn or Twitter.
Apart from a right SMM strategy, here are a few quick best practices for your social media marketing campaigns:
Create engaging content. Can't emphasize this enough how important it is for your SMM campaign. Until your content is appealing, it will not fetch you any result. Getting a like on a post is easier than getting a comment, so ask people question in your posts or videos to give you feedback.
Share your social media posts multiple times. Once anything is out of sight, it's out of mind. People need to be reminded continuously about your brand for their subconscious mind to register it. Make sure you post regularly.
Create a reliable brand image. Your business brand identity, whether it's a value system or fun or trustworthiness, should remain consistent irrespective of which social media platform you use as each platform has its own unique style and voice.
Do a regular competitive analysis to observe the trends. One can get valuable data for keyword research and other marketing insights by keeping an eye on competitors' social media posts. Consider using the same technique or social media platform, which seems to be working for your competitors and try to do it better than them.
Make your presence felt on social networks. Make sure you participate well on the social web by creating conversations and not just uploading photos on social media. Be known to the social community.
Conclusion
What is Social media marketing?
It is just use of social media platforms to connect with your audience to build your brand, increase sales, and drive website traffic.
Social media with such extensive use presents an incredible opportunity for marketing. In fact, for a few people, consistent use of social media even opens up career prospects.
Through sharing content n social media with friends, influencer and blogger Christina Vidal made a career out of it. She is a full-time traveler and now has nearly 75.5k followers on her Instagram account. She uses social media multiple times every day.
So it is better to learn social media marketing (SMM) now instead of losing in the long run.
If you find this article and the tips given in this article useful, please share with us in the comments section below.
If you'd like to discuss how SMM can help your business or brand, then please drop us an email or leave your contact details and we will be happy to schedule a free consultation with one of our SMM Specialists.