Why to Enrol for this Program?
At Netilly, with our Advanced-Level three months' learning programs, we focus on helping you gain practical experience of digital marketing tools and techniques. The idea is that you should be confident enough to:
In a nutshell, to be able to understand and manage the digital marketing function in entirety.
First of its Kind Learning Program in the Entire Digital Marketing Space!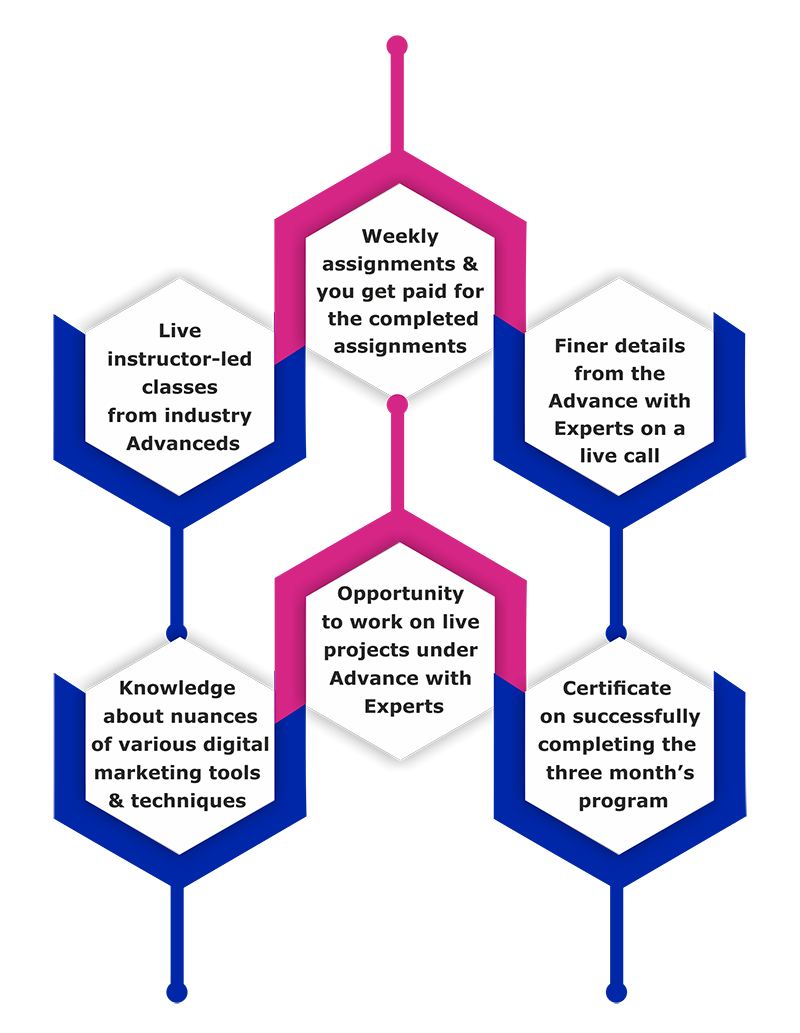 Who can Join this Program?
This program is open to all with interest in learning digital marketing irrespective of age, gender, professional experience, technical knowledge, etc. All you need to do is be ready to learn with an open mind through instructor-led sessions and implement what you learn while doing the assignments. You can be assured of building a successful career in the digital marketing industry!
Digital marketing is rapidly making its space now a days and being part of it is like getting more lucky. I did my advanced digital marketing course from Netilly n it has been a great exposure. Thank you Netilly.
To get success in Digital marketing, one need to have strong basics and should know how to apply them with different marketing strategies. I learnt these skills at Netilly's Advanced Internship Program. They taught and cleared all the concepts also they taught me how to use it in real client based projects. Through this program I got exposure of practical knowledge as its more important than just the theoretical knowledge. Thank you Netilly for offering this value added program.

Digital marketing has been new world to me as I come with different background. I have always been keen to learn digital marketing and I be fortunate to get a chance to attend Netilly Advanced digital marketing course. Training was more practical than just only being theoretical. Thank you Netilly for an amazing Digital marketing course.
This learning program has provided me the chance to restart my career after 10 years. The best part of this three months' program is the handholding and practical exposure that I got from the team at Netilly. I had attended a digital marketing course prior to this program from another institute and spent good money there. But the confidence to work in this industry I could only gain after completing this Advanced-level learning program that I did at Netilly. At the completion of this program successfully, I was offered an employment offer at Netilly based on my performance during the learning program. I thoroughly enjoyed it and I highly recommend to those who are looking to build or restart their career in this growing industry!
SEO is the technical part of Digital Marketing that you need to learn very carefully. SEO is the most effective method to generate organic or natural traffic to a site. I came to know this valuable knowledge after attending the SEO module by Netilly.  That too learning it from an expert and skillful master is another advantage. I have learned it from Satpal Sir at Netilly who totally fits in accord. I gained a good understanding SEO because of him. Thank you Satpal Sir & Netilly. I got to know so many ranking factors as well the technical and creative activities we can do to rank our website. The session was of great worth.
Digital marketing is not only trend, it has become necessity now. And in this COVID-19 pandemic and for coming time, it has become important for everyone of us to have knowledge about digital marketing techniques. I stepped in netilly as a person having least knowledge about digital marketing, but now I know almost all of it. My favourite part was Ad campaigns and social media during the classes, but then after I came into practical part I was able to explore my interest area, which field I am actually good at. Because they gave me chance to work in different client based projects. And they made us understand theory as well as work on demo projects in their theory session so that we can be ready for practical which was really helpful in working on client projects. I learned a lot whether it is theory, practical, market research, marketing strategies,ad campaigns, blog writing, website building, SEO, and much more with the help of netilly advanced internship program. And this is worth mentioning that each trainer I worked with is really supportive, helpful and always ready to explain things. And I actually feel I did something really productive. Thank you!
I enrolled for 3 months internship program at Netilly and it's just amazing as it helped me get a practical exposure to digital marketing and its subtypes like SEO and content marketing. Their course is very detailed and interactive which helps to understand better