Search Engine Optimization (SEO) is like Game of Thrones; you need to battle with your competitors using the right keywords and techniques to be on the top of Search Engine Results.
However, choosing the right SEO tool is one of the challenges nowadays considering the level of competition out there.
But we are here to help you prepare for the battle with the list of best SEO tools, handpicked by our experts. There are SEO free tools as well in case you are on a specific budget.
The Must-Have SEO Tools In 2020
SEMrush is the Marketer's favourite tool. It's one of the best on-page SEO tool to analyse your website and that of your competitors. You can look at your trending articles, social shares, word count, and related keywords all at one place. This makes it easier for you to research well before writing your blog post and helps you analyse it after publishing the post.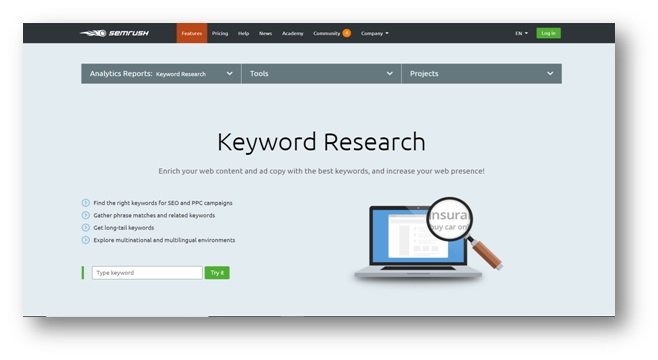 The best thing about this tool is that it also helps you plan the content for your blog with its content marketing kit. Not just that, SEMrush gives about 14M ideas for a single keyword. Just imagine how great that would be for your content chart.
Digital Marketing Specialist, Brenton Marcum, said their keyword strategy for writing copy for blog posts, websites, social media, and their clients, is done using SEMrush.
Type: Tool
Pricing: Paid – $99 per month
Best for: Keyword research, Competitor analysis
Key Features:
Analyse competitor's keywords, Ad budgets, and marketing activities
Find less competitive keywords
Compare domains side-by-side
Get visual data in terms of charts
Segmentation of your keywords by topic
Perform Site Audit
Check your website using On Page SEO Checker
Get useful insights about your site's organic traffic
Measure and compare the performance of your content
Moz is one of the best SEO tools that is used by many experts. Despite the regular algorithm changes that Google does, Moz is one tool that is up to date. Besides, it is also known for its chat support to the customers.
Moz comes with a free trial period of 30 days, post which you can decide whether to buy it or not. Now, that's something great because most of the paid SEO tools allow you to have a trial for only seven days.
The 'page optimization feature' is said to be the best as it helps you optimize every single page of the website by clearly mentioning where to make changes or what to add.
Type: Software
Pricing: Paid – @99 per month post 30 days free trial period
Best for: Keyword Research, SEO Report, SEO Audit, Backlink Research
Key Features:
Allows you to track the keywords for which you're ranking.
Finds out issues on your website and alerts you about the same.
Prioritized recommendations enable you to optimize your web pages.
Get custom suggestions that help you create content.
Link Explorer helps you find quality backlinks for your website.
Moz Local helps small businesses and enterprises get maximum outputs with minimum efforts.
Yoast is the best SEO plugin for WordPress that lets you optimize your webpage on the go. You can make changes while writing or after writing your blog post. It's one of the best free SEO tools that not only saves your time but also gives you a live SEO score.
You can avail a free version or upgrade to a premium version that comes with added benefits. Usually, free tool is good enough to get started if you're a beginner. Yoast SEO is always updated for Google's algorithm, which makes it even more useful.
Type: WordPress Plugin
Pricing: Free / Paid (Premium version available for $89 per year)
Best for: SEO Optimization
Key Features:
Helps you place keywords in the right places
Tells Google what your page is precisely all about
Preview your page or meta tags without actually publishing it on Google
Allows you to control your breadcrumbs
No duplication of content
Takes care of the technical stuff like sitemaps, robots.txt file, cleaning up URLs, etc.
Ubersuggest is everyone's favourite as it is a free tool for SEO. It's the lighter version of paid tools. Performing keyword research using Ubersuggest is quite easy; you can do it either by entering your competitor's URL or by entering the seed keyword.
The latest update of this tool also allows one to find out backlinks of your competitor's site. Not just that, you can easily get long-tail and short tail keywords along with SEO difficulty.
Type: Online tool
Pricing: Free
Best for: Keyword Research, Backlinks
Key Features:
Estimated visit counts give you an idea about how much traffic you can get
Keyword suggestions based on the entered keyword
Get content ideas for your website
Provides the backlink data
Visit your competitor's top-ranking pages
SEO Site Checkup is a tool that is useful to optimize your website for SEO. Checking your website manually for errors or issues to be fixed is a time taking process, but SEO SiteCheckup automatically does it for you. All you need to do is, enter your website URL and get a real-time report and fixes that are required.
This tool solves all the SEO issues instantly with just one click. It's an excellent tool for beginners as well as professionals. You can monitor your website's SEO performance on a day-to-day basis and change it accordingly.
SEO SiteCheckup is one of the best SEO audit free tool, which is available for a free trial period of 14 days.
Type:  Tool
Pricing: Paid – $24.95 per month post-14-day trial.
Best for: SEO Audit, Monitoring, Competitor Analysis
Key Features:
Analyse your SEO issues instantly
Day-to-day SEO monitoring
Notifies when your SEO score changes
Compare your competitor's SEO side-by-side
Generate SEO reports
Create automated checkups
Ahrefs is one of the best tools for SEO, and many bloggers recommended it. This tool crawls the website efficiently and gives almost accurate results. You can perform keyword research by either entering your competitor's URL or by typing the seed keyword. This gives you a list of keywords, both long-tail, and short-tail.
You can filter your keywords according to search volume, keyword density, paid difficulty, etc. That's the best part of this tool. Also, it allows you to vomit negative keywords.
Ahrefs is freely available for seven days.
Type: Tool
Pricing: Paid – $99 per month after 7 day trial period
Best for: Keyword Research, Competitor Analysis, Site Audit, Content Ideas
Key features:
Site Explorer for getting insights about organic traffic and backlinks
Use Keywords explorer for getting the right keywords
Content explorer gives you content ideas
Site audit feature shows you the issues that need to be fixed
Find the content gap of your competitors and generate content for your site
Compare multiple links of competitors at once
Keyword Planner is a free tool by google ads. You can use it to find low competition keywords. However, it doesn't display the search volume precisely.
The keyword planner is mainly used for paid ad campaigns. It helps you discover new keywords and also shows the bid estimates for those keywords.
Type: Tool
Pricing: Free
Best for: Ad Campaigns, Keyword Research
Key features:
Search the most relevant keywords for your business
Find out how often a keyword is searched
Gives you suggested bid estimates for each keyword
Add the finalized keywords to your advertising plan
Seoquake is a free tool which is mainly used for competitor research. It's a browser extension that shows the page data like rank, age, SERP report, and the number of ads, from SEMrush, Alexa, Google rank, and Yahoo index.
This tool performs an on-page SEO audit by accessing the internal and external links. You can also do keyword analysis and find out the keyword density. The SEO dashboard is pretty easy to read with a feature to export the data.
Type: Browser extension
Pricing:  Free
Best for: Competitor analysis
Key Features:
Gives internal and external link details of the top ranking links in Google search result pages
Get quick insights about any webpage on SEObar and SEO dashboard
On-page SEO audit in one click
Get social media insights like Facebook likes, LinkedIn share count, and Pinterest Pin count
Answer The Public is a keyword research tool that gives a free report of what your consumers are searching. The report is displayed in a visually appealing format with several questions and tags.
It's an online tool for content ideas as well. While the free version gives useful insights, you can also go for the Pro version, which is beneficial for agencies.
Type: Online tool
Pricing: Free /  Paid ( Pro version for $99 per month)
Best for: Keyword Research, Content Ideas
Key Features:
Get search results in the form of questions, prepositions, comparisons, alphabetical, and other related keywords
Displays visual data
Allows you to save the displayed data in the form of an image
Helps you generate content ideas
Keywords Everywhere is a browser extension that shows you the search volume, CPC, and competition on the go. It displays all the Google search queries at one place based on the region right under the Google Search Bar. So, you don't have to keep switching tabs for that purpose.
Also, it allows you to download the list of keywords in Excel, CSV, or PDF file formats.
Type: Browser extension available for Chrome and Firefox
Pricing: Free
Best for:  Keyword Research
Key Features:
Search high volume keywords based on the region
Highlight keywords of a particular volume
Know about the competition of the keywords
Save the desired keywords to the "My keywords" list
SpyFu is an SEO tool which helps you to get keyword insights. It is best to use to get keyword competition and search volume. You can also view the core keywords of your competitors and see their organic ranking.
It is one of the best tools to carry keyword research and analysis.
Type: Online Tool
Pricing: Paid
Best for : Keyword Research
Key Features
Get keyword difficulty and competition

Ranking analysis

Get insights about the organic competitors, number of clicks and information about ads made through Google Adwords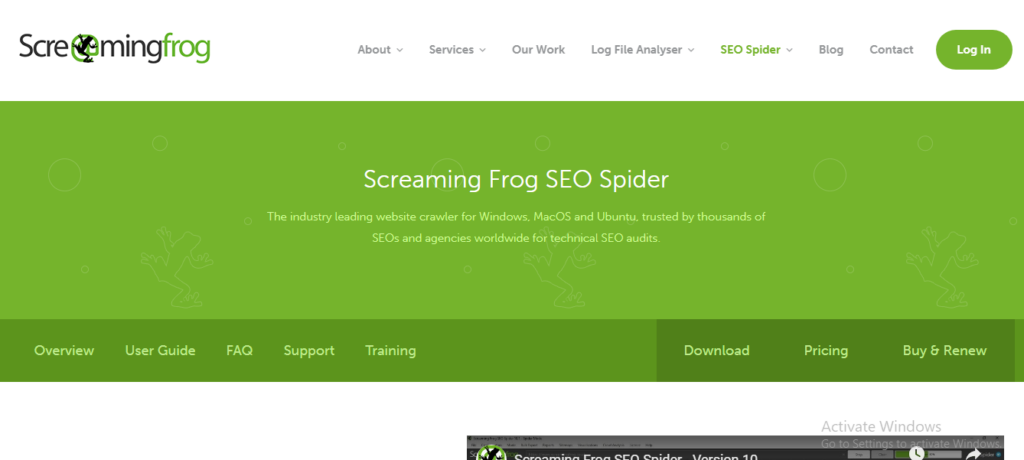 Screaming Frog is among the best SEO tools. It performs detailed website audits with very fast speed. It also has a feature of telling duplicate content, errors and gives meaningful insights.
Type: Online Tool
Pricing: Free and Paid version available at £149.00 Per Year
Best for: Website Audit and SEO review
Key Features
Finding broken links as well as errors and redirects

Title and Meta Data Analysis

Duplicate pages detection

Can be Integrated with Google Analytics
Majestic, as the name suggests, is a majestic SEO tool. Its focus lays on backlinks data which plays an important role in SEO score and overall website rank.
'Majestic Million' is one of the most popular features of it which shows the ranking of the Top 1 million websites. You can try this tool by using its Lite version which also offers a wide range of features.
Type: Online Tool
Pricing: Starting at $49.99 monthly.
Best for: Finding Backlinks and Referring Domains.
Key Features
Get Web-based link investigation with instant results

Look at your competitors and discover link opportunities.

Get a list of top backlinks to every site
Google Search Console is a very useful SEO tool which is regularly updated by Google. It is a free tool which helps you to audit your website giving you useful details like URL Inspection, Speed, Performance, Coverage etc.
It is easy to use and you do not need to know SEO very deeply.
Type: Online Tool
Pricing: Free
Best For: Website Audit
Key Features
Inspect URLs within the site.

Check page speed and slow URLs

Check Sitemaps

Test Mobile Usability
Conclusion
These are the must-have tools for best SEO practices. It'll make your research easier and will surely help you rank better provided you work hard consistently and keep optimizing your website and content regularly.
You can get started with one tool or use multiple tools for different purposes and share your feedback with us.
If you'd like to discuss how SEO can help your business or brand, then please drop us an email or leave your contact details and we will be happy to schedule a free consultation with one of our SEO Specialists.