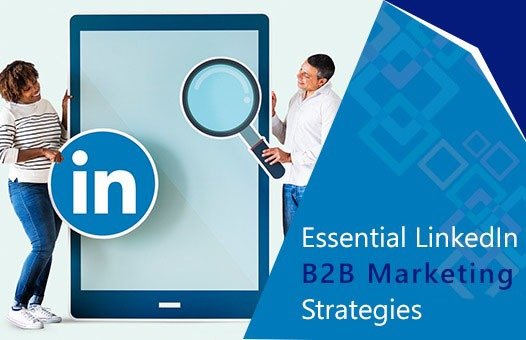 Do you know LinkedIn is responsible for 64% of all visits from social media platforms to business websites?
Gone are the days where LinkedIn was just another platform for professionals to connect. It has become one of the most dynamic marketing platforms, especially for b2b lead generation. According to LinkedIn stats ,93% of B2B marketers consider LinkedIn to be the most effective platform for lead generation.
LinkedIn is flooded with corporate profiles of companies,soto stand out and increase your lead generation; you need a strong and effective LinkedIn b2b marketing strategy to get a good ROI.
Does LinkedIn work for B2B lead generation?
LinkedIn is specifically designed for businesses. It is somewhat similar to Facebook but has a different concept to it. LinkedIn allows people to make connections and showcase their business profiles. Through LinkedIn, you can seek jobs, hire people, and also generate marketing leads.
Not only individuals but companies too can make their pages and showcase their services and products. 
What started as a social media platform for businesses, has now become one of the most successful marketing channels.
LinkedIn is currently responsible for 97% of social media leads to a business!
Yes, you read that right!
Be it individuals or companies, LinkedIn serves all. It offers unique marketing solutions that help to showcase businesses, services, and products. LinkedIn profiles have become one the most trusted channels, and the quality of your LinkedIn profile translates to your presence in the market.
Effective LinkedIn B2B Marketing Strategies
1. Be prepared before you dive in
Most companies create their social profiles without fully understanding their business needs and their target audience. Before starting with LinkedIn for b2b lead generation, study in-depth about what services does LinkedIn offer and how they can be leveragedas part of  your LinkedIn marketing strategy.
LinkedIn provides a feature in which you can segment your audience and filter based on different parameters. 
Identifying your target audience is the most crucialfactor which will determine your LinkedInstrategy and help generate b2b leads. 
For generating b2b leadswhich may turn to conversions, you need to press the right nerve. Understanding what problems your target audience is facing and bringing a solution to the table will help convert leads to paid customers.Many companies post generic content that may or may not help their target audience.
The key aspect of generating leads is to understand what your audience is interested in and what problem of theirs can your company solve.
Also, research about your competitors  they are doing. And then create a strategy to do things better than them, which will make you stand out from the rest.
It is important to understand that one glove does not fit everyone in the marketing world, every company needs a different business strategy, and just being a doppelganger of your competitor won't help.
2. Structure your company page tactfully
Your company page on LinkedIn plays avital role in creating a pipeline of leads for your company website. So you can't take chances by overlooking the essentials for your company page as below:
· Use a relevant image that showcases your brand.
· Include a compelling and clear pitch in your company description in the About Us section.
· Include your website URL, industry, and additional company information just below the About Us section. LinkedIn uses this information to make you appear in searches on the platform.
· Do share your physical location as your potential leads may be interested in knowing it.
· Include your LinkedIn page on your company website, your blog posts, and wherever possible.
3. Don't be sale centric
The primary purpose of companies to exist on social media is to promote their businesses, but the key to be successful on social media  is not just to promote your products or services.
Are they contrasting, right?
Stuffing or overloading your page with sales-centric posts is a sure-shot way of driving traffic away. 
Try to keep the balance of 80:20, where 80% content you post is educational or consists of solutions your target audience is looking for and keep the rest 20% for your sales posts.
The key is to keep the right balance between your social posts. The more engaging posts you create, the more people are likely to stick to your page and your b2b marketing strategies are likely to bemore successful.
4. Use LinkedIn targeting options
It is easier than ever to send across personalized ads to every professional in your target audience.
LinkedIn offers a variety of matched audience features such as regular text ads, sponsored content, sponsored InMail, etc. Apart from this, you can easily manage your dynamic ads through your campaign manager.
Dynamic ads are those that change its content and profile image dynamically depending upon the target audience. Such ads are suitable for attracting new followers to your company page.
Additionally, you can also retarget the visitors already in your sales funnel by leveraging LinkedIn's Matched Audiences Tool.
If you present each potential customer different ads which are suitable specifically to their needs, it will increase the chances of conversion.
5. Use LinkedIn groups
Linked groups are a great way to make connections and to represent yourself as a pioneer in your field.
You can start your own LinkedIn group for your company or join the most trending ones. LinkedIn Groups allow you to make connections with people or companies who share the same interest or are interested in your services. You can put this on the priority list for b2b lead generation on LinkedIn.
On LinkedIn groups, you can showcase your expertise and build creditibility and trust within the community. The social profile of your company and how much trust people put in you will eventually help you to gather profitable b2b leads.
LinkedIn groups will help improve your authority and represent your company in a different light.
6. Company description matters more than you think.
You might be thinking that profile description does not matter much when it comes to generating b2b leads through LinkedIn, but that might not be working well for you.
According to semrush.com-
"Your LinkedIn profile may be the first thing that a potential lead sees before they know anything about your company or role. For this reason, you must offer a clear and concise description right off the bat. Your profile headline and summary is the best place to do this. Again, be sure to use language that is directly applicable to the leads you want to attract."
Make your profile description as short and complete as possible. Reflect what your services are and who you want to cater to. Companies/people like to read short and precise text, and with increasing usage of smartphones and the internet, people are in a hurry.
Instead of including very long descriptions, it is best to have your description easy and worth noticing. Pick each word with a purpose behind it and always keep the intent of the potential buyer in mind.
Also, keep in mind to pick the right image; Images reflect your business. It talks to your potential lead.
Invest time in selecting the best image, which is relevant and screams professionalism too.
 A crisp description, combined with a relevant and accurate image, will work wonders in attracting your potential customer.
7. LeverageLinkedIn Analytics aggressively
Regularly checking what content got more engagement from your audience is a sure-shot way of generating b2b leads. By evaluating LinkedIn Analytics of your company page,you can dive deep into identifying how many new followers you have attracted and how well your campaigns are performing.
Further, bykeeping a track on LinkedIn Insights, you can try to widen your sales funnel. Insights can give you a lot of valuable information such as your audience's professional background, title, industry, etc.through which also you can segment your audience and run successful campaigns. 
Conclusion
These are some of the marketing strategies to generate b2b leads from LinkedIn and to achieve better results, you need to make all these strategies work.
Getting leads is not just one ingredient recipe; you need the right blend of all the strategies to prepare a perfect dish.
The strategies will not work overnight, but you have to make constant efforts to make your company stand out.
If you'd like to discuss how we can help your business with LinkedIn B2B strategies, please drop us an email or leave your  contact details  and we will be happy to schedule a free consultation with one of our LinkedIn marketing expert.